PR Racing stellt den neuen ST1 V3T 10er Competition Stadium Truck Pro Kit vor. Bei diesem neuen Stadium Truck kann die Motorkonfiguration variiert werden. Mit einer Bohrung von 12.75 mm sind die PR-Racing Shocks die größten BIG-BORE Dämpfer am Markt. Dies ermöglicht es dem Fahrzeug eine große Vielfalt von Strecken abzustimmen. PR Racing bietet eine breite Palette von Kolbenplatten für ihre Fahrzeuge für weitere Feinabstimmung des Fahrzeugs für den Wettbewerb.  Die vorderen Querlenker sind im "Gull-Wing-Stil", die verbesserte Lenkung und bessere Kurvengeschwindigkeit bietet. Das Chassis des ST1 V3T ist aus hochwertigem CNC gefrästem Hart-eloxiertem Aluminium gefertigt.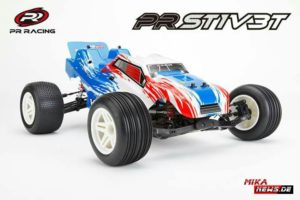 Wenn ihr euch für ein wettbewerbsfähigen und sehr vielseitigen 1/10 2WD Stadium Truck entscheiden wollte, dann sucht nicht weiter. Hier ist der PR Racing ST1 V3T 2WD Stadium Truck, so PR Racing.
Technische Daten:
• Motor: Elektro
• Radstand: 287 mm
• 25 Grad Chassis Kick-up (3 mm CNC Harteloxiert 7075 Aluminium)
• komplett Kugelgelagert
• Gull-Wing Aufhängungsdesign (Front)
• 12 mm Radmitnehmer
• Dual Disk-Hopping-Kupplung
• 83 Zahn Stirnrad
• Antrieb: 2WD
• Motor: 540 Größe
• Getriebemodul: 48 dP
• Radgröße: 2.2
• Kit / RTR: Kit
• Schock: Aluminiumdämpfer
• unlackierte Karosserie
• Minimale Altersempfehlung: 14 Jahre
Englische Version
PR ST1 V3T
PR Racing introduces the ST1 V3T 10th scale Competition Stadium Truck Pro Kit. This all new Stadium Truck comes with the unique capability to run the motor in front motor configuration. With a bore of 12.75mm the PR Racing Shocks are the biggest competition bore shocks in the market at this time. This allows the vehicle to soak up a wide variety for terrains and competition surfaces without sacrificing speed. PR Racing offers a wide range of shock pistons for their vehicles which can further fine tune the vehicle for competition. Quality can be found throughout the ST1 V3T Stadium Truck's composites and aluminum materials. The front A arms are Gull wing style which provides increased steering and potential corner speed. The ST1 V3T's Chassis is produced with high grade CNC Hard anodized aluminum. If you're looking for a competitive and very versatile 10th scale 2wd Stadium Truck, then look no further than the PR Racing ST1 V3T 2wd Stadium Truck.
Specifications:
• Motor: Electric
• Wheelbase: 287mm
• 25 degree chassis Kick up (3mm CNC Hard anodized 7075 aluminum)
• All Metric Hardware
• Full Precision Ball Bearings
• Gull Wing Suspension Arm Design (Front)
• Same Front and Rear Wheels (12mm Hex)
• Heavy-Duty Turnbuckles
• Dual Disk Slipper Clutch
• 83 tooth spur gear
• Drivetrain: 2wd
• Motor or Engine: Accepts 540 size
• Gear Pitch: 48 Pitch
• Wheel Size: 2.2 in
• Kit/RTR: Kit
• Shock Type: Oil Filled Aluminum Shocks with bladders
• Body: Unpainted clear body with over spray film
• Minimum Age Recommendation: 14 years
Items required to complete:
• Metric 1.5mm, 2.0mm hex tools
• Metric 5.5mm, 7.0mm Nut Driver
• 2 Channel Surface Radio System (Minimum)
• 1/10 ESC, Motor & Pinion Gear
• High Speed Servo
• 2S LiPo Battery & Compatible Lipo Charger
• Polycarbonate Paint for Bodies
• 2.2 1/10 Truck Tires, inserts and CA Glue
• Silicone Shock/Diff oil
Quelle: PR-Racing
Weitere Links:
Chassisfokus Team C TM2V2 und Umbau Monstertruck – Tom Bujara
Deutsche Meisterschaft Monster / Short Course 2015 in Potsdam – Die Entscheidung