Heimvorteit genutzt. Bereits vir dem letzten Vorlauf stand 
DARIO BALESTRI – Capricorn als Vorlaufsschnellster fest. Ein tolles Ergebnis auch für das Team. Dahinter
fuhr 
ALESSIO MAZZEO
– Serpent 748 auf Platz 2, beim dem "Race" um die Superpole.
Aktuell, also seit Nachmittag laufen die ersten aufsteigenden Finalläufe…….. Mehr unten hier im Bericht im Live-Stream von RC Racing TV.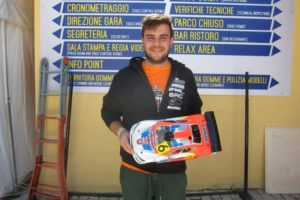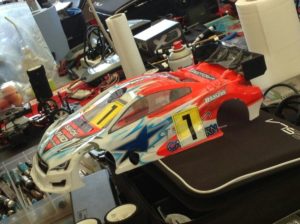 Der Kampf um die Superpole nochmal erleben. Hier:
An dieser Stelle der Renn-Report von Adam Johnson, RC Racing TV und darunter der Live-Stream vom 12.08.2016:
Please see below full qualifying report from the IFMAR 1/10 IC Track World Championship in Gubbio, Italy. 
Balestri and Mazzeo Steal The Show in IFMAR 1/10th IC Track World Championship Qualifying
Dario Balestri and Alessio Mazzeo gave the home fans a lot to cheer about by becoming the first two qualifiers for Saturday's Main Final at the IFMAR 1/10th IC Track World Championship (200mm) in Gubbio, Italy.
Balestri (Capricorn) is already a former multiple European Champion in nitro R/C racing, and took a huge step towards claiming a maiden World title with a commanding qualifying performance, in spite of major delays. Having won Round 1, he was one of the top group waiting to head out onto track when major thunderstorms rolled in on Wednesday and rained out the track for the rest of the day. But he bounced back the following day with solid runs in Rounds 3 and 4, before winning the delayed final heat of Round 2 (run in the middle of Round 5 to ensure the track was in as close a condition as possible to how the track was before the storms hit) and clinching TQ with another win in Round 5 to round off a brilliant Thursday performance.
As Friday started and the delayed Round 6 was completed, the main questions were around the identity of the driver who would join Balestri in the Main Final; one of home hero Alessio Mazzeo (Serpent), Dominic Greiner (Serpent), reigning IFMAR 1/8 IC World Champion Simon Kurzbuch (Shepherd) and former European and World Champion in on-road nitro racing Robert Pietsch (Mugen). Pietch fired the first salvo in Friday's Superpole session, but could only manage a 16.749 lap as his best – quickly eclipsed by Greiner, the TQ from the 2015 EFRA 1/10th Euros, on a 16.467.
All of this was then overshadowed by a spectacular run from Mazzeo, who twice beat Greiner's benchmark whilst crashing across the timing line! Style, flair and panache in abundance and all to the delight of the home fans, as the flamboyant Mazzeo concluded with a 16.302 fastest lap. Kurzbuch went last and was unable to top that time, finishing with a 16.467 best lap.
Balestri and Mazzeo are the first qualifiers for Saturday's Main Final, with Kurzbuch, Pietsch and Greiner dropping into the Semi-Finals along with Takaaki Shimo, Syoki Takahata, Jilles Groskamp, Meen Vejrak, Mark Green, Tadahiko Sahashi, Bruno Coelho, Luca Redaelli, Jessie Davies, Teemu Leino and Francesco Tironi. They will be joined by the top three transfers from each 1/4th Final, with the top three in each Semi Final (plus the two fastest 4th/5th place finishers) transferring into the Main Final.
Words by Adam Johnson, RC Racing TV.
Auch heute konnte bzw. wer sich später reingeklickt hat, dann könnt ihr die Läufe wieder bei RC Racing TV einen Live-Stream und Onlinestreaming sehen:
Quelle: RC Racing TV 
Weitere Links