In Polen fand in unserem Nachbarland der 2.Lauf zur XRS Series statt. Mehr könnt ihr hier in der englische Version darüber lesen. 
The second round of XRS series in Poland took place last weekend in Lodz. The race was made in 3-day format – Friday – free practice, Saturday – timed practice and 3 qualifications, Sunday – 2 qualifications and 3 finals. I took part in two main classes – 2WD and 4WD buggy.
In practice both my XB2C and new XB4 worked very well from the beggining and we made only few small changes on both cars to get them dialled on pretty tight, but fast track.
On Saturday I had two good runs in both 2WD and 4WD qualifications and one "messed up" run in both classes, so overall TQ was going to be decided on Sunday between Bartek Zambrzycky and me.
On Sunday we got a big surprise – one driver broke both his front shocks and drove the rest of the run with it and left all the oil on the track – the traction got from super high (EOS carpet) to "dirt" and all 2WD cars were just sliding around. Luckily some last-minute changes made my XB2C super-good in these conditions and I took overall TQ! In 4WD class it was actually fun sliding around on carpet and my XB4´17 took TQ in both qualifications!
For the finals the grip got a bit better, but still it wasn´t as before so we went step by step (final after final) to my previous setup and my XB2C was amazing all the time and won all three A-mains! Bartek Zambrzycki finished second overall and Jakub Luczak was third!
TOP 3 2WD:
1. Kaja Novotny (TQ) – XRAY
2. Bartek Zambrzycki – Yokomo
3. Jakub Luczak – XRAY

In 4WD finals I had great fights with Bartek, who showed great speed, but in the end it was every time my XB4´17 which finished 1st! Overall TOP 3 was the same as in 2WD – 2nd Bartek and 3rd Jakub!
TOP 3 4WD:
1. Kaja Novotny (TQ) – XRAY
2. Bartek Zambrzycki – Yokomo
3. Jakub Luczak – XRAY
In the end I want to say big thanks to Pawel Ntkowca for the invitation, it was very nice race! Hope my Work.Shop was useful and all attenders took something from it! Big thanks to my parents and all my sponsors for their support!
XRAY, Team Orion, MKS servo, Pro-Line, Hudy, Hiro Seiko, WTF, FX, Maxima, HOECO, H-Speed, Dubidesign, DFcreative, Ruddog and Kaja RC racing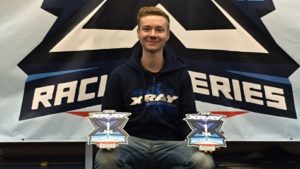 Quelle: teamxray
Weitere Links