Beim Blick über die Landesgrenzen gibt es in unseren Nachbarländern sehenswerte Rennen und Strecken. Hier ein Bericht von der norwegischen Meisterschaft auf der wunderschönen Teppichstrecke beim Hønefoss RC Club, die für das Event aufgebaut wurde.
Englische Version
Team Magic Norwegian driver, Martin Sørlie, participated the Norwegian Championship organised by Hønefoss RC Club last week-end.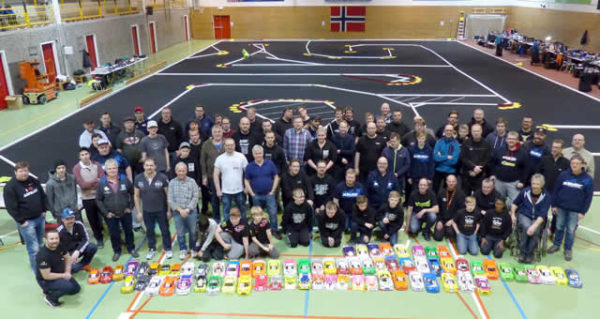 Martin placed his Team Magic E4RS III Plus on the third position after the 5 rounds of qualification.
During the finales, he managed to finish on a very nice second place, behind Helge Johannessen and in front of Andreas Daving who complete the podium.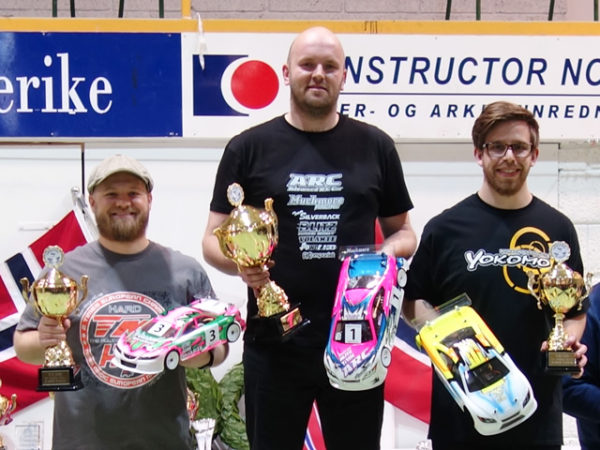 Really nice job Martin !
Original report from Martin Sørlie:
So, ahead of this years nationals I was very ambivalent regarding my goals and motivation, after an indoor season full of ups and downs, and some physical issues causing preparation to be at a minimum.
I changed quite a bit on the car setup wise, and I also put on a carbon chassis to be certain nothing was tweaked or off. Through the practice and early qualifying, I was way ahead of the pace I had during practice the weekend before, and I started being able to challenge the main man, Multiple ETS-finalist and Multi-national champ Helge Johannessen. Playing some sneaky tyre strategy, I put down the fastest single lap of the weekend during the last qualifying round, and I just lost out on TQ'ing the round by 0.5 seconds due to a backmarker crashing. Still I was more than happy to line up third and on pace behind Team Yokomo driver Andreas Daving.
In the first final, Andreas flipped, letting me by to pressure Helge with all my might. I could barely see some daylight, but not enough room to get passed Helge. In the end I finished 0.7 second behind with Andreas only 0.5 behind. In the second final we were a freight train of three, but I couldn't get passed Andreas this time, so pressuring Helge for the win was off the table, and he won the race. For the last main I decided to make it or break it, and after two laps, Andreas gave me 190mm's of daylight. It was an opportunity I couldn't pass up, and of it came a very nice and tight pass up the inside. I got myself about a second gap that held all the way to the finish line, and that gave me second overall.
I'm so happy for this, and also being on pace for real on a big track with ETS carpet against Helge felt fantastic! I'd like to thank Lionel Troyon and Team Magic a lot for a very good and educational indoor season, and I hope I get to show this pace at bigger races as well! See you outdoors guys!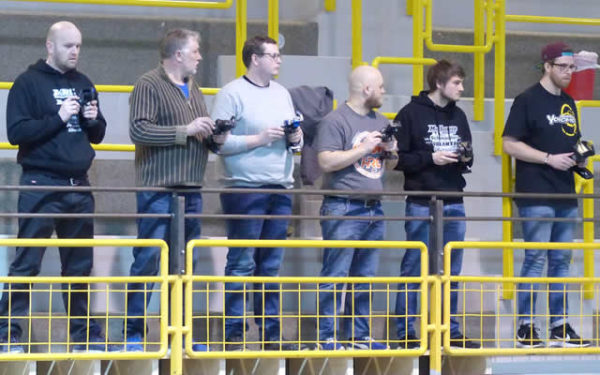 Overall Result – Stock Category:
A – 1. Helge Johannessen
A – 2. Martin Sørlie – Team Magic E4RS III Plus
A – 3. Andreas Daving
A – 4. Trygve Berntsen
A – 5. Per Hanssen
A – 6. Jonas Ramsrud
A – 7. Bjorn Dahl
A – 8. Magnus Medalen
A – 9. Olav Dahle
A – 10. Roger Larsen
B – 11. Jørn Kristian Borgevad
B – 12. Marius Nilsen
B – 13. Lasse Sørensen
B – 14. Tommy Hansen
B – 15. Morten Finnset
B – 16. Rolf Dahl
B – 17. Roy Bråten
B – 18. Tommy Dahle
B – 19. Sebastian Støle Hansen
B – 20. Finn Aasen
C – 21. Marthe Nilsen
C – 22. Eivind Lassegård Hansen
C – 23. Ole Jacob Bryne
C – 24. Anders Falch
C – 25. Kim Eidem
C – 26. Tor Leif Hauge
C – 27. Andreas Bryne
C – 28. Ole Thomas Bryne
C – 29. Kai Høgden
C – 30. Henning Henriksen
C – 31. Jaran Flaath
D – 32. Terje Teigen
D – 33. Ole Terje Klungland
D – 34. Trond Vidar Solhaug
D – 35. Asbjørn Valsø
D – 36. Jacek Lipiec
D – 37. Jon Morten Åvik
D – 38. Elias Eikeland
D – 39. Atle Erlandsen
D – 40. Lars Erik Bø
D – 41. Bernt Winther
D – 42. Stig Tore Svee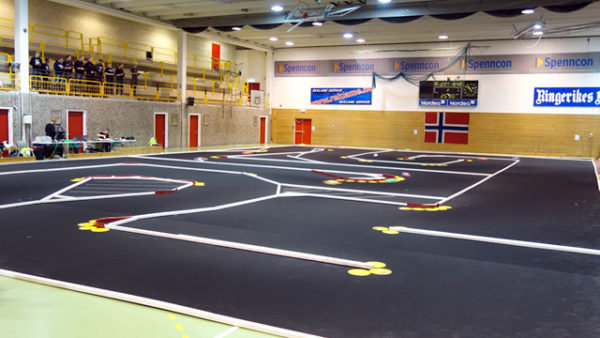 In modified category, there was no Team Magic driver.
Nikolai Håheim obtained the pole position during the qualification rounds.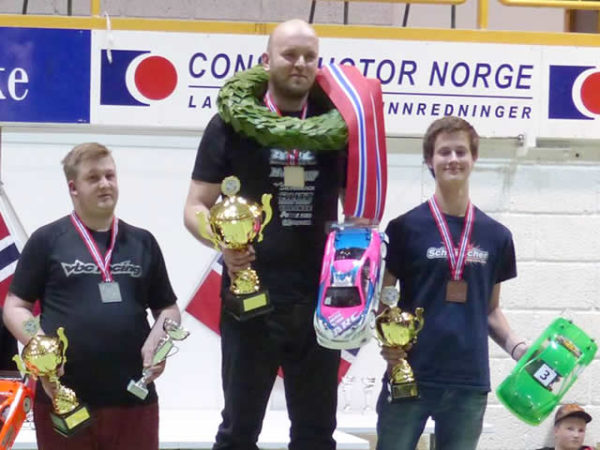 During the finales, Helge Johanessen wins the race in front of Nikolai Håheim and Tobias Sanden.
Overall Result – Modified Category:
A – 1. Helge Johannessen
A – 2. Nikolai Håheim
A – 3. Tobias Sanden
A – 4. Mathias Nedrebø
A – 5. Øyvind Stusdal
A – 6. Andreas Daving
A – 7. Roy Gjemble
A – 8. Ketil Pettersen
A – 9. Rune Svestøl
A – 10. Georg Ellingsen
B – 11. Gisle Brøvig
B – 12. Lars A. Andersen
B – 13. Andre Røine
B – 14. Sindre Reitan
B – 15. Morten Finnset
B – 16. Tommy Johansen
B – 17. Geir Bjarte Terum
B – 18. Kai Høgden
B – 19. Per Hanssen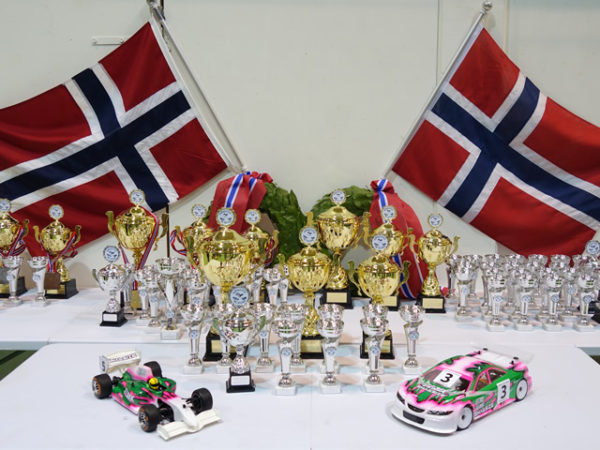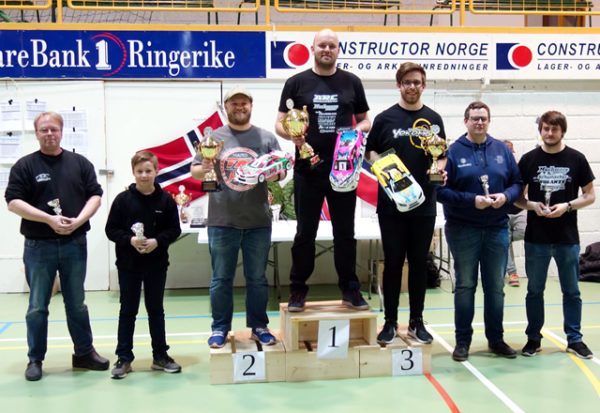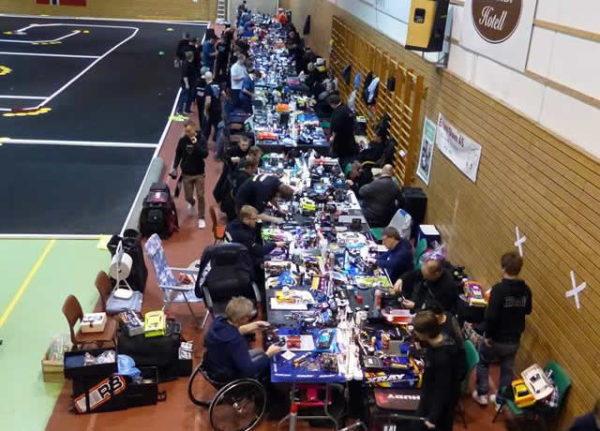 Quelle: HRCDistribution
Rückblick und Bilder von der Internationale Deutsche Meisterschaft 2017 beim TSV-Gelenau e.V.