Die Team Associated B6 & B6D sind erfolgreiche Elektro 1/10 Offroadfahrzeuge. Um zu gewinnen, brauchst du:
Ein schnelles Auto mit einem "Killer-Set-up".

Ein Fahrzeug, das sich gut fahren lässt

Die Fähigkeit, die Ziellinie zu überqueren.
RPM A-Arme können drei helfen!

Hohe Qualität durch minimales Spiel!
2) RPM hat die A-Querlenker haltbar gemacht.
3) Durch die hohe Qualität und die Haltbarkeit wirst auch du die Ziellinie erreichen, so RPM!
Artikelnummer: 81422
Preis: $12.95
Englische Version
The Associated B6 & B6D are race-bred machines ready to tear up the track. In order to win, you need: 1) A fast car with a killer set-up. 2) A vehicle that can handle the abuse you throw at it. 3) The ability to cross the finish line. RPM A-arms can help with all three!
1) In order to go fast, suspension settings need to stay locked in. With stock A-arms, the amount of slop at the hinge-pins can cause your suspension settings to wander (we found as much as 0.003" or .076mm of clearance in the hinge pin holes of a stock set of A-arms). Not with RPM A-arms! Our hinge-pin holes are held to extremely strict tolerances, with no more than 0.0005" to 0.001" (.013 to .025mm) of clearance, an improvement of nearly 300%!
2) RPM customers have repeatedly reported that stock A-arms break quite easily. Whether on the track or off bashing at your favorite local hang-out, RPM A-arms are the toughest A-arms on the market so a rough landing or a hit from that hack that always seems to target you won't take you out of the race!
3) With unmatched performance, extremely lightweight materials and the ability to hold your suspension settings even after a wicked wreck, RPM A-arms will get you across the finish line EVERY time!
Tech Notes: RPM #81422 replaces stock Associated #91673.
Suggested Retail Price         $12.95 / pair
Handel: 
 ,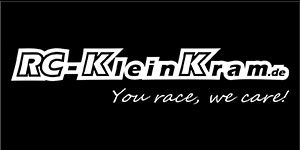 , 
 , 
  , 
 , 
, und Fachhandel.
Quelle: RPM
Weitere Links
#mikanews #rpm #rpmrcracingproducts #lrpmodellbaushop #rck #rcraceshop #lrpelectronic #lrp #weareAE #teamassociated #b6 #b6d #ore2wd #offroad #buggy #rc10b6 #rc10b6d