Das norwegische Talent Marius Kristensen entwickelte sich in den letzten Jahren sehr gut in den 1/10 Buggy-Klassen.  Er gibt gutes Feedback von seinen Tests auf allen möglichen Strecken in Norwegen und im Ausland. Er gab jetzt ein Interview mit Serpent.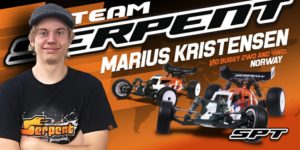 Interview mit Marius Kristensen in der englischen Version:
Englische Version
Norway Champ Marius Kristensen joins Team Serpent
Big rc car talent Marius Kristensen  from Norway is developing well in 1/10 buggy the last years and practises a lot. He gives good feedback from his testing on all sort of tracks in Norway and outside.  His coop with designer Billy Easton, team manager Tony Evdoka and Pontus Larsson is good  and he also helps Serpent Norway exclusive distributor Elefun as needed.
Interview with Marius Kristensen:
Q: When did you start with rc cars and with which car ?
A: i did start first with  an Nikko car when i was 6 and was first time at a track  2.5 year ago with a carbon  Losi Tlr 22 2.0
Q: Which class do you like most ?
A:   1/10 buggy
Q; Whats your opinion in general about Serpent offroad cars ?
A: very high Quality and Easy to bulid
Q: Which is your local track, or track in Norway  you like best ?
A;  My Local track is Hvervenbukta raceway but i like the Geiteryggen  track in Skien the best
Q: What are your raceplans for this winter and with which cars ?
A:  i plan to do full EOS with  Sdx4 and Srx2MH.
Q: and what about 2018 summer season ?  Which races and which cars ?
A;  I will do all national series rounds,National Championschip, some Swedish  races and hopefully the Euros.
Q: What is your current day-time activity ?
A; My current is school, friends, ofcourse RC cars and skiing whenever time allows.
Q: Which radio,  servo, speedo and battery brands are you using ?
A:  i use Sanwa M12S , Orion Electronics,  Arrowmax batteries and Power HD servos.
Q; What in your opinion is the best way for new young drivers to start in rc ?A;  Find a Local Rc track and ask the local guys about what you need to get started. All rc guys are very helpful!Q: What  was your best result in 2017 so far and what was yr best ever result ?A: My best result is 3 place in 4wd at the Norwegian championschip or winning the National series overall, both were super.
Q: Which driver in rc do you see as your example and which one is full scale motorsport ?
A;  Jorn Neumann and Micheal Schumacher
Q: When will be your next race and in which classes ?
A:  Next race will be EOS in Poland with Sdx4 and Srx2 MH team edition
Good luck at the upcoming races !!
SPT – Serpent Performance Team
Handel: 
 ,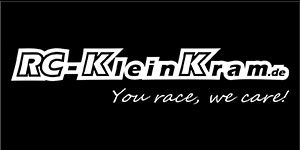 , 
 , 
  , 
 , 
, und Fachhandel.
Quelle: Serpent
Weitere Links
#mikanews