Am letzten Wochenende war es schon der zweite Lauf zu den Danish Nationals Rd2 beim Odense Mini Cars Club. Zum Rennen gibt es einen Rennbericht vom Ryeskovracing.dk .
---
Ryeskov sweeps the first places in 1:10 nitro.
Odense Mini cars club was host for the Danish Nats 2. Nice track with low grip, but most important, dry and sunny weather.
Under practice Saturday, Rasmus Nielsen was fastest, but 1/10 behind was Ryeskov and again Lars Bo Nielsen just behind. We find out that the tires was goon after 2 times qual. Soo we have to make planes for tire change in the final.
---
---
Sunday we start the race. Rasmus took the TQ and put Ryeskov on 2. Place. It was close for the finale.
Final starts and now the game begins. Rasmus choose one tire stop, Ryeskov no tire stops. Rasmus have to drive very fast and Ryeskov have to save tires for hole final. Around middle of the final Rasmus's engine stops, it was too hot and broke a glow plug. Lars Bo Nielsen have the second spot now. Rasmus drive very fast and after a big fight with Lars, Rasmus took second spot and Ryeskov took the win.
1/10 nitro results:
Claus Ryeskov – XRAY NT1
Ramus Nielsen – XRAY NT1
Lars Bo Nielsen – XRAY NT1
Jesper Iversen – XRAY NT1
Martin Vandborg – XRAY NT1
---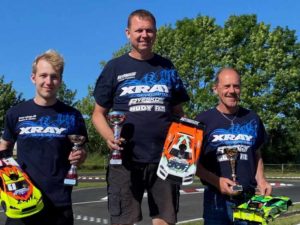 ---
Caspar Morgen took the first place in GT8e.
GTE results:
Caspar Morgen – XRAY GTXE
Soren Bang
Rasmus M. Andersen – XRAY GTXE
Michael B. Sorensen – XRAY GTXE
Steen Jeffers – XRAY GTXE
---
---
Nice weekend for XRAY. Thanks a lot to all drivers and thanks to the club for a good race.
Quelle:  teamxray