Der offiziell lizenzierte, ready-to-run Axial® SCX24™ Jeep® JT Gladiator 4WD ist eine detailtreue Nachbildung des nordamerikanischen Truck of the Year 2020. Sein bewährtes Chassis verfügt über einen neuen, verlängerten Radstand für besseres Handling und unaufhaltsame Leistung.
---
---
Jetzt kann jeder Autoenthusiast, der das Original des North American Truck of the Year 2020 bewundert, seine eigene offiziell lizenzierte RC-Version im Maßstab 1:24 besitzen und fahren – den Axial® SCX24™ Jeep® JT Gladiator 4WD RTR. Es sind keine RC Vorkenntnisse erforderlich, da das Fahrzeug einfach zu fahren, komplett montiert und betriebsbereit ist. Der Truck basiert auf dem bewährten Axial® SCX24™-Chassis, sodass selbst der engagierteste RC-Crawler-Fan stolz darauf sein wird, ihn in seinem Fuhrpark zu haben. Und Scale Modellbauer werden begeistert sein, dass der SCX24™ Jeep® JT Gladiator nicht nur großartig aussieht, sondern auch hervorragend funktioniert.
---
---
Der Axial® SCX24™ Jeep® JT Gladiator 4WD im Maßstab 1:24 macht jeden Ort zur perfekten Herausforderung für RC-Abenteuer. Selbst bei der Arbeit kannst du auf dem Schreibtisch crawlen. Ein unordentlicher Raum wird zum idealen Hindernisparcours. Teste deine Fähigkeiten auf einem Tisch-CrawlerParcours oder nimm deinen SCX24™ Jeep® JT Gladiator mit nach draußen, wo ihn seine wasserfeste Elektronik vor den Elementen geschützt ist. Mit ein paar Löchern, Zweigen und Steinen kannst du in wenigen Minuten einen spannenden Trail bauen. Welchen Kurs du auch einschlägst, das SCX24™-Chassis meistert jede Herausforderung mit permanentem Allradantrieb, einer bahnbrechenden 3-Lenker-Vorder-/4-Lenker-Hinterradaufhängung und vielem mehr. Ein realistischer Leiterrahmen aus Stahl hält harten Stößen stand. Schneckengetriebe an den Achsen erhöhen die Bodenfreiheit. Der neue, 22 mm längere Radstand erhöht die Stabilität, während Vorder- und Hinterachsen aus Stahl, vordere Achsschenkel und StahlAchsknochen dich mit Zuversicht crawlen lassen. Die Kraft dafür liefert ein Dynamite® 88T-Motor und ein 2S-LiPo-Akku. Eine 2-Kanal-Fersteuerung ist für eine präzise und zuverlässige Steuerung enthalten. Der Axial® SCX24™ Jeep® JT Gladiator bietet großartige Leistung und sieht unglaublich realistisch aus. Die originalgetreue Karosserie umfasst einen Fahrer und eine detaillierte Innenausstattung und ist in zwei Farben erhältlich, die auf den aktuellen Werksfarben des Jeep® Gladiator basieren. Scale Tuff Stuff Overland-Zubehör ist auf der Ladefläche montiert. Offiziell lizenzierte Nitto Grappler-Reifen auf KMC-Rädern sorgen für Realismus und hervorragenden Grip auf der Straße und im Gelände. Zwei LEDs in der vorderen Stoßstange beleuchten deine Strecke für nächtliches Crawlen. Mit dem Axial® SCX24™ Jeep® JT Gladiator 4WD kann jeder das Fahrabenteuer "Truck of the Year" erleben – mit Readyto-Run-Leichtigkeit!
---
---
Features
Bürstenmotor, Servo, Regler/Empfängerseinheit und AA-Senderbatterien • Detaillierte Karosserie und Innenraum des Jeep® Gladiator, komplett mit Scale-Fahrer und Tuff Stuff Overland ScaleZubehörpaket, das auf der Ladefläche montiert ist • Zwei LED-Leuchten im vorderen Stoßfänger plus ein zusätzlicher LED-Steckplatz am ESC für optionale LED´s • Offiziell lizenzierte Nitto Trail Grappler M/T-Reifen, montiert auf offiziell lizenzierten KMC XD Machete-Felgen • Echter Permanent-Allradantrieb • 22 mm längerer Radstand auf die Karosserie abgestimmt und mit der Fähigkeit, große Herausforderungen zu meistern • Langlebige 3-Lenker-Vorder-/4-Lenker-Hinterradaufhängung und Federbeine für optimales Handling und Crawlleistung • Schneckengetriebe im vorderen und hinteren Differential erhöhen die Bodenfreiheit • Robuster C-Profil- Leiterrahmen aus Stahl für zusätzliche Festigkeit und Verzugsfreiheit • Langlebige Stahlachsen sorgen für Stärke und Langlebigkeit, um harten Anstiegen und unwegsamen Trails standzuhalten • Klettverschluss-Karosseriescharnier für einfachen Zugang zum Akku • 2 Jahre beschränkte Garantie (Einzelheiten siehe Produkthandbuch)
---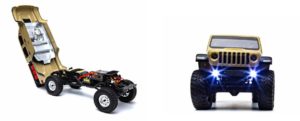 ---
Lieferumfang
(2)Axial® SCX24™ Jeep® Gladiator 1/24 Scale 4WD RTR (2)Horizon 2.4GHz 2-Kanal Fernsteuersystem (2)Axial AS-1 Servo (2)Horizon ESC/Empfänger Combo (2)USB Ladegerät (2)Dynamite® 88T elektrischer Bürstenmotor (2)Dynamite 350mAh 2S LiPo 7.4V (4) AA Batterien für die Fernsteuerung
Was fehlt:
• Nichts — es ist alles im Lieferumfang enthalten
Artikelnummer: AXI00005T1 – beige
UVP: 149,99 EUR
Liefertermin: Februar 2022
Quelle: Horizonhobby