In der Schweiz wurde am Wochenende wieder Nitro 1/10 und 1/8 Onroad gefahren. Auf dem Terminplan stand der 4.Lauf der schweizer Meisterschaften. Einen Bericht gibt es von Monika Ackermann (in Englisch):
NT1 Wins at Swiss Championship Round 4
The fourth Swiss championship race took place at the Herblingen track near Schaffhausen. It is a very technical track and the slightest mistake can cost dearly.
The weather forecast was quite favorable, apart from a risk of rain on Saturday morning. In fact, it was decided that only one timed practice and three qualifying sessions would be held on Saturday afternoon. And then another qualifying on Sunday morning.
1/10 nitro
After the heavy rain on Saturday morning, the track conditions were special. The drivers struggled with either understeer or oversteer. Thanks to good teamwork we were able to improve our Xray cars and achieve a good team result.
Patrick Fankhauser was able to win all 4 qualifying runs and took the pole position ahead of his teammate Stefan Wuthrich. With Philipp Buhler, Traugott Schar and Josua Rolli we could bring a total of 5 NT1 cars into the A-main.
Patrick and Stefan were able to pull away from the field early on. Unfortunately Stefan had a problem during the tire change, which allowed Patrick to take a big lead. So he was able to control the race, and take a start-finish victory. Stefan Wuthrich finished the race on P2 despite the problems. Behind them, Philipp Buhler, Emanuele Fonzar and Traugott Schar had a thrilling three-way fight for the last place on the podium. Philipp drove a strong race and finished on P3 – complete XRAY NT1 podium! Traugott finished on P5 and Josua on P7.
In 4 weeks the last race of the Swiss Championship will take place in Aigle. Traugott, Emanuele and Patrick will fight for the title among themselves. Stefan can still advance to 2nd place with a good result.
1/10 nitro results:
Fankhauser Patrick – XRAY NT1/ FX
Wutrich Stefan – XRAY NT1/ FX
Buhler Philipp – XRAY NT1/ FX
---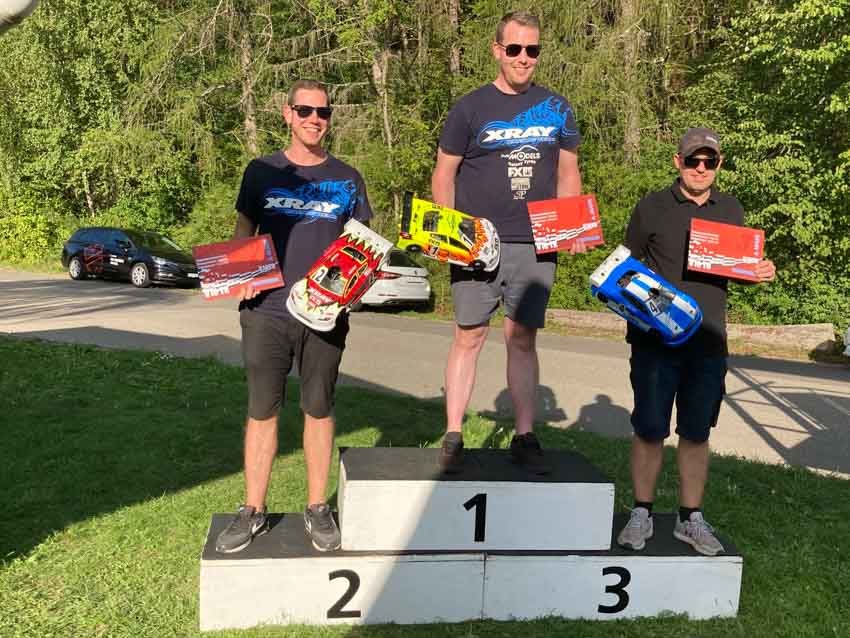 ---
1/8 nitro
In the 1/8th category, the new Xray RX8 '23 driven by Mattia made its debut with a pre-production version of the new FX R900 engine. During Friday's practice the new car performed very well, setting good times ahead of Saturday's qualifying.
The rain during the night changed the grip of the track and Mattia therefore had to adapt the setup of the car.
For the A-Main Mattia made a few more small changes to the setup. Unfortunately, tire wear was very high at this track and almost everyone opted for a double tyre change. Mattia made a fast start straight away. He was able to recover and placed third behind Martinelli and Krahemann. He also tried to overtake Martinelli, but unfortunately he broke a tyre, but managed to hold the position.
Martinelli then had problems with the gearbox and so Mattia moved into second place, followed by Nydegger half a lap behind.
There was still a small problem with a lapped car and he then lost second position. After the last pit stop he was catching up and could take back second position, but unfortunately there was an off, then followed by two more, losing any chance of finishing in second. Mattia still managed to finish third on his debut with the new RX8 '23 and the new FX R900.
After an inspection, he found that the clutch bearings were broken and therefore caused the engine to shut down.
1/8 nitro results:
Krahemann Oliver
Nydegger Jurg
Pesenti Mattia – XRAY RX8/ FX
---
---