Was für ein spannendes letztes Rennen in Österreich bei der Meisterschaft in den Klassen ORE2 und 4WD.
Ob es das schon gab? Zwei Meister in beiden Klassen am Ende der Saison?
Report by Hupo Honigl
The 4th and final round of the Austrian Nationals in 1/10th buggy took place at the former EOS track of the ERT Steyregg.
This time we had a wet race only, with a lot of rain showers in between.
Funny side note was that we had more traction when it was raining, than when the track was drying out.
Micha and I had again some hard battles all day. In qualifying Micha looked comfortable in both classes, but I never gave up until the end. In 2WD I had nothing against him and he could win. In 4WD I could turn it around and could take the win for the day, which was exactly what each of us needed to become National champion tied on point, which means we both won both classes. I think this never ever happened before in both categories.
4WD results of 4th round:
Hupo Honigl – XRAY XB4
Micha Widmaier – Sworkz
Christian Wukonig – Schumacher
---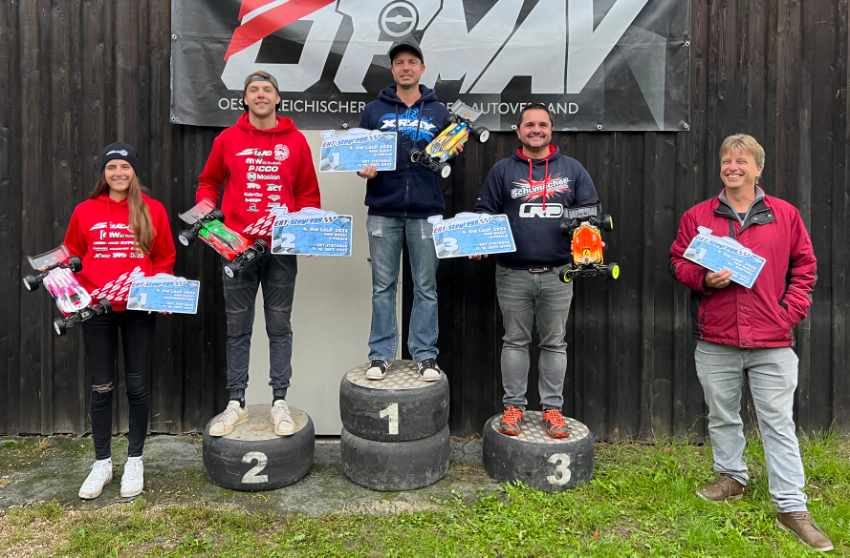 ---
2WD results of 4th round:
Micha Widmaier – Sworkz
Hupo Honigl – XRAY
Robin Riedmann – AE
---
---
Overall 2022 2WD results:
Micha Widmaier         Sworkz
=
Hupo Honigl – XRAY XB2
3      Robin Riedmann – AE
Peter Pinisch – AE
Antonia Kovalski-Sworkz
Christian Wukonig – Schumacher
Marcus Prihoda-AE
Michael Skolnik – XRAY XB2
Michael Katzmayer-Sworkz
Thomas Dvorszky– XRAY XB2 & 50+ National Champion
---
---
Overall 2022 4WD results:
Hupo Honigl – XRAY XB4
=
Micha Widmaier         Sworkz
Antonia Kovalski-Sworkz
Peter Pinisch-AE
Christian Wukonig – Schumacher
Thomas Dvorszky– XRAY & 50+ National Champion
Michael Katzmayer-Sworkz
Marcus Prihoda-AE
Lucas Grainer – XRAY
Michael Skolnik – XRAY
---
---
Quelle: teamxray