Eine weitere AR8 Karosserie kommt von Bittydesign. Diesmal in den Dimensionen passend für die Arrma Infraction und Limitless. Das heißßt nicht, dass diese nur für diese Modelle gedacht ist. Wenn euer Fahrzeuge zu den Maßen passt, dann wäre die AR8-GT3 eine Option.
Geliefert wird diese unlackiert mit Spoiler und Befestigungsmaterial. Bitte beachtet, dass ihr noch optional ein paar Teile benötigt, damit diese Karosserie auf euren Arrma und andere Fahrzeuge passt.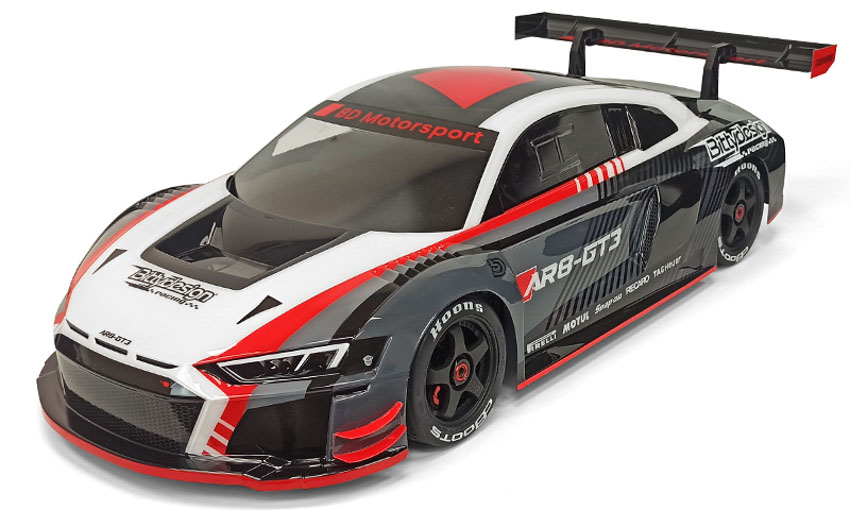 Englische Version
The AR8-GT3 project was born from the desire to create an extraordinary product developed specifically for ARRMA.
Product Features
The body shell has been designed to fit the ARRMA® Infraction™ V2 chassis. Also compatible for *Limitless™ model.
Made with high quality and genuine polycarbonate Lexan®, 1.5mm thick
Included the lexan wing + plastic supports and the hardware (screw, nuts and large plastic washers) to fix properly these parts
* for installation on Limitless™ chassis it is necessary to purchase the following parts: ARRMA Infraction Body Post Mount Set (#ARA320517), ARRMA Front Bumper Support (#ARA320521), ARRMA Front Bumper (#ARA320515) e ARRMA Outcast Body Post Set (#ARA320357))
Also compatible for Traxxas® XO-1 chassis and Hobao Extreme VTE2
Specs: length 690mm, width 310mm, height 175mm
Wheelbase: 406mm (with ARRMA dBoots® Hoons™ wheels)
Sold clear with protective film outside
Included in the package a decal sheet pre-cut, windows mask
Made with one target: the excellence!
Making reference to one of the most iconic and victorious GT3 car of recent times, we took inspiration to design the lines of the AR8-GT3 body shell adapted to the production needs, the phase of refinement took several months to optimize every detail, the search of perfection has been obsessive in order to offer a product that respect our quality standards.
AR8-GT3 is a stunning looking GT body designed to push your 1/7 model to the limit, whether you want to test top speed on the straight or drifting with your rc mate in the parking lot behind your house.
3D Cad design & engineering
QUALITY without any compromise is the basis of everything we make, the AR8-GT3 body shell represents the perfect implementation of our philosophy that drives us to do better and that encourages us to make use of our know-how acquired in over 15 years of experience.
In order to respect our quality standards, we have not set any limits and we have realized the AR8-GT3 project with the use of the most advanced graphics and Cad design; this process guarantees a perfect execution of the forms and details that high-tech machinery realize with 5-axis CNC milling machines, we exploit and make full use of the most advanced technology to guarantee a result that represents at best the Italian excellence.
Quelle: Bittydesign