Berichte aus der Welt in Englisch: 
XRAY X12'17 wins at the BRCA Nationals
The second round of the very competitive 1/12 BRCA Nationals was held at the permanent indoor circuit of MB Models, located in Leeds, in northern UK. Almost 100 entries gathered for a weekend of close racing. The XRAY UK team was in full effect with me, Olly Jefferies and Marcus Askell present.
In the 13.5T class I managed to take the overall TQ. I had my car pretty dialed in throughout the early runs. The field eventually tightened up for the finals. In the final I unfortunately had a traction roll in the early stages, which sent me down the order. I would recover to 3rd overall, but the biggest improvement came from Olly who moved up from 8th to 2nd!
In the new 6.5T blinky modified class on sunday, I would put my X12'17 on the top spot again after a perfect Q3 run. Olly eventually qualified 2nd after a good Q4, just a couple of seconds back. I led the final from tone to tone to take a great win! Unfortunately for Olly, he was crashed out by drivers from behind already on the first lap, and had no chance to fight for the win as a result.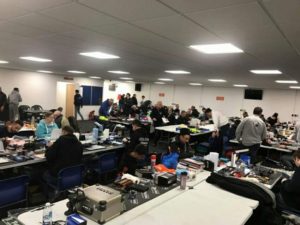 Once again we have shown a great performance of the X12 car on this challenging UK track! On the sunday, I opted to use the new aluminium optional chassis and rear pod for my X12. I can really recommend these parts for high grip conditions, as it greatly improves the corner speed of the car, as well as reduces the risk of traction rolling!
Thanks to MB Models and the BRCA for putting on a stellar event! I am hoping to see everyone at Tamworth for Round 3!
13.5T Results:
1. David Spashett
2. Olly Jefferies – XRAY X12'17
3. Alexander Hagberg – XRAY X12'17
4. Ollie Payne
5. Chris Kerswell
6. Andy Murray
7. Aidan Ripley
8. Mark Stiles
9. Mark Jewitt
10. Adam Catchpole
6.5T results:
1. Alexander Hagberg – XRAY X12'17
2. Ollie Payne
3. Andy Murray
4. Adam Catchpole
5. David Spashett
6. Mick Farrell
7. Mark Stiles
8. Chris Kerswell
9. Jonny Aird
10. Olly Jefferies – XRAY X12'17
Quelle: Team Xray
Weitere Links