Heiße News aus dem Hause LRP. Nach der Neuvorstellung des Flow X Tgibt es nun den Flow X Offroad. Mehr Details findet ihr in der englischen Version.
Englische Version
Flow X Offroad – take the Flow into the next Dimension!
Benefiting from all the newest technology packed in the Worlds winning Flow X TC spec ESC, LRP´s next speed control is now capable to repeat the
same success in 3D racing classes – meet the new Flow X Offroad.
With experience gathered during numerous tests with LRP WorksTeam we have once again developed a new mixture, which will bring even more
consistency and driving feel into Offroad racing. With exceptionally smooth power delivery and special brake settings, this ESC will make you faster on
any surface imaginable. The new Flow X Offroad comes with the following new main features:
• LRP's exclusive Customized Super FETs (CSF-01) for highest power output and
efficiency
• Heavy duty 2.8mm 8-layer power board for minimum resistance and lowest
core temperatures
• NEW v3.1 software specialized for Offroad racing
• Bulletproof 6V/6A BEC for the most reliable power output
• Full aluminum case in exclusive state of the art design
TECHNICAL DATA
Cont. Current 220A
Peak Current up to 1800A
Voltage Input 7.4V (2S)
Motor Limit >2.5T
BEC 6V/6A
Software v3.1
Case Size 33.7×32.6×19.8mm
Weight 44g (excl. wires)
Power System Sensored brushless
Driving Function Forward/Brake
Power Wires WorksTeam 12 AWG blac
Features
All new power & logic board hardware | Customized LRP cooling plates | Lowest internal core
temperature | Black super flexible WorksTeam customized power wires | Black 175mm receiver wire
| Selected hardware components | Low profile case design with improved air-flow | Easy solder
system | Dust and waterproof buttons (IP68) | v3.1 dedicated Offroad software for Modified and
Stock classes incl. Boost 0 | Multimode power profile adjustment & new MPS4 protection system |
4 different brake types including BDX-O, made especially for the FLOW X Offroad for the most
consistent and powerful braking in every condition | New electronic timing algorithm for smooth
and yet extreme power gains | Timing delay feature for smoothest throttle control | Optimized
internal adjustments of the microcontroller parameters for faster response and consistent running
| Optimized Protection levels with precision temperature readout | Tested in hardest race conditions
| 100% LRP quality approved with sophisticated functional and electrical test incl. drive simulation
Included in the package:
– Flow X Offroad ESC with v3.1 Offroad Software
– Installation manual & v3.1 Software guide
– 4x short and 4x long lightweight blue alum. fan screws
– LRP sticker sheet
– 200mm Hall sensor wire
– 40x40mm double-sided tape
Handel: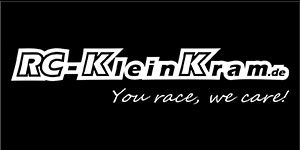 ,  ,
und Fachhandel.
Quelle: LRP
Weitere Links