Endlich geht es wieder los. Auf der britischen Insel auf dem Cotswolds Circuit startete der Saisonbeginn nach der langen Winterpause. Es war das erste Kräftemesse auch der Hersteller. Wer würde den besten Start hinlegen. Am Start waren auch die 1/8 Elektro-Glattbahner, die sich einen harten Kampf um den Sieg boten. Die Ergebnisse gibt es am Ende. Das Siegerfahrzeug war ein Serpent Evo2 977e.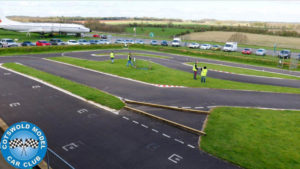 Mehr hier:
Englische Version
The first UK National of 2017 was held last week at the Cotswolds circuit – with significant anticipation/excitement after the long winter break.
Saturday practice was largely damp until the last 2 hours when a dry track enabled most racers to get to grips with their 2017 cars.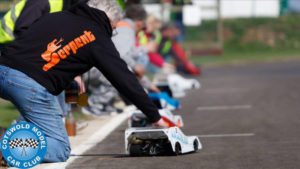 Sunday saw fine weather all day which was a welcome change to the traditionally cold and wet start to the year.  Through Qualifying in the Nitro class, it was Serpent's 977 Evo2 leading the way, with Mark Green, Tim Wood, John Carr and Richard Hicklin all placing in the top 3 at one time or another.  Mark and Tim both got down to 14.5 second lap times – faster than the 2016 times and displaying an advantage compared to the other cars.
The stage was set for the 30 minute A final, with Mark on Pole, Tim 2nd and Richard 3rd.  A largely uneventful race upfront saw a Serpent/XRD/Contact 1-2 for Mark and Tim despite a backmarker accident for Mark, with Tim's engine being rich leading to a fuel cut mid-race.  John and Richard were both unlucky but rounded out 5th and 9th at the end.  Neil King completed the podium in his first race for Shepherd.  A special mention for 12 year old Matthieu Dambrine, who made his first national A final and finished 6th!
A great start to the year for the UK Serpent Team, which was backed up with Alex Thurston and Joe Hawnt taking a 1-2 in the electric class – Well done guys!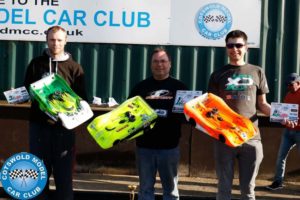 April 1st and 2nd was the weekend of the 1st BRCA 1/8th national championship round at the beautiful Cotswolds circuit situated on Kemble airfield.
Saturday morning the track was damp in areas so I choose not to go out until it dried out, it did and I managed to get in a quick run to see how my new 977e Evo2 would handle. Straight away all serpent drivers came to me and said they are really happy with there new cars, the amount of grip they have over the last car is a great improvement and lot more steering without the car losing rear traction. I chose to make a few changes to my car mainly electronics wise but I changed the front shock oil and downstops to cater for the massively undulated Cotswolds circuit.
While I was making these changes the weather took a turn for the worst and it hammered down. The rain was that bad that a few drivers went out to test there wet cars. All cars were using kissling tyres!!!
The hard part to get over was that the track dried up really fast taking around 50minutes to 1 hour from using kissling tyres to dry tyres! The sun came out all clouds went away and everyone could resume with practice! The changes made a massive difference and my car was really good. Easy to drive and consistent. All serpent drivers in the electric class were satisfied with there cars regardless of driver ability so that's as much as I could ask for!
Sunday morning and the track had the odd damp patch on it due to a sprinkle of rain during the night, practice came round I chose to sit out of it as my car was good and I wasn't going to achieve anything so I chose to check my car, watch and advise serpent electric drivers and true tyres to cover qualifying and the finals. My car was great on both new and old tyres!
Qualifying was really good with myself taking TQ. 7 serpent drivers qualified to the main out of a possible 10!
The final result ended
TQ-Win Alex Thurston -Serpent Evo2 977e
2nd- Joe Hawnt – Serpent Evo2 977e
3rd – Franck Dambrine
4th- David Gerrard- Serpent Evo2 977e
5th- Craig Woods- Serpent Evo2 977e
6th – Jamie Paton- Serpent Evo2 977e
7th – Pete Hastings
8th – Paul Bellinger- Serpent Evo2 977e
9th – Ian Billett- Serpent Evo2 977e
10th Kieran Adamson
The next round is at Halifax in 3 weeks.
Erhältlich bei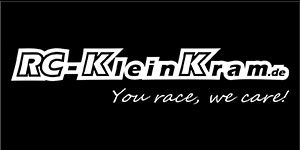 , 
 , RMV und Fachhandel.
Quelle: Serpent
[Serpent News] Anthony Abisset aus Frankreich verlängert Teamvertrag mit Serpent