Der neue Nitro 1/8 Buggy von Serpent ist nun vorgestellt wurden. Unter der Bezeichnung Serpent Cobra SRX8-EVO wartet das Fahrzeug mit einigen Veränderungen auf. Die komplette Release (mit den Infos zum Fahrzeug) gibt es auf der Webseite von Serpent bzw. hier gleich unter den Bildern des Fahrzeuges. Das Fahrzeug wird nun versendet und wir in den nächsten Tagen / Wochen erhältlich bei eurem Händler sein.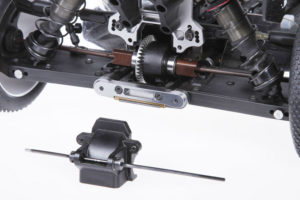 Englische Version
Main new features
5mm anodized aluminium 7075 T6 shocktowers front and rear
Shockcaps with dual system, membrane / emulsion
New grey coated chassisplate in 7075 T6, with improved engine position.
Molded uprights for increased traction, 2 lower /4 upper positions for set-up
Springsteel centre driveshafts and adaptors in dogbone style for durability, eas of use and maintenance
Latest wishbones type with added set-up options and improved materials
Additional hingepin inserts for more settngs
High downforce Avenger body
Stunning standard equipment
coated chassis 7075 T6, laser engraved
Steeringblocks alu 7075 T6, black coated, laser engraved
C-hubs 15 dgr, alu 7075 T6, black coated, laser engraved
5mm anodized aluminium 7075 T6 shocktowers front and rear
Big-bore shocks with machined pistons and spacers, new supersmooth x-rings
Hardcoated engraved shockcaps, 3.5mm rods and rubber sleeves.
Front, central and rear geardifferentials with foam insert system
4-shoe racing clutch
durable wishbones ready for use with inserts ( molded standard, carbon optional )
Steel diskbrake system with special pre-mounted brake-pads
Lightweight and strong hardcoated aluminum camberlinks and tracksrods
Straight rear wing and new Avenger high downforce style body
Springsteel drive-train system with CVD and rubber protections boots
Ballraced anti-roll bars front and rear with pivot system
Supernice radiobox layout and fully integrated transponder -holder
Decals for the radiobox caps
Top-quality NSK sealed bearings in critical areas
Performance packed
Fully adjustable for caster, camber, toe-in, toe-out, roll-center, rideheight, wheelbase, downstops, anti squat, kingpin angle, ackermann, the works !
geometry front and rear combined with chassis shape and longer chassis braces for more agile handling, more steering, more rear grip and improved balance.
Angled steering system for optimal Ackermann, responsive steering  and reduced bumpsteer.
Hardcoated shocks
Race clutch with 4- carbon shoe system
Effective airfilter system with new angled rubber connector and strong wireholder
New areo pack with Avenger high downforce body and straight wing for medium downforce. Optional high downforce adjustable polycarbonate rear wing.
Eas of maintenance
Super easy front and rear differential access with 4 screws only
Super easy access to the central differential and brakes
Super easy lever system for the throttle and brake
Super easy removal and re-assembly of engine, radiobox, tank, complete radiobox, complete front and rear, complete center assembly
Supernice fueltank with screw-on type fueltube holders, insert-system to reduce tankvolume , improved filter/clunk , improved fuelcap and spring.
Great info, service and support
Car-kit includes USB stick with full color assembly in PDF with hotlinks to webpages for easy spare parts selection .
Serpent distributors and dealers are active in all parts of the rc racing world, for information, service, support and supply
Access to Serpent Website, TeamSerpent website, Serpent Facebook, Serpent Facebook Groups ( per car), Serpent Twitter, Serpent Advanced Manuals
Join in for Serpent Master Classes ( SMC) by Serpent team-drivers
Design
Serpent designer Billy Easton from USA, is part of a team of designers, each with their own specialty. Billy used the input from many Serpent drivers, teamdrivers and distributors, to create this EVO version 1/8 buggy. The focus is as always on performance, but we have paid a lot of attention to eas of use and durability.
For drivers that also run electric 1/8 buggy, Serpent offers the Cobra SRX8-E which is based on the same platform and shares many parts with the GP version, so its an ideal combination.
Heritage
Serpent as company started in 1980, and has over 35 years experience in developing, testing, designing and manufacturing radio controlled modelcars and is one of the longest existing rc brands in the World with 10 World Championship titles and countless European, American, Asian and national titles won by Serpent drivers !
Serpent Cobra SRX8; Full Details
Chassis
The chassis cnc machined from 3mm aerospace type 7075 T6 aluminium and  comes  anodised for durability.  The shape is wider at the rear  to help the chassis roll and drag in rougher conditions. The kick-up angle is optimised to fit with the mating parts.  All holes in the chassis are countersunk.
The pocket for the flywheel is large enough to suit most commonly used starterwheels.   The sideguards mount to the bend chassis-sides from the inside with  pre-threaded holes in the chassis. The chassis offers good size surfaces for the downstops.
Engine mount
Lightweight CNC machined engine mount in 7075 T6 aluminium with pre-threaded holes and large contact area with chassis, comes grey anodised .
Chassis stiffeners
Extra long  chassis stiffeners, front and rear in composite material to offer the right flex and prevents the chassis to bend too much. Easy locking fastening system.
Side-guards
The composite sideguards help to keep debris out of the car, add rigidity to the chassis and support the body.  The sideguards are fixed to the chassis from the top in pre-threaded holes in the chassis. This way the screws are protected well and its easier to re-assembly when needed. The sideguards feature a pocket on the outside to allow mounting some felcron tape to guide / fix the body.
Steering system – servo saver
The dual  axis steeringsystem with integrated servo saver is mounted under an angle for less bumpsteer and a more direct steering feel.  The axis are made in light weight aluminium.  The new bellcrank accepts a bearing raced crossbar with zero slop. It  designed with the optimal Ackermann to  increase the cars drive-ability.
Servo saver
These servo saver parts not only have the right Ackermann, but also have a good  internal servo saver design.  It incorporates a helix in order to guarantee the proper operating of the servo saver assembly. The servo saver spring is protected by a dense foam cover, to keep debris out.  The spring pre-tension clamp nut  can be locked in place to avoid turning loose.
Radio-tray
The easy to use and durable radiotray is made as low as possible but in such way that all electronics fit in easy and well. Its features a seperate section in the front for the battery pack, to have the heavier part more front. The lid has 4 screws. Both servo's fit in nicely with plenty servo-spacers to mount them on the right height. The chassis below the servo's has lower pockets to allow mounting the servo's very low. Ofcourse you need to think about chassisflex / torsion, so don't mount them too low. The transponder, small or medium type, has a nice flush mounted holder included. The receiver box also has 4 small screws for easy and fast access. You can mount a standard switch, or use the supplied cover in case you use another solution. 2 carbon look decals are included to cover the battery and receiverbox.
Fueltank
The125cc  fuel tank  with the spring and cap allow the pressure to be  more equal across the entire top of the cap, as well as the design of the cap has no flex .  The clunk has been enlarged so it will sit at the bottom of the tank and will not pop up or float at the bottom. While the drain section on the top has been improved where there is now a 4mm hole that will allow dirt and debris to escape and not clog. The fuel-tube clips now mount to the tank with screws so you wont have to worry about losing them. The tank pull will enable  faster and more secure refuelling.   The tank is further away from the exhaust , which will prevent melting of the tank.  The kit includes  purpose made insert  to reduce the content if needed.  The tank mounts on 2 strong composite poles  with rubber grommets for flexible mounting and allow easy dis-assembly for checks and cleaning.
Airfilter
High quality 2 piece dense foam  for perfect filtering ( use topquality  airfilter oil only ).  The  holder allows for easy assembly. On the front –top side the mount is attached to the center support with a spring wire, fixed with a bodyclip. The new rubber elbow  allows for good airflow and features wide grooves to apply tie-wraps.
Center diff mount
Durable center mounts with large size bearings  to mount the brake system and center diferential. A moulded brakedisk guider is mounted on the brackets.  The whole system is made as low as possible for CG reasons.  The sleek top-cover keeps dirt out and guides the 2 brake cams.
Brakes
The SRX8 provides a conventional braking system with brake cams, steel disks and steel pads with effective pre-glued brakepads .
Clutch
The effective 4-carbon shoe  race clutch is continued . It can be completely pre-assembled  and then be mounted to the engine. The system comes with a  light and small aluminium flywheel  and durable springsteel 14T clutch-housing .
Differential cases
The strong moulded differential cases which contain the differential and supports the shocktowers.
The differential front and rear can be removed after taking out only 4 screws and removing the anti-roll bars, super-easy !
Differentials
The compact geardiffs with large oil volume. The diff has cavities designed specifically for closed cell foam. This foam will compensate for expansion of the oil, which will allow us to fill the diffs more full, keeping the gears fully engulfed in oil. The cavity where the gears rest has also been redesigned so that there is not low pressure zones outside of the gears. This will keep more oil on the gears even when spinning at high rpms. This in turn will keep the diff more consistent at low and high speeds as well as hot or cold .
Differential gears  28 / 14 / 44
The hardmetal 28T and 14T satellite gears have a  larger overall diameter,  to make sure they are more in oil, making the diff more consistent , smoother and stronger .  The steel 44T ring gear is light and has  a perfect match with the new 28T gear.
Wheel axles / hex / boots
The  durable Serpent springsteel wheelaxles are captured CVD style  and have rubber boots to protect the system and bearings against dirt and dust, so it will all last longer.  The wheel hex is a durable hard aluminium version which fits all popular wheels very well.  The pins in use are 3mm ones to increase durability.
Steeringblocks
The  steeringblocks  are made in 7075 T6 aluminium and are anodised in black.  These steering blocks have been designed to allow you to change the Ackermann at the steering spindle as well as give us the optimal scrub offset in conjuction with the caster block. The bushings press into the blocks and reduce any unwanted play.
C-hubs
The  new 15 dgr  c-hubs are made in 7075 T6 alminium and are anodised in black.  These open style very durable units allow enough space to allow for the maximum steering-angle and lalow space to mount the rubber dust  protectors on the CVD system.  As optional we offer 13, 17 and 19 dgr alu c-hubs too.
Uprights
The new strong composite uprights come into play on the Team edition. Offering 2 lower and 4 upper positions for set-up.
Wishbones
Very durable and long moulded wishbones  front and rear.   The composite is chosen to have enough flex when needed.  The design has pockets in the top and bottom part of each arm  to mount the standard moulded insert plates, or the optional carbon fibre ones.   In that way you can choose the right arm flex for each condition.  Even different or no inserts front or rear and mixing moulded and carbon inserts is possible. The moulded inserts will stiffen the arms only a little, but keeps them cleaner. The carbon ones,  or mixed with moulded ones will stiffen  the arms a lot. Many options to try and apply.
Mudguards
The mudguards are offered in lightweight transparant polycarbonate  and can be left clear, be painted or skinned as prefered.
Suspension brackets
The suspension brackets are CNC machined in 7075 T6 aluminium and grey anodised. They key into the chassis for perfect fit.  The brackets have precision machined pockets to use inserts to alter the set-up.
Anti-roll bars
The anti-roll bar system is the best around. Precison made wire runs in ballraced adaptors on the front and rear diff case-plates.  Superfree and stabile.  The wire connects to a balljoint which is fitted with a pivotbal to the wishbone.   The works !
Shocktowers
The front and rear shocktowers are durable 4.5mm 7075 T6 alumimium units, CNC machined and laser engraved with Serpent logo.
Shocks
Durable polished steel 3.5mm rods are used with hard anodised caps and threaded shock-bodies.  The sealpack consist of machined bushings and new x-rings and is kept in place with a small inside clip.  The shockpistons are machined delrin units for best performance.  The shocks in the kit are membrame style, with emulsion type hardcoated caps and seals to be offered as option.
Shock springs
Race shock springs which are pre-selected and paired. The shock springs are grinded flat for perfect operation.
Wing rear black
The new flat type rear wing is a very effective medium downforce unit with large sidewings.  The decalsheet offers sidewing decals to apply.
Wingholder rear
The rear wing holder is a super durable and light one piece moulded unit . The set includes wing-spacers to put the wing under a range of angles.
Body
Avenger style high downforce body is developed for the  SRX8.  Cab-forward style body with small fin on the roof for stability.  Nice flowing sides with small rear upward fins for rear downforce. Enough space to allow for airfilter, enggine head, carburetor and exhaust / exhaust adaptor. Top quality polycarbonate.   The body has nice trimlines for easy cutting. Same for the bodyholes. A masking sheet is included to assist with  paintjob preps.
Bodymounts
This rear body mount has a rubber cushion in it. It allows the body mount to rotate front to rear in an impact or crash. This saves the body from breaking or tearing. The front one is a fixed type and is easy accessible.
Ballbearings
Top quality shielded NSK bearings with grease throughout the kit.
Manual
New full color PDF manual in landscape orientation to have more space to explain all, and have correct layout for screen use as well.   Full color version with additional detailed views and notes, and also showing the hardware in real size on each page.  Serpent USB stick is included with all manuals and set-up sheets.
Set-up sheet
Blank, default and edit versions ready to use.
Decals
In the kit comes 1 Serpent logosheet and 1 Cobra SRX8 sheet
Box / packing:
The Cobra SRX is supplied in a strong carton box with Serpent logo, which can be re-used for tyres or other equipment. The box is covered with a nice full color sleeve showing the car front and back.
Anleitung: –Hier klicken–
Handel: 
 ,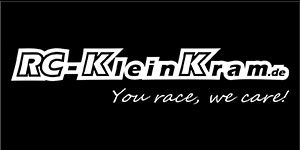 , 
 , 
  , 
 , 
, und Fachhandel.
Quelle: Serpent
Weitere Links
#mikanews #vppro