Pro-Line Racing erweitert sein Programm mit einem neuen Fahrzeug. Der PRO-MT 4×4 wurde entwickelt und gebaut, damit ihr einen extrem haltbaren und leistungsstarken 1:10 Monster Truck in die Hände bekommt. Pro-Line hat über 35 Jahre Erfahrung in der Herstellung hochwertiger und leistungsfähiger Zubehörteile und diese Erfahrungen wurden genutzt, um den ultimativen Go Anywhere – Do Anything 4×4 Monster Truck zu bauen.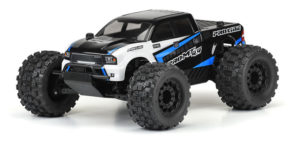 Der PRO-MT 4×4 wird als vormontiertes Fahrzeug geliefert. Ihr müsst noch eure eigene Elektronik montieren (Siehe Bauanleitung) und die Karosserie nach euren Wünschen lackieren. Es ist "fast" ein Ready-to-Run-Fahrzeug mit Allrad-Antrieb.  Der PRO-MT 4×4 enthält keine Elektronik, Farbe oder Werkzeuge, die für den Betrieb oder die Wartung des Fahrzeugs erforderlich sind.
Der PRO-MT 4×4 ist wie kein anderer Monster Truck. Aufgrund seiner ausgewählten Komponenten sollte es im Zweifelsfall auch 1/8 Brushless- und 4S LiPo Power aushalten.
Aluminium & Stahl BI-METALL Chassis
Haltbarkeit trifft auf Leistung mit dem Pro-MT 4×4 Aluminium- und Stahl-Bi-Metall-Chassis. Das 3 mm starke Gun-Metal eloxierte 6061 T6 Aluminium Chassis ist kombiniert mit einem 3 mm dicken gehärteten Stahl, die sich von der Mitte Diff zu der Hinterdiff für maximale Fahrwerkssteifigkeit und Haltbarkeit erstreckt.
BADLANDS MX28 Reifen mit 17 mm F-11 Rädern
BALANCED WEIGHT
Präzisionslenkung
einfacher Zugriff zu den Diffs
Pivot-Ball Aufhängung vorne
Aluminium-Motorhalter
Mod1 Verwendung im Getriebe für 1/8 Power
große 16 mm Bigbore Dämpfer
verschlossene Differenziale
Englische Version
The PRO-MT 4×4 was designed and built from the ground up to be the most Extreme 1:10 Monster Truck ever created while delivering the Durability and Performance you have come to expect from Pro-Line. Pro-Line has over 35 years of experience making the highest quality and best performing accessories and we used that experience to create the ultimate Go Anywhere – Do Anything 4×4 Monster Truck. Bashing has never been so good! The PRO-MT 4×4 has race-bred DNA similar to 1:8 Race Buggies for expectation shattering Performance combined with Extreme Durability.
FEATURES
The PRO-MT 4×4 comes as a Pre-Built Roller, so you just install your own electronics by following the included Instruction Manual, paint your body with your favorite paint job, and Go Have Fun! If you are ready to graduate up from the Ready-to-Run vehicles that currently occupy the 1:10 Monster Truck market and you want true next-level Performance the PRO-MT 4×4 is the truck for you. The PRO-MT 4×4 does not include electronics, paint or the tools required to operate or maintain the truck.
The PRO-MT 4×4 is unlike any other Monster Truck available because it was designed from the ground up to have the highest quality components and the best performance right out of the box. No need to spend tons of money on upgrades like all the other trucks available… the PRO-MT 4×4 has the upgrades you need already included making it the best value for the money! Every part of this 1:10 Monster Truck was designed from Day 1 to handle today's extreme brushless power systems, including insane 1:8 Motor Systems and 4S LiPo Power. This has never been done in a truck of this size and Pro-Line is proud to bring it to you! Read below for more details on specific features.
ALUMINUM & STEEL BI-METAL CHASSIS
Durability meets Performance with Pro-Line's PRO-MT 4×4 Aluminum & Steel Bi-Metal Chassis. The full length 3mm thick Gun-Metal Anodized 6061 T6 Aluminum Chassis combines with a 3mm thick Hardened Steel Spine extending from the Center Diff to the Rear Diff for Maximum Chassis Stiffness and Durability.
BADLANDS MX28 TIRES WITH 17MM F-11 WHEELS
BALANCED WEIGHT DISTRIBUTION
Precision Steering
WASY ACCESS DIFFS
FRONT PIVOT BALL SUSPENSION
ALUMINUM MOTOR MOUNT SYSTEM
MOD 1 GEARS FOR EXTREME 1:8 POWER
HUGE 16MM BIG BORE SHOCKS
FRONT/REAR & CENTER SEALED DIFFERENTIALS
Instructions
• Download PRO-MT 4×4 User Manual (3.3MB)
Explosionzeichnung
• PRO-MT 4×4 Front
• PRO-MT 4×4 Center
• PRO-MT 4×4 Rear
Handel: 
 ,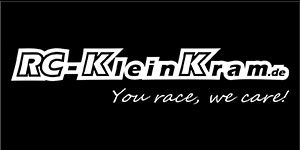 , 
 , 
  , 
 , 
, und Fachhandel.
Quelle: Pro-Line Racing
#mikanews