Eine Kombination aus Aluminium, Kohlefaser und Zubehörteilen machen die Umwandlung des Asso RC10F6 zu einem LMP komplett. JConcepts hatte zuvor die passende LMP-Karosserie auf den Markt gebracht und nun kommt ein Set, mit dem diese Karosserie (LMP Layla L1) passend auf euer Asso RC10F6 montieren könnt. Bisher bot dies TRR-Racestuff an. Wir hatten über den Umbau von Ulf Bohlender berichtet.
JConcepts bietet alle nötigen Teile für den Umbau an. Eine Alternative zu dem Umbau von TRR-Racestuff.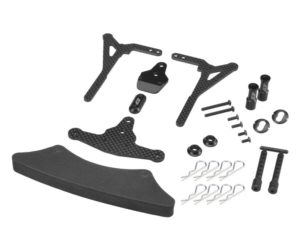 Englische Version
A combination of aluminum, carbon fiber and 3mm hardware make the transformation complete. The addition of a foam front bumper, provide the cushion necessary to attack at high-speeds. The "Layla" body looks impressive with its low-slung appearance and with the conversion kit, looks like a production quality ride. JConcepts provides carbon fiber chassis braces to allow the body mounts to rest in permanent position while aluminum extensions allow the standard body mounts to be used.
The front of the vehicle gets an update using a carbon fiber front body mount plate and aluminum and black anodized skid plate. The assembly is connected utilizing the small aluminum top deck with JC logo etched for authenticity. The combination of parts is secured to the chassis using existing hardware from the F6 kit while the included front body mounts are attached with 3mm hardware. Place the JConcepts foam front bumper on to the mounts and slide the bumper shims on top and clamp down with body clips.
The conversion is complete after trimming and installing the #0348 L1 "Layla" body (available separately).
Race and event history –
The new body and conversion has already been used in competition during the LRP Le Mans Prototype Challenge series in Germany. Drivers reported great success in this experimental class which began as a trial by LRP. The Le Mans Prototype vehicles have become so popular, the complete series includes some 80 events over the course of a season. Now, with the L1 body and conversion kit by JConcepts, the class has a sturdy footing for competition and a replacement and durable rear wing option. Drivers report better handling with the L1 body and conversion fitted on a base F1 chassis, the combination of precise chassis engineering and body development is a great compliment to on-road racing.
Features:
• JConcepts original design and function
• Closed wheel, performance enhanced design
• Carbon fiber chassis braces and front bumper plate
• Aluminum body mount extensions and chassis skid plate
• Aluminum "mini" top-deck for security
• High-impact, foam front bumper with extra body mounts
• Aluminum bumper shims, body clips and hardware
JConcepts – RC10F6 to LMP conversion kit – set
Part# 2468
Retail price – $112.00
Handel: 
 ,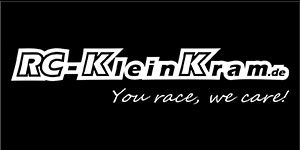 , 
 , 
  , 
 , 
, und Fachhandel.
Quelle: JConcepts
Weitere Links