Das dritte Rennen der 10. Offroad "XRAY Racing Series" (XRS) auf dem Midlands Raceway wurde auf einer geänderten Strecke ausgetragen. Der Verein änderte die Strecke erneut. Die Jungs kreierten eine erstklassige Strecke. Siehe die Bilder der Strecke.

Nach einer Fahrerbesprechung und ein paar Hinweisen aus der Rennleitung ging es endlich los.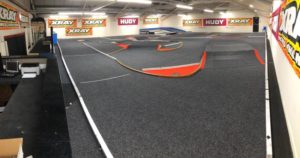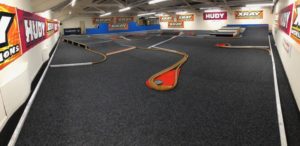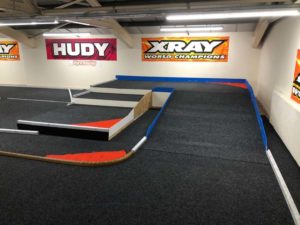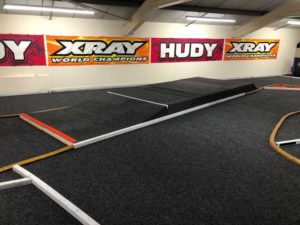 Englische Version
Race report by Greg Hill
XRS Off-Road Rd3  – Midlands Raceway (Dec 3rd 2017)
We had another busy day with 10 heats of drivers booked into the 3rd round of the 10th Off-Road "XRAY Racing Series" (XRS) at Midlands Raceway.  The club team changed the track again and pulled out the tricky jump rhythm section and replaced it with a new table-top, 180 degree corner and step-down section that was a little easier for the drivers but equally fun, along with a HUGE kicker jump after the main straight to add the 3D element in the challenging layout…. the guys keep creating top notch tracks and features and the drivers seemed to master the jumps and come Qualifying and Finals the cars looked awesome jumping the kicker and gaining some hang-time!!
So after a drivers briefing and a few pointers from race control, we cracked on into 4 rounds of Qualifying, giving everyone plenty of time to get used to the layout and improving to end up with your ultimate fastest 5x minute runs to position you for Finals later in the day.
So with the ever-popular 2wd Stock Class (with handout Hobbywing 13.5T motors), 2wd Mod, 4wd Mod and Stadium Trucks we had a full pits and we had a great mix of classes as ever.
2wd 13.5 Stock Class
Kirk Beasley (XRAY XB2'18) dominated 13.5 Class Qualifying and could've found himself in the Top 5 in Modified Class such was his pace, however a scrappy and somewhat unfortunate Final meant he was unable to finish the A Final leaving the door wide open for Nick Priest, Ben Hillier and Gavin Stokes to battle it out at the front all setting mid 14 second lap times, Kirk squeezed in a blistering 13.69 second lap in the final…. I'm sure he'll be looking forward to the next round!!
2wd 13.5 Stock Class podium:
1.    Nick Priest – Associated B6
2.    Ben Hillier – XRAY XB2
3.    Gavin Stokes – XRAY XB2
2wd Modified Class
The fastest 2wd Mod guys took to the track and were immediately flying with Dom Nunn (XRAY XB2'18) setting a TQ time in round 1 that wouldn't be beaten all day – i heard he came for a practise the day before, and it seems he found a superb set-up as he followed this up with the win in the A Final followed by latest XRAY Team Driver Tony Bishop in 2nd attending his first ever XRS event and thoroughly enjoying his day and working with the XRAY Team in attendance also.  3rd place was a slightly unsettled Jamie Beasley, usually extremely strong at his home track but clearly not having the luck today.
2wd Modified Class podium
1.    Dom Nunn – XRAY XB2
2.    Tony Bishop – XRAY XB2
3.    Jamie Beasley – Schumacher KF
4wd Modified Class
Slightly lower in number today, but the racing was excellent, the drivers showing great control on the tricky track and jump sections, it looked like everyone was showing each other a great level of respect and this was applauded by race control and our commentator for the day =- excellent work guys.  Robert Shaw (XRAY XB4'18) took a well deserved win followed by Zain Mughal and TQ man Euan Jarman 3rd.
4wd Modified Class podium:
1.    Robert Shaw – XRAY XB4
2.    Zain Mughal – Associated B64
3.    Euan Jarman – XRAY XB4
2wd Modified Stadium Truck Class
My Class here and again a close battle through Qualifying between myself (XRAY XT2) and Daniel Hopkins (Associated T5M), I TQ'd all but the last round of Qualifying, but Daniel held it together and set a faster TQ in the last round and with it overall TQ!!  In the finals it all got a bit messy sadly early on and I dropped way back, but come the last lap and me and Daniel were neck and neck going over a mid-field jump, where I rolled over and allowed Daniel to take the win and young up-and-coming driver Ben Kirkham took 3rd
2wd Modified Stadium Truck Class podium:
1.    Daniel Hopkins – Associated T5M
2.    Greg Hill – XRAY XT2
3.    Ben Kirkham – XRAY XT2
So another fantastic day and a massive thank you goes out to the club for their hospitality again.  We already wonder what changes they'll make for the next round in January  (7th Jan – come on down).
If you ever want to get some practise in before the next round, pop along on a Friday evening or Saturday for practise and Club racing or check the calendar for Sunday race meetings – which obviously now include our XRS event.
So if we don't see you practising before – We wish you a very Merry Xmas – see you in the New Year, don't forget, Rd 4 is on the 7th Jan!
Handel: 
 ,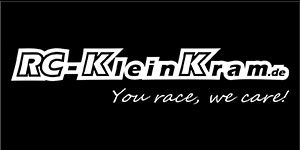 , 
 , 
  , 
 , 
, und Fachhandel.
Quelle: teamxray
Weitere Links
#mikanews