Die Strecke wurde am Freitagnachmittag geöffnet und wir (in dem Fall schreibt David Ehrbar in seinem Bericht) waren über die Bedingungen überrascht. Die Strecke war groß mit einem sehr guten Layout und perfekten Abgrenzungen aus lackiertem Holz in allen Ecken.
Obwohl der ETS-Teppich verwendet wurde, war der Grip etwas anders. Die Autos hatten viel Lenkung und es fehlte Griff an der Hinterachse. Mit unserem Setup vom letzten ETS-Lauf war es in beiden Klassen schwierig. In Modified gab Alex Thursten, der mehr Erfahrung in diesen Bedingungen hat, einen guten Tipp für uns, also haben wir nur eine sehr harte Frontrollfeder (grau) benutzt, die das Fahrverhalten verändert hat. Jetzt war es einfach zu fahren. Probiert wurde  ein wenig an der Einstellung des Heave-Dämpfers, da die Strecke sehr holprig war.
Im Laufe des Rennen baute die Strecke mehr Griff auf, so dass das Auto stabiler wurde. Für Alex lief es nicht so gut. Er verpasste das A-Finale knapp.
Aber mit dem RWD F1 war es anfangs noch schwieriger. Die holprige Strecke war eine große Herausforderung, und das Auto hatte mehr Lenkung als ich jemals mit einem F1-Auto hatte.
Im Laufe der Vorläufe konnte sich David Ehrbar stetig steigern und entschied die beiden letzten Vorläufe für sich. Das reichte kann für TQ vor Ben Cosgrove. Im Finale siegte David mit seinem Serpent F110 SF3 ungefährdet. Selbst unter diesen kniffligen Bedingungen waren mit dem Auto konstante Rundenzeiten möglich.
Abgesehen von einigen Problemen auf dem Rückweg war die ganze Reise ein absolutes Highlight. Die Strecke war großartig, die Organisation des Rennens war hervorragend, und ich mag die britische Art des fairen Fahrens.
Ich freue mich auf das nächste Rennen dort drüben.
David Ehrbar – Nicht wörtlich übersetzt aus der originalen englischen Version.
Englische Version
The track opened Friday afternoon, and we were surprised about the conditions. The track was big with a very good layout and perfect curbs made of painted wood in all corners.
Although it ETS carpet was used which we are well used to, the grip was in some way different, the cars had a lot of steering, and it was difficult to find rear grip. With our starting setup from last ETS it was difficult in both classes. In Modified we went up a bit with the front roll spring, but Alex Thursten who has more experience in these conditions had a very good tip for us, so we just used a very hard front roll spring (grey), which totally transformed the car. Now it was easy to drive. We worked a bit more on the heave damper setting as the track was very bumpy.
Later the grip came up a bit more, so the car got more stable. That was shame for Alex, as he lost a bit of pace relative to other cars in the higher grip conditions, so he closely missed the A final. Jan and me both got quicker and made the B-Final, which was ok for me, but for Jan it was a very good result.
In the B Final Alex had good pace, but as usual if you closely miss the A final, you don't have luck in the B final, too, so he got hit a few times.
However with the RWD F1 car, it was even more difficult at the beginning. The bumpy track was a big challenge, and the car had more steering than I ever had with a F1 car.
But before qualifying started I got something like an ok setup. Which I could improve during qualifying. The first 2 quali runs were won by Ben Cosgrove, while I could get run 3 and 4, securing the TQ spot. In the finals I was never really under pressure as soon as we were a few laps into the race. So I could win all 3 Finals and show again the F110 SF3 is still the car to beat. Even under these tricky conditions, this car made it possible to do smooth and consistent laptimes while being amazingly quick.
After the race we were lucky that we had planned our trip back for Monday, as on Sunday there were big troubles at the airport, as snow was falling the whole day in Europe, so many flights were cancelled.
Except from some troubles on the way back the whole trip was an absolute highlight. The track was great, the organisation of the race was outstanding, and I like the British way of fair driving.
I look forward to the next race over there.
David Ehbar
SPT – Serpent Performance Team
Handel: 
 ,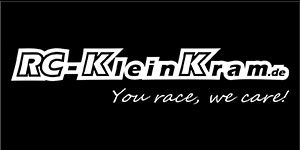 , 
 , 
  , 
 , 
, und Fachhandel.
Quelle: Serpent
Weitere Links
mikanews