Am vergangenen Wochenende waren Burak und Berkan Kilic mit ihrem Papa Abdullah zu Gast bei dem XRS Lauf in der Stadt Piaseczno sn Polen. Nach der erfolgreichen Wintersaison der XRS-Polen entschieden sich die Organisatoren, die Serie Outdoor weiterzuführen! Der lokale Club bereitete die Strecke optimal vor. Die Strecke war technisch anspruchsvoll mit vielen Sprüngen, danke!
---
---
Es gab viele schnelle polnische Jungs am Start und mit den Kilic Brüder am Start war die Leistungsdichte ziemlich hoch!
Das Ergebnis
1/8 Nitro Results
1. Burak Kilic – Agama
2. Kaja Novotny – XRAY XB8
3. Berkan Kilic
---
---
1/8 E Buggy Resutls
1. Burak Kilic – Agama
2. Kaja Novotny – XRAY XB8E
3. Bartek Zalewski – XRAY XB8E
---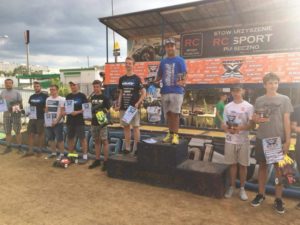 ---
Race Report by Kaja Novotny
Last weekend we attended XRS Poland which took place in the city called Piaseczno! After succesful winter XRS series, organisers decided to take the challenge outdoor! Local club prepared nice technical track with many jumps and whole area around the track was very nice, thank you!
There were many fast Polish guys and also Kilic brothers attended the race so level was quite high!
In practice both my XB8 and XB8E felt great and we did only few changes on both cars. As the surface was quite sandy and temperatures very high, it was a bit tricky to choose the right tires but after practice everything was looking good!
Qualifications were a bit unlucky for me, missed TQ in Q3 because of late start and then had some issues in Q4 so I got overall 2nd place behind Burak Kilic!
In semifinal my XB8 on JC Reflex was flying on the track and times were looking promising for pole position for the main, but unfortunately loosen nail (probably) literally cut one of my tires and we had to change it in the last 2 minutes. Still took the win in my semi, but started 3rd in the main behind Kilic brothers!
In the final, I got on the 2nd place in the first lap and after few minutes took the lead, but then sky opened and grippy clean track changed to muddy slide show. Burak was on fire in these conditions and took the lead back and pulled away. However then the rain stopped and track started to get dry, Burak then had flame out, but made it quickly back on track, so we had basically round 2 of our fight, but then I faced tech. issue and had to go to the pits. Luckily my father repaired the car quite quickly and I lost only about 1 minute and got back on the track just in front of Berkan and in this order we also finished!
1/8 Nitro Results
1. Burak Kilic
2. Kaja Novotny – XRAY XB8
3. Berkan Kilic
In E buggy class, my Hobbywing powered XB8E was awesome in qualifications and TQed 3 out of 4 rounds and so took the overall TQ!
In finals, we had awesome fights with Burak in A1 and A2, but eventually it was Burak who took it! I finished 2nd and young Bartek Zalewski completed the podium!
1/8 E Buggy Resutls
1. Burak Kilic
2. Kaja Novotny – XRAY XB8E
3. Bartek Zalewski – XRAY XB8E
In the end I want to thank Polish guys for the invitation! It was awesome event, hope XRAY Work.Shop on Saturday helped some of you and you learnt something new! And of course big thanks to my parents and all my sponsors! Now 2 weeks until 2 biggest races of summer begins!
Xray, Hobbywing, Sunpadow, FX, MKS, JConcepts, Sanwa, Hudy, Hiroseiko, Mibosport, Dubidesign, DFcreative, Ruddog and Kaja RC racing
Quelle: teamxray und Abdullah Kilic
Weitere Links
#mikanews