"2-Way Flow" arbeiten auf unterschiedliche Weise, wenn der Kolben nach oben oder unten fährt. Wenn das "Gummiventil" am Kolben montiert ist, werden die beiden Löcher damit verschlossen, wenn der Kolben nach oben fährt … wenn sich der Kolben nach unten bewegt, öffnet werden die beiden zusätzlichen Löcher geöffnet, so dass das Öl durch 2 weitere Löcher durchströmt. Dies verbessert das Fahrzeugverhalten nach dem Sprung beim landen.
---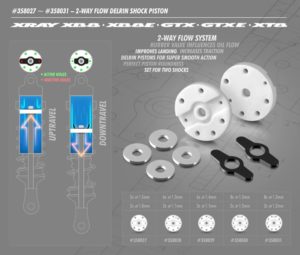 Englische Version
2-Way Flow Delrin Shock Piston
2-way flow system

Rubber valve influences oil flow

Delrin pistons for super smooth action

Perfect piston roundness

Increases traction

Improves landing

Set for 2 shocks
Set of composite molded shock pistons for two shock absorbers.  
Two-way flow shock pistons work in different ways when the piston travels up or down. With the rubber valve installed on the piston, 2 holes are closed when piston travels up… then when the piston travels down, the valve opens 2 extra holes so the oil flows through 2 more holes in total. This configuration allows for perfect landings from jumps, even with a soft shock set-up.
Manufactured from specially-formulated composite material to provide smooth action & durability. Well-proven molding process ensures perfect piston roundness after production, so that the pistons move perfectly inside the shock bodies for identical shock action in all four shocks.
#358027    2-Way Flow Delrin Shock Piston 5-H. (1.5mm) & 2-H. (1.0mm) (2)
#358028    2-Way Flow Delrin Shock Piston 6-H. (1.3mm) & 2-H. (1.1mm) (2)
#358029    2-Way Flow Delrin Shock Piston 6-H. (1.4mm) & 2-H. (1.1mm) (2)
#358030    2-Way Flow Delrin Shock Piston 8-H. (1.2mm) & 2-H. (1.2mm) (2)
#358031    2-Way Flow Delrin Shock Piston 8-H. (1.3mm) & 2-H. (1.2mm) (2)
Quelle: teamxray
Weitere Links
#mikanews