Die erste Runde der brandneuen Arena 1/12 League war eine zweitägige Veranstaltung, die am 6./ 7. Oktober 2018 stattfand. Das Rennen fand in der Arena33 in Andernach statt, welche eine der beiden Austragungsstätten ist. Dies war der Beginn einer neuen internationalen Serie im Maßstab 1:12 und es waren Konkurrenten aus ganz Europa vor Ort.
---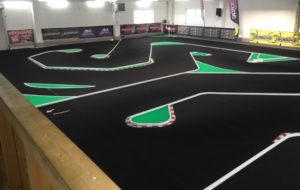 ---
Rennbericht von Markus Hellquist:
Am Freitag sorgten ich und mein Vater dafür, dass wir bereits am Freitag vor Ort waren, um das Auto zu testen. Der Teppich wurde erst kürzlich zu einem brandneuen ETS-Teppich umgestaltet. Geblieben ist die Streckenführung von dem Rennen zur DM am letzten Wochenende. Griff war genug da.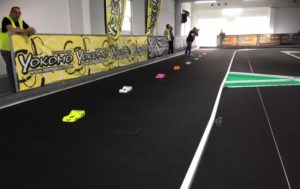 ---
Am Ende des ersten Testtages hatte ich ein gutes Gefühl im Auto und konnte mit Markus Mobers mithalten.
Am Samstag gab es ein freies Training, 2 gezeitete und 4 Vorläufe. Im ersten freien Training konnte ich 3 tolle Runden in Folge fahren und war Schnellste.
In den Vorläufen wurden zwei von vier Läufen gewertet. Ich schaffte es, einen guten ersten Vorlauf hinzulegen, aber danach hatten wir Probleme und ich konnte keinen Vorlauf mehr gewinnen. Dies bedeutete Startplatz 2 hinter Markus Mobers.
Der Sonntag begann mit einem Trainingslauf, bevor das eigentliche Finale begann.
Das erste Finale begann nicht optimal. Ich fiel auf den dritten Platz zurück, schaffte es aber, mich an die Spitze zu setzen und das erste Finale zu gewinnen.
Ich brauchte einen weiteren Sieg. Diesmal war Markus Mobers vorne. Ich wartete auf einen Fehler, aber  Markus blieb fehlerfrei und er gewann.
Im dritten Finale machte Mobers zu Beginn einen Fehler und ich konnte die Führung übernehmen. Es gelang mir, meinen Vorsprung auf das zweitplatzierte Auto auf wenige Sekunden auszubauen und wollte den Lauf kontrolliert beenden. Stattdessen machte ich einen Fehler und landete auf dem Dach. Ich wurde vom zweitplatzierten Fahrzeug überholt, aber ein Sieg musste her. Ich habe noch ein paar Fehler gemacht, aber am Ende konnte ich die Führung zurückgewinnen und bis ins Ziel halten. Markus Mobers beendete das dritte Finale auf dem zweiten Platz.
Endergebnis
Markus Hellquist – XRAY X12
Markus Mober – Roche
Jacques Libar – Roche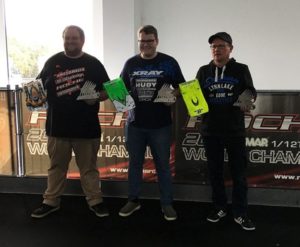 Englische Version
Race Report by Markus Hellquist:
The first round of the brand new Arena 1/12 League was a 2 day event that took place between the 6th and 7th of October. The race was held at the famous Arena33 in Andernach, Germany. This is the beginning of a new international series in 1/12 scale cars, and it saw competitors from across Europe. The race is running 3 different classes of 1/12 scale racing. GT, Stock and Modified. I ran modified and thus this will be my focus of this report.
On Friday, me and dad made sure to be at the race already on Friday, to test the car and learn the track. The carpet was just recently changed to a brand new ETS carpet, and the layout was the same as the German nationals the week before, and therefore the grip was already high upon arrival.
At the end of the first testing day I had a good feeling in the car, and I was able to keep up with Markus Mobers, a well known and very competetive driver in the 1/12 scale racing scene.
Saturday saw 1 round of Free practice, 2 rounds of organized practice and 4 rounds of qualifications.
In the first free practice, I managed to set 3 great laps in the row, and I saw myself at the top of the leaderboard with the fastest lap.
I didn't manage to beat my 3 laps in a row from the Free practice, but after 2 rounds of organized practice I still was able to place on top of the standings, ahead of Markus Mobers, of course ranking by the 3 best laps in a row.
The qualification was based on the classic Round by round system. Where 2 out of 4 qualifications was counted. I managed to set a perfect first qualification round, making the first spot while being over a lap faster than second place. But after the first qualification we struggled and I wasn't able to win any more qualification rounds. I finished 2nd in the rest of the qualies and therefore I qualified to 2nd position on the grid.
Sunday started with a practice final, so you could feel the track conditions and get warmed up before the real finals began. I had slight problems with the car, but overall I was fast and it felt good going into the finals.
The first final saw the typical F1 starting grid, with first car being placed on the inside of the grid, and my car being placed on the outside, where no cars were running and grip was different. At the start my car went straight into the wall, since the 1/12 cars are very sensitive when starting from stand still. I fell down to third spot, but managed to work myself up, and after some passes and mistakes from the cars ahead, I managed to win the first final.
I needed one more win, and in the second final my car felt amazing once again. I had great speed, but so did also Markus Mobers ahead. I waited for a mistake from his part, but it never arrived. I spent 8 minutes behind Mobers without being able to pass and it was clear that the 3rd final would decide the winner.
In the third final, Mobers did an early mistake, and I was able to pass into the lead. I managed to extend my lead to the second placed car to a few seconds gap. At this point I tried to just drive easy and controlled, to claim the victory, but instead I made an unforced mistake and ended up on the roof. I was passed by 2nd placed car and since I knew I needed to win, I did everything I could to catch up. I did a few more mistakes, but in the end I was able to regain the lead and keep it to the finish line. Mobers was not so far behind at the end and finished the third final in second place.
I managed to win the overall race, which is an incredible result for me.
1/12 Modified Results
Markus Hellquist – XRAY X12
Markus Mober – Roche
Jacques Libar – Roche
Quelle: teamxray
Weitere Links
#mikanews