Die XRS Germany verzeichnete mit 52 Teilnehmern die bisher höchste Teilnehmerzahl. Der deutsche Xray Vertrieb, SMI Motorsport war wie immer dabei, um alle Fahrer auf dem bestmöglichen Niveau mit kostenlosen Xray T-Shirts für alle Teilnehmer zu unterstützen. Sowohl am Samstag während des zehnstündigen Trainings, wobei die meisten Fahrer diese Gelegenheit nutzten, um sich an die Strecke zu gewöhnen und ihre Fahrzeuge abzustimmen. Am Renntag selbst herrschte eine bemerkenswert harmonische Atmosphäre im Fahrerlager sowie faire Rennen. Das engagierte Team des MAC Adenau um Rennleiter und Zeitnehmer Uwe Baldes sorgte nicht nur für einen reibungslosen Ablauf der Veranstaltung, sondern sorgte auch für ein hervorragendes Catering, nicht nur mit den beliebten Adenauer Waffeln. Zu der guten Stimmung haben auch die neuen Hudy C3-28-Tourenwagenreifen beigetragen, die äußerst gut und zuverlässig funktionierten und eine beachtliche Entwicklung widerspiegelten.
---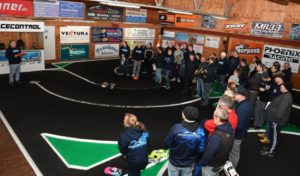 ---
Die Ergebnisse und noch ausführlicher wie es in den Klassen zuging, schreibt Uwe Baldes in der englischen Version.
---
---
Englische Version
Race Report by Uwe Baldes:
The XRAY Racing Series (XRS) Germany started the new season 2018/2019 at MAC Adenau with great success and harmony. For the fifth time, an XRS race was held on the Eifel-Ring, the 111-meter long, fast and technically demanding indoor course with original ETS carpet not far from the Nürburgring. A few years ago, the international Xray Challenge also started on the Eifel-Ring, when Swedish Xray factory rider Alexander Hagberg celebrated victories in both the touring car and the 1/12 class.
With 52 entries, XRS Germany recorded its highest entry so far. As usual, German Xray distributor SMI Motorsport was present to support all drivers at the best possible level with free Xray T-shirts for all participants. Both on Saturday during the ten-hour practice session, with most of the drivers taking this opportunity to adjust to the track, and on race day itself, there was a remarkably harmonious atmosphere in the paddock, along with fair races. The dedicated team of the MAC Adenau around race director and timekeeper Uwe Baldes not only ensured that the process of the event was as smooth as ever, but also ensured excellent catering, not just with the popular Adenau waffles. The new Hudy C3-28 touring car tires also contributed to the good mood, which worked extremely well and reliably and reflected a considerable development.
After the beginnings in the past season, this time the 1/12 GT class was pleasingly strong. In contrast, the 1/12 stock class (13.5T) counted only three participants and was ultimately cancelled. For once, the GT class was powered by 13.5T engines, but the test made it clear that for this class 17.5T engines are better suited, so that from the second round of the XRS Germany only 17.5T engines according to DMC motor list are allowed. The pole position went to Alexander Seitter with 42 laps ahead of Haroun Schobner and Christian Salomon, both of whom completed 41 laps in eight minutes. With two wins in the first two A-finals Xray driver Alexander Seitter made everything clear and took the overall victory ahead of Godspeed driver Haroun Schobner, who took the win in the third A final. In third, Xray driver Christian Salomon climbed onto the podium. Alexander Seitter was also best 40+ driver, Jody Mueller (Xray) was awarded as the best junior. The B-final went to Alexander Olah (Xray).
1/12 13,5T GT Results:
1. Alexander Seitter – XRAY
2. Haroun Schobner – Godspeed
3. Christian Salomon – XRAY 
In the Formula class, we had the most exciting decision of the day. With only an advantage of 36 thousandths of a second, Davide Carbone pushed his Xray to pole position very close in front of Xray colleague Daniel Schober. The first final race was won by Carbone with more than one and a half seconds in front of Schober, the second was won by Schober already a lap ahead of Carbone. So the third final had to decide. Schober was able to take the lead again, but just 30 seconds before the checkered flag he was eliminated with a motor failure and the way to the overall victory was free for Davide Carbone. Behind Schober on second, Alexander Olah (Xray) captured third spot on the podium. Carbone was also honoured as the best 40+ driver, Johannes Fecher (Xray) as the best teenager.
Formula 21.5T Results:
1. Davide Carbone – XRAY X1
2. Daniel Schober – XRAY X1
3. Alexander Olah – XRAY X1
The touring car stock class with 13.5T hand-out motors had the highest number of entries of this XRS #1. Local hero Majuran Tharmalingam took pole position four seconds ahead of Melvin Diekmann and Joerg Baldes in the three heats over five minutes each. Serpent driver Majuran Tharmalingam, Maju for short, also excelled in the three finals and was the only one to complete 29 laps, even in all three races. Melvin Diekmann narrowly missed the 29th lap with his Awesomatix, crossing the line twice at exactly 5.00 minutes, but secured second place overall with three second places. With two third places, Xray driver Joerg Baldes climbed to last spot on the podium and was also honoured as the best 40+ driver, while his seven-year old son Thilo (Xray) proudly took the XRS plate as the best junior. The best teenager was Marc Stuebben (Xray). The B-final was decided by Xray driver Jens Haller with three wins for himself.
13,5T Stock Results:
1. Majuran Tharmalingam – Serpent
2. Melvin Diekmann – Awesomatix
3. Joerg Baldes – XRAY T4
Strongly represented was also the class of front-wheel-drive touring cars (13.5T), short FWD or Fronti. Oliver Kaufmann (Destiny) took both the pole position and the overall victory with three wins in the finals and was honoured as the best 40+ driver as well. After the heats on third spot of the grid, Frank Hoeschler captured second overall with his Xray. Harald Schmittgen, second after the heats, had little luck, especially in the second A-final, and finally finished third on the podium with his Destiny. The B-final was won by Eric Hummel (MTS).
13,5T FWD Results:
1. Oliver Kaufmann – Destiny
2. Frank Hoeschler – XRAY
3. Harald Schmittgen – Destiny
After the atmospheric award ceremony, the raffle with numerous useful prizes from SMI Motorsport ensured even more happy faces.
Weitere Links
#mikanews