Performa ist eine Marke für "Elite" Racer. Speziell dafür schreibt sich die Marke auf die Fahne, die besten 1/8-Fahrregler und Motoren zu produzieren. Mit der Performa Racing HMX 1/8 Combo zeigen wir stolz, dass wir unser Ziel erreicht haben, so Performa.
---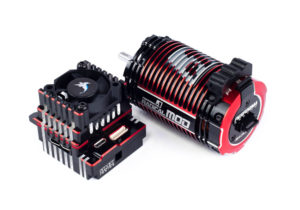 ---
Die Combo bestehend aus dem Regler und Motor gibt es in drei Varianten, einmal mit 1900 , 2100 oder 2500 KV Motor.Von der Programmierung geht Performa bei dem Regler einen vereinfachten Weg. Es ist kein Programmer / Controller / PC nötig. Zwischen drei vordefinierten Programmen kann gewählt werden, welche in den Parametern optimal für maximale Leistungen und gute Fahrbarkeit voreingestellt sein sollen.
Der neue Performa HMX Controller verfügt über eine sehr innovative Sensortechnologie, die für optimale Leistung entwickelt wurde, wenn sie nur mit Performa Radical HMX 690-Motoren verwendet wird. Dieser bietet maximale Leistung und gute Leistungsabgabe, eine radikale "Next-Level" -Leistungn.
RADICAL SOLUTIONS Der Performa HMX Controller wurde ohne Kompromisse entwickelt und hergestellt. Jeder Controller (Fahrregler) wird in Genf in der Schweiz montiert. Es handelt sich um ein hochwertiges Gerät, das in begrenzten Stückzahlen für Elite Racer produziert wird. Die Leiterplatten werden in einer der anspruchsvollsten Fabriken hergestellt. Jede Leiterplatte wird mit Laseranalysegeräten für jede Lötstelle und jedes Bauteil gescannt. Das Aluminiumgehäuse ist auf minimalen Platzbedarf und optimierte Kühlung ausgelegt. Performa-externe Kondensatoren wurden ausgewählt, um Radical Performance zu erreichen. Mit 2 Platinen mit je 4 Panasonic-Kondensatoren für eine radikale "Next-Level" -Leistung.
RADICAL TESTING Die Performa Racing HMX 1/8 Combos werden seit über zwei Jahren von unserem Ingenieurteam und ein Jahr lang von David Ronnefalk, IFMAR-Weltmeister, getestet. Vor kurzem demonstrierte David die gute Performance, als er das berühmte DNC-Rennen 2019 in den USA gewann.
VERFÜGBARKEIT Performa Racing HMX 1/8 Combos werden ab April 2019 ausgeliefert. Die Stückzahlen sind begrenzt. Es wird dringend empfohlen, sie bei Ihrem Performa Partner oder auf der Performa Website vorbestellen.
Beachten Sie, dass der Performa HMX Controller analysiert, ob ein Performa Radical HMX 690 angeschlossen ist. Es funktioniert nicht mit anderen Motoren. Die Performa Radical HMX 690-Motoren funktionieren mit anderen Controllern, bieten jedoch maximale Leistung, wenn sie mit einem Performa HMX-Controller verwendet werden.
Englische Version
PERFORMA RACING HMX 1/8 COMBO RADICAL CONCEPT Performa is a brand for Elite Racers. Our goal is to produce the best 1/8 controllers and motors, and re-define the racer experience with a radical "next level" controller/motor combo. With the Performa Racing HMX 1/8 Combo we are proud to demonstrate that we have achieved our goal.
Nitro racing is popular because it's simple, racers chose a 3 Port, 5 Port or 7 Port engine depending on the track, tune the needles to have good carburation, and drive. That's all. Performa has now adapted that simplicity to electric racing. Controllers and motors used recently in 1/8 racing have hundreds (even thousands) of complex settings. While trying to understand and adjust the complex settings, many racers get lost and end up with tuning that is below optimal performance. The new Performa HMX Controller/Motor Combos deliver simplified settings using the Nitro concept, you select from 3 different pre-defined settings based on the track condition. No need to have a complex program box or a computer. The 3 settings have been tuned by our engineering team together with our World Champion Drivers to deliver maximum performance and simplicity. You can change the settings by simply pressing a button on the switch. For racers that want to dig deeper and fine tune the settings, we will offer Performa PC software that will allow you to change the parameters, within guidelines that ensure you don't get lost and keep you in the optimal performance range.
RADICAL TECHNOLOGY It became clear during research and development that making universal controllers for universal motors limits maximum performance, and is not the right way to reach our goal of making radical "next level" controllers and motors for Elite racers. The new Performa HMX Controller features a very innovative type of sensor technology developed for optimal performance when used only with Performa Radical HMX 690 motors. It delivers maximum power and smooth power delivery, radical "next level" performance that goes beyond what a compromised universal system can provide.
RADICAL SOLUTIONS The Performa HMX Controller is designed and manufactured without compromise. Each controller is assembled in Geneva Switzerland, it is a high end unit produced in limited quantities for Elite Racers. The circuit boards are made in one of the most sophisticated factories, every board is scanned using laser analyzing devices for each soldering joint and every component. The all-aluminum case has been designed for minimum footprint and optimized cooling. Performa external capacitors have been chosen to obtain Radical Performance. Featuring 2 boards of 4 Panasonic capacitors to provide radical "next level" performance.
RADICAL TESTING The Performa Racing HMX 1/8 Combos have been tested for more than two years by our engineering team, and for a year one by David Ronnefalk, IFMAR World Champion. Recently David made a demonstration of the radical performance by winning the famous 2019 DNC race in the USA.
AVAILABILITY Performa Racing HMX 1/8 Combos will start shipping in April 2019, the quantities are limited, and it is strongly suggested to pre-order them from your Performa Partner or on the Performa Website.
Note that the Performa HMX Controller analyses if a Performa Radical HMX 690 is connected, it will not work with other motors. The Performa Radical HMX 690 motors will work with other controllers, but offer maximum performance when used with a Performa HMX Controller.
PA9349 Performa P1 HMX 1/8 Combo 1900 KV, 4S
PA9350 Performa P1 HMX 1/8 Combo 2100 KV, 4S
PA9351 Performa P1 HMX 1/8 Combo 2500 KV, 4S
Quelle: Performa Racing
Weitere Links
#mikanews