Die 3. Runde der Schweizer Meisterschaft fand in Aigle statt. In Nitro 1/10 war es Stefan Wuthrich, der sich gegen seinen Teamkollegen Patrick Fankhauser (Patrick gewann den letzten Lauf) durchsetzen konnte und in 1/8 gewann Silvio Hächler.
---
---
1/10 Nitro Ergebnis
Stefan Wuthrich – XRAY NT1
Patrick Fankhauser – XRAY NT1
Marco Rizzo
---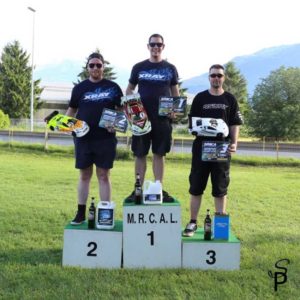 ---
1/8 Nitro Ergebnis
Silvio Hächler
Oliver Krahemann
Luca Martinelli – XRAY RX8
---
---
Englische Version
Race Report by Patrick Fankhauser
The 3rd round of the Swiss championship was held in Aigle, On Friday in free practice my NT1 and PICCO engine worked perfectly. I was able to drive consistent laps right away and was the fastest driver on the track at that time. Unfortunately it was raining in the afternoon. That also changed the conditions for Saturday. Due to this change in the grip conditions, I could not set my lap times from Friday. My team-mates Stefan Wuthrich and Traugott Schar were the fastest and finished the qualifying session in positions 1 and 2. I finished third thanks to TQ in the last qualification.
By winning the Super Pole, I secured the third place in the A-final and Emanuele Fonzar with Serpent the 4th place also went directly in the A-final.
In the A-final, Stefan, Traugott and I were able to pull out a small distance on the rest of the field early on. After about 9 minutes I was able to take the lead and defend it until the tire change after 25 minutes.
Unfortunately, when we had a tire change, we had a motor stall, which cost us a lot of time. So I could not close the gap to Stefan and finished the race on P2 before Marco Rizzo. Traugott unfortunately had several engine shutters and fell far behind.
After Stefan has reached his first podium finish in Lostallo, he has now also won his first pole and his first race! Congratulations, you deserve it!
Congratulations to all pilots for the great races! Many thanks to my pit crew Sue and Roger for the great work! As always, I was well supported by T. + M. Models, thank you for the perfect support! The 4th round takes place on the technical track of Herblingen. We look forward to it and will attack again!
1/10 Nitro results
Stefan Wuthrich – XRAY NT1
Patrick Fankhauser – XRAY NT1
Marco Rizzo
My teammates in category 1/8 also showed a strong performance. 4 pilots with RX8 (Mattia Pesenti, Jurg Nydegger, Luca Martinelli and Thomas Henzi) qualified for the A-final.
Mattia was long on P3 before unfortunately a stone on the track destroyed his race.
Luca Martinelli could benefit from a difficult weekend with many servo problems. Luca finished third behind Silvio Hachler and Oliver Krahemann.
1/8 Nitro Results
Silvio Hachler
Oliver Krahemann
Luca Martinelli – XRAY RX8
Quelle: teamxray
Weitere Links
#mikanews