Nachdem Sworkz die Nitro Version des S35-GT2 vorgestellt hatte, folgt nun die Elo-Version, welche auf dem Weltmeisterfahrzeug der diesjährigen erfolgreichen WM für Sworkz aufbaut.
---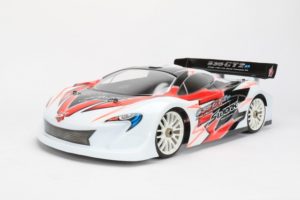 ---
Die Details findet ihr hier:
Englische Version

January 18, 2020. SWORKz wins his first world title. And not one title, no, two GT World Championship titles. Both with the SWORKz S35-GT and the SWORKz S35-GTE.
Based on the world champion platform SWORKz S35-GT, SWORKz has further developed. The result is the S35-GT2 and the S35-GT2e, which are improved in many ways.
The S35-GT2e is designed as a thoroughbred racing machine for Electric GT Onroad Racing. It has a brand new design of the unique front and rear suspension. The Ackerman steering geometry was adopted from the 1/8 S35-4E buggy.
The S35-GT2e has a weight-optimized, hard anodized base plate made of high-strength T7075 aluminum. The HET differentials developed by SWORKz are also included in the kit and offer traction that is not possible with other systems.
The new S35-GT2e has an option flat front and rear shock absorber arrangement. The shock absorbers have been optimized for this new arrangement.
The steering geometry of the S35-GT2e gives the driver total control over the S35-GTE.
The wishbone brackets, included with square inserts, allow the axle geometry of your SWORKz S35-GT2e to be adapted to any track layout. The front and rear wishbones are made of a newly developed composite material. The side pans have also been redesigned.
Another new development in the SWORKz S35-GT2e is the completely new rear steering knuckle. Composite material combined with carbon plates offers you the possibility for different setups.
The newly developed composite material works perfectly with the HET differentials for maximum traction.
There are many other changes and ideas in the SWORKz S35-GT2e that make the car a real winner.
The philosophy of SWORKz vehicles is that top pilots can adapt their setup to each route, but hobby pilots can also find a standard setup that makes them faster on a wide variety of routes.
And the SWORKz S35-GT2e has these two properties to perfection.
When designing the vehicle, the SWORKz development team focused on using materials that meet the highest quality standards. The S35-GT2e kit only contains 100% SWORKz quality.
Congratulations on purchasing the new SWORKz S35-GT2e Pro kit. Thank you for your trust in SWORKz.
Please read these assembly instructions carefully before you start building and operating your SWORKz S35-GT2e. These assembly instructions contain step-by-step instructions with which you can finish, prepare and optimize your buggy for racing. Updates, setups and new products are published on all digital SWORKz media.
As always, if you have any questions about your SWORKz products or need help, please contact our official SWORKz dealers and distributors.
FEATURES
New weight-optimized, hard anodized T7075 base plate
New front & rear shock mount
New shock absorber caps
New 3mm optimized rear shock mount
New Ackerman steering plate
New steering system
New servo saver aluminum part
New lockable servo saver nut
New servo saver locking design
New steering balls
New steering knuckle plates
New updated wishbone bracket with square inserts
New Easy Change Motor Mounting Plate
New side pans
New lower wishbones front & rear
New upper wishbone front
New composite steering knuckle at the rear with carbon plates
New multi-adjustable linkage system for the rear upper wishbones
New anti-lock screws for shock absorbers
HET differentials front & rear included
2 front chassis struts included
More balance weight positions
Optimized composite aluminum parts in T7075
Quelle: MW RC Cars