Es war bereits das dritte Rennen vom The Winter Has Finally Past Race in den USA. 
Xray Fahrer Paul Ciccarello berichtet darüber.
Englische Version
Report by Paul Ciccarello
The past Saturday was the 3rd annual The Winter Has Finally Past Race at Spirit R/C Raceway and Hobbyshop.
Myself Gaven Gibler and Tristan Beiter went up to Spirit Friday to get in some laps and check out all the new improvements to the facility. They trucked in a ton of new dirt, put up some massive LED lighting and added power for pitting. Everything went well Friday, no changes to the cars, just got used to the sweet layout and tried different tires.
Saturday went well, Gaven took the round 1 TQ in Ebuggy, I was second and Tristan was 3rd. For round 2 Tristan was able to reset tq, Gaven had too many mistakes but his round 1 tq was still good enough for 2nd, I moved back to 4th after a few mistakes of my own. Jake Blood took the TQ in Etruggy and I was able to TQ plus 40 with the fastest run of the day.
The Ebuggy main started off horribly for Tristan and Gaven as they got tangled up and were way in the back but I was able to take advantage of it and lead the first lap. I made a mistake on lap 2 and was dead last, then shortly after I had a servo issue that would take me out of the race. Tristan and Gaven made a big push on the leader who had a huge lead to close the gap quickly. Tristan made the pass and was checked out and Gaven also had a chance to steal 2nd but made a couple too many mistakes and would end up 3rd.
In the plus 40 main I made a mistake on the first lap and dropped to 4th, After that I ran mistake free the rest of the main to take the win! Phil Carey was able to take 3rd in etruggy!
Our speed was awesome this weekend and the cars were really good! After the race we had a couple drivers run the cars and they couldn't believe how good they were. You know it's good when someone can just pick up a car and drive it better than their own from the first turn.
Ebuggy Plus 40 results:
(TQ) Paul Ciccarello – XRAY XB8E
Dan Neer HB
Paul Nam HB
---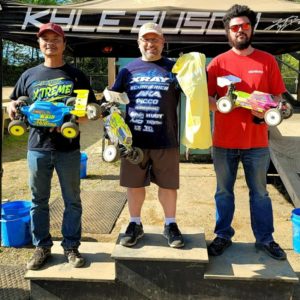 ---
Ebuggy results:
Tristan Beiter – XRAY XB8E
Tony Meintel – HB
Gaven Gibler – XRAY XB8E
---
---
E-Truggy results
Tony Meintel – HB
Ian Cameron – Tekno
Phil Carey – XRAY XT8E
---
---
Quelle:  teamxray