Beim Dirt Paradise Nicosia Cyprus konnte Pamboss Charalambidesmit seinem Xray XB8E gewinnen. Einen Bericht vom Rennen findet ihr hier:
Englische Version 
Race report by Umut Turkay
Pamboss Charalambides and his XB8E is the winner at Dirt Paradise Nicosia Cyprus.
RC Experts 1/8 Buggy Nitro and Electric Off-Road Championship Round 2
Nicosia-Cyprus.
Dirt Paradise Nicosia Track hosted the 2nd round of RC Experts Championship last weekend at Nicosia Cyprus. After long Lockdown days, this was the first race event. All of the racers missed the track and racing, eventually; high competition was the natural result!
Racers have fought against their competitor friends but also famous Cyprus Summer Hot at the weekend. Well prepared track and the facilities helped people to have fun and participants enjoyed the race
Race formed in Two sections, electric and nitro.
Well prepared, Pamboss Charalambides put solid performance along the day that led to the victory with his Xray XB8e in Electric Section. The competition was very high between all racers, but spectators especially enjoyed the competition between Pamboss Charalambides, Savvas Theofanoudes, and George Tantas at three 10-minutes finals. We were lucky enough to enjoy their race, stress, and fun.
At Nitro Section, after a very tough 45minute final, Telis Ktenas and his Xray XB8 finished A-Main podium 3rd place. We congratulate Rafael Panayi and Neophitos Neophitou for their performance and finish at podium. Also We congratulate Pamboss Charalambides for the win for the B-main with his Xray XB8.
All over the world- Rc racing struggling. Many events had been canceled in many places. We were lucky and must grateful that we had the chance to participate in this event at Dirt Paradise Track. I would like to thank all the organization team for their voluntary responsibility. Big thanks to all racers, supporters, families and hobby shops that supported the event. Without them there will be no race.
See you all at the next race
Ebuggy results:
Pamboss Charalambides – XRAY XB8E
Savvas Theofanoudes – Mugen
George Ttantas – Kyosho
---
---
Nitro A Main results:
Rafael Panayi – Kyosho
Neophitos Neophitou – Custom
Telis Ktenas – XRAY XB8
---
---
Nitro B Main results:
Pambos Charalambides – XRAY XB8
Stavros Orthodoxou – Mugen
Andreas Alkiviades – Mugen
---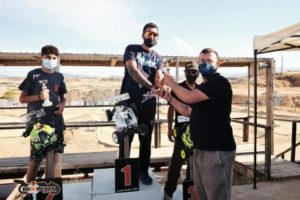 ---
Quelle:  teamxray