Auf dem LCRC Raceway fand am Wochenende das WarmUp zu den kommenden ROAR Nationals in drei Wochen statt. Paul Ciccarello berichtet in seinem Report davon.
Englische Version 
Race report by Paul Ciccarello
This weekend was the Northeast Showdown at LCRC raceway. It was also the Nats warmup for the ROAR Fuel nats coming up in 3 weeks. With temps in the mid 80's it was a good time to test tires and get the shock oils right for the nats as the weather is usually similar to this in June.
I ran Nitro buggy, Nitro truggy and Plus 40 nitro buggy. Being I was trying all kinds of tires my qualifying didn't go great, when I ran wrong ones I just tried to manage and do the best possible but was slow and when I had the right ones I felt like superman and over drove the car and wrecked lol. Anyway I was able to qualify 2nd in the B main in truggy, 5th in the B main in buggy and 2nd in plus 40.
The truggy main started out great, I was bouncing between 1st and 3rd for the first 7 minutes, After the leader made a mistake I took the lead and the very next lap had a mechanical failure and couldn't finish but the truggy was good and I was driving really well. In nitro buggy more bad luck as I had a failure on the first lap. I went back to fix the issue and also change tires to get more testing in. When I came back I was doing some good laps so I was happy.
In the plus 40 main Schreffler pretty much checked out and I ran in 2nd the whole race.
After the race I did some more tire testing and found out tires that never worked there before were actually the best so I felt like the trip was a success over all. I left some speed on the table this race but plan to make sure I'm prepared for anything come nats time.
Jake Blood was able to win the truggy class with his XT8, Gaven Gibler finished second and Gavin Vucina 5th in pro ebuggy with the new XB8E '21.
1/8 Electric Truggy:
Jake Blood – XRAY XT8E
Brett Butter
Ian Cameron
Daryl Barth
Matt Williard
---
---
1/8 Electric Buggy:
Joe Bornhorst (TQ)
Gaven Gibbler – XRAY XB8E
Jared Bardin
Jeff Dayger
Gavin Vucina – XRAY XB8E
---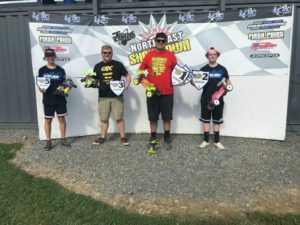 ---
1/8 Plus 40 Nitro buggy:
Jason Schreffler
Paul Ciccarello – XRAY XB8
Jay Bless
---
---
Quelle:  teamxray