Verstärkung bei Awesomatix – Valentin Hettrich ist ab sofort im Team von Awesoamtix und wird bei der Euro Touring Series und weiteren Rennen teilnehmen.
---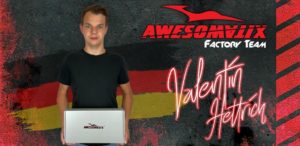 ---
Englische Version
Valentin Hettrich joins Awesomatix
️
Another strong addition to our team is the former ETS podium finisher Valentin Hettrich.
Same as Alexandre Kunkler he will participate at the Euro Touring Series events as well as other known events nearby.
He has following to say about the change:
"Thanks to Max for the trust in me joining Team Awesomatix. I am looking forward to getting back at the track again and working with the team and getting the most out of the car. See you at the track!"
Quelle:  Awesomatix