Am vergangenen Wochenende fand beim Rc One in Macomb Michigan die Great Lake Challenge statt. Eine großartige Strecke mit neuem Layout.
Für Paul Ciccarello lief das Rennen gut. Platz 1 in der 40+ Wertung 2WD und ein dritter Platz in 4WD.
In seinem Bericht (weiter unten hier im Beitrag) schreibt er von dem Event.
40+ 2WD:
Paul Ciccarello – XRAY XB2
Al Horne – AE
Mike Himanek – AE
---
---
Englische Version
Race report by Paul Ciccarello
This past weekend I made the trip up to Rc One in Macomb Michigan. It's a top notch facility, very clean and very well run!
I got to the track around noon Friday. The layout was new so it was a bit slick. We had to use treaded tires but by the time the second round of qualifying came on Saturday we were able to use slicks and by the mains the track had really good grip I thought! Friday practice went really well, I got to try a bunch of things I've been wanting to do, some good, some not as good but overall a productive day of practice.
Saturday morning I got to the track and ran in some tires for the day. Q1 in plus 40 2wd mod I was able to TQ with a good battle and pressure from LARGE. We had some close racing in all of our races actually, it was really fun! Mod 2wd went really well with a P3 and mod 4wd TQ. Second round I again tqed plus 40, improved my time in mod 2wd to move to second, my 4wd run didn't go very well. Q3, another TQ in plus 40 and faster time, mod 2wd made a few mistakes and fell back to 3rd on the grid and 4wd mod I improved and stayed tq but still needed to find some speed and consistency.
The mod 2wd main was up first. By this time I think my tires had gotten too soft for the conditions and lost some pace but over all my car was still good taking home 4th with one mistake. The plus 40 main, myself and LARGE had a great battle all the way to the end and I took the win. For the 4wd main I made some key changes and different tires and man the car was pretty spectacular but I wasn't unfortunately. I found some good things on the 4wd which improved the speed greatly, now I just need to find a little more consistency.
All in all it was a great time, I learned a lot, had some good battles and also fun in the pits!
Plus 40 2WD results:
Paul Ciccarello – XRAY XB2
Al Horne – AE
Mike Himanek – AE
4WD results:
Aydin Horne – AE
Nate Betley – XRAY XB4
Paul Ciccarello – XRAY XB4
---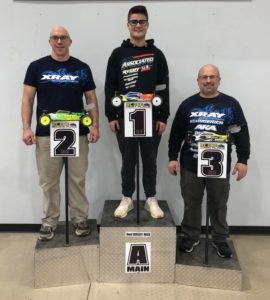 ---
Quelle:  teamxray