Von Sworkz kommt der ZEUS II als Eketro 1/8 Monster Truck auf den Markt. Das Fahrzeug beinhaltet viele Features des S35-T2E und S35-4E Versionen.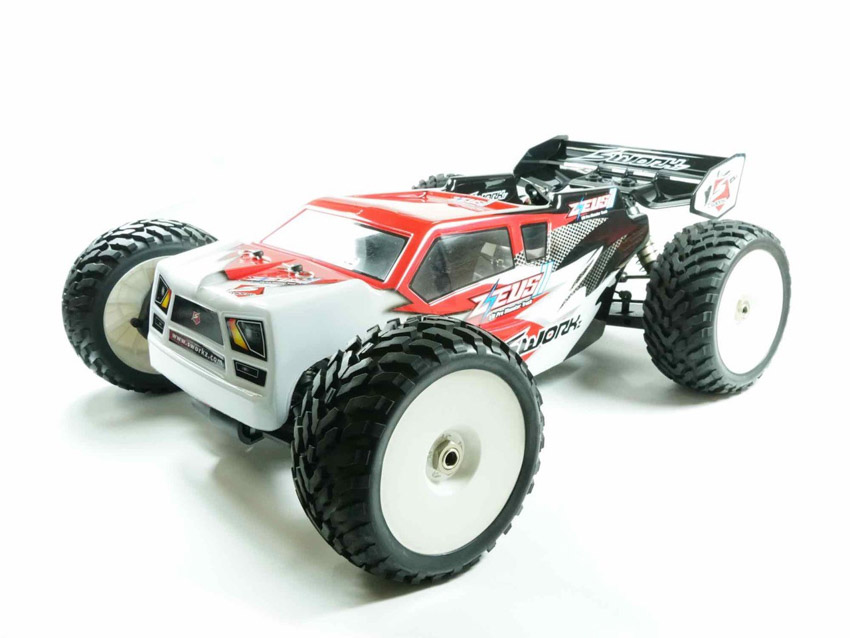 Das Fahrzeug kommt als Baukasten, den ihr noch zusammenbauen müsst. Es fehlen die Elektronik, Reifen, Felgen, Akkus, Farbe, Ladegerät und eine Fernsteuerung, falls nicht vorhanden.
Mehr Infos hier: Englische Version
The ZEUS II project is the result of SWORKz passion for improvement. Combining every detail into a more balanced and improved truck called the "ZEUS II".
The ZEUS II EP Truck incorporates many of the race-inspired features from the S35-T2E and S35-4E Pro Kits. This Truck provides precise feedback, a nimble and balance feeling that will suit drivers of all levels. The SWORKz design team put their efforts into proper weight distribution for the ZEUS II EP Monster Truck. Proper weight distribution proved to be instrumental to the setup during the testing phase of the ZEUS II EP Monster Truck.
The SWORKz ZEUS II EP Monster Truck comes standard with many high quality parts like a T7075 aluminum chassis (same S35-4E chassis hard coating process), front and rear shock towers. It also has S35-T2E Pro Kit's 16mm BBS Racing Shocks, High Performance Crown and Pinion Gears and oil filled differentials provide traction and balance to the truck on different off-road surfaces.
The ZEUS II EP Monster Truck uses the S35-T2e newly designed center Motor mount that makes it possible to easily change the motor or adjust the free play of the gears.
The pivot ball steering system gives the driver sharp and accurate turning feedbacks. The ZEUS II EP Monster Truck comes with a race inspired base set up that is easy to drive.
ZEUS II Kit Features:
. Quality T7075 Aluminum Main Chassis.
. Quality T7075 Front and Rear Shock Towers.
. SWORKz S35-T2e BBS Race Shock System.
. High Performance CNC machined Crown Gears and Pinion Gears.
.  F/R Full CVA Drive Shafts.
.  Aluminum rear toe in plate is included (SW-330266).
. Aluminum Adjustable Front and Rear Lower Plastic Insert Toe-In system.
. Double Protection Bumper Design.
. Sealed Front and Rear Arms design.
.  Adjustable Front Upper and Lower Suspension Arm System.
. ZEUS Speed Rhinocero III Pre-Cut EP Body Shell isincluded.
-.Wheels, Electronics, motor and batteries are not included
Whats included:
Kit
Manual
Precutted Bodyshell (not painted)
Tools
Wheels, Electronics, motor and batteries are not included
Specification:
| | | | |
| --- | --- | --- | --- |
| Length: |   | 530mm |   |
| Width: |   | 410mm |   |
| Height: |   | 230mm |   |
| Ground Clearance: |   | 75mm |   |
| Wheelbase: |   | 325-330mm |   |
| Track: |   | F:355mm /R355mm |   |
| Gear Ratio: |   | C:45-47/15T, F/R 46/10T |   |
| Weight: |   | 4470g (Full Equipment) |   |
Artikelbezeichnung: SWORKz ZEUS II 1/8 Pro Monster Truck Brushless Power Kit
Quelle: MW-Cars