Von Spektrum gibt eine unglaubliche Innovation – den S6240RX. Dies ist nicht nur ein schnelles Servo, sondern hat auch einen 2-Kanal Empfänger eingebaut! Dadurch wird zusätzliches Gewicht und Geld für den Empfänger gespart!
Dieses Servo beinhaltet das beliebte High-Speed-S6240 Servo und den neuen SR2010 DSMR Receiver in einer Hülle.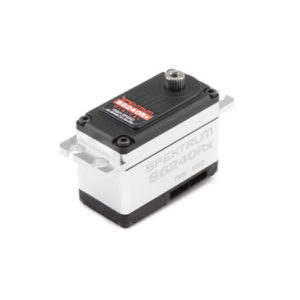 Der S6240RX passt extrem gut zu allen TLR 22 2WD Fahrzeugen, wie auch bei vielen anderen Fahrzeugen von Kyosho, Tamiya und Team Associated. Selbst bei bei den vielen ECX-Fahrzeugen passt es!
Englische Version
Also announcing today is a incredible innovation for surface vehicles, the S6240RX. More then just a servo, this device also has a high speed 2 channel receiver built in! Reduce weight, save space, save money!
This servo incorporates the popular high speed S6240 servo and the new SR2010 DSMR Receiver in to one package. Giving you a savings of $30! Plus there is no increase in size from a standard 1/10 Scale servo.
The S6240RX fits extremely well in all the TLR 22 2WD cars. As well as many other popular chassis' from Kyosho, Tamiya, and Team Associated. And if you are looking for a light weight budget build for backyard racing, it even works many of the ECX vehicles!
KEY FEATURES
Renowned S6240 Performance with built in high speed 2 Channel DSMR Receiver
Save Weight, Save Space, Save money (from separately from buying S6240 servo and SR2010 receiver)
Fits in many of the popular 1/10th 2WD Class chassis from TLR , Kyosho, and Team Associated
PRODUCT SPECIFICATIONS
Size Category: Standard
Type: Digital
Application: DSMR Receiver/Servo for 1/10 Buggy, Truck, On-Road
Torque: 208 oz-in (15.0kg-cm) @ 6.0V
Speed: 0.08 sec/60 deg @ 6v
Length: 1.61 in (41mm)
Width: 0.82 in (20.9mm)
Height: 1.18 in (30mm)
Weight: 2.0 oz (56g)
Bushing Or Bearing: Bearing
Bearing: Dual
Motor Type: Coreless
Gear Type: Metal
Gear Material: Steel
Current Draw Idle: 9.8 mA @ 6.0V
Current Draw Stall: 4.9A @ 6.0V
Voltage: 6.0V
Deadband: 4µs
PLUS THEY ARE IN STOCK NOW!
Quelle: SpektrumRC
Weitere Links