Der Neue aus dem Hause Xray ist da. Die 1/8 Klasse ist immer noch die Königsklasse im RC-Car Sport. Die Entwicklung der Fahrzeuge vom damaligem "Hackbrett" bis zu den heutigen Fahrzeugen ist schon enorm. Im Moment wird an allen Details gefeilt und diese verbessert. Xray hat 12 Updates in das neue Fahrzeug, den TX8`17 einfließen lassen. Mehr weiter unten bzw. hier: www.teamxray.com/rx8
Check out the detailed & beautiful presentation of the new XRAY RX8'17 at: www.teamxray.com/rx8
2017 All-new Features.
All-new chassis  features: repositioned holes for engine mounts to allow better gear mesh adjustment; front & rear machined openings for graphite stiffeners and additional weights
All-new redesigned and lowered aluminum 2-speed bulkheads decrease the CG of the rotation parts, as well as allowing quicker and easier adjustment of gear mesh
All-new fuel tank & mounting system allows height adjustment of the fuel tank depending on the receiver battery size. If larger LiPo or LiFe batteries are used, the included shims and bushings allows vertical repositioning of the fuel tank
All-new aluminum front lower suspension mounts allow mounting of composite bushings into the holders to increase the lifespan of suspension pins
All-new front upper arms made from softer material give improved forward traction and steering
All-new front steel extensions for shocks on lower suspension arms give improved durability
All-new front shock tower has been improved for better durability
All-new smaller flywheel improves engine bottom power performance and acceleration
All-new improved brake material for smoother, more consistent and better brake feel
All-new softer brake springs for higher-precision braking and improved brake feel
All-new steel shim for 2-speed shaft gives improved durability and more consistent operation of the alu drive flange with 1-way bearing
All-new graphite composite 2-speed gears give improved durability
Erhältlich bei 
 ,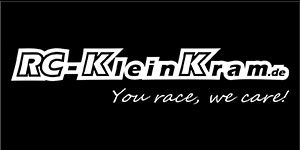 , 
 und Fachhandel.
Quelle: teamxray
Weitere Links