In Norwegen wurde am Wochenende auch gefahren. Dort konnte Nikko Haheim in Lørenskog das Norwegian Cup Race gewinnen. 
Nikko Haheim – XRAY T4
Helge Johannessen – ARC
Mathias Nedrebo – XRAY T4
---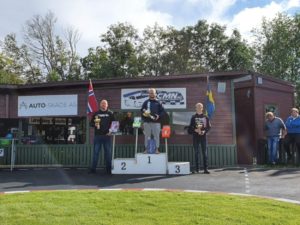 ---
Englische Version
Report by Nikko Haheim
The Norwegian Cup race was held at the upgraded facility in Lørenskog. This was a 2 day event.
We had 3 qualifiers on Saturday, with 3 mains on Sunday, so there was plenty of time to wrench and just enjoy a nice weekend with fellow racers.
Olav Dahle ended up taking the TQ honors ahead of me and Helge Johannessen in 3rd. For the A-main I felt really confident as I was sure I had the better package. In A1 I put Olav under immense pressure from the very being, eventually a few laps in he opened a gap, I took my chance and got trough. From there it was just to bring the car to the line some 6 seconds ahead of Mathias Nedrebo who came in 2nd, followed by Oyvind Stusdal.
Making it an XRAY 1-2-3 for the first final. In A2 I made a better start and managed to out drag Olav down the main straight. From there I could control the gap down to Helge who came in 2nd, this meant I would take the race win, as well as the Norwegian Cup title. Oyvind found himself in 3rd once again. I sat out A3 as the race was already done for me, leaving the other drivers to battle it out themselves. Helge went on to win the last main securing him 2nd for the race with Geir Bjarte coming in 2nd and Oyvind 3rd.
A very successful weekend for our XRAY drivers, having the most represented brand in the A final! Well done!!
Stock final results:
1. Nikko Haheim – XRAY T4
2. Helge Johannessen – ARC
3. Mathias Nedrebo – XRAY T4
Quelle: Teamxray
Weitere Links
#mikanews