Im Rennen Nummer 5 der BRCA 1/10 Offroad National Championships gab es erst die Titelentscheidungen in den Klassen 2 und 4 WD. Darüber berichtet William White von RacewayOne:
The 2022 BRCA 1/10th Offroad National Championships has been absolutely thrilling so far this year with five rounds now done and just one to go. Round 5 of the series was hosted by TORCH a few miles outside of Southampton in England's south on the weekend of August 6/7.
---
---
The Club recently moved to a new home at Swanmore College and organiser Steve Brown and his team have really done a great job with the setup including some novel touches such as a ring of mains electrical sockets around the track perimeter and toilets conveniently located right beside the track also. The racers who were pitting close to the track didn't need to start up engine driven generators for the weekend, so the pit area was noticeably quieter.
As per usual at this stage of any year's series, all the talk in the pits was about championship titles, overall finishing positions, upgrading or retaining relevant "F" grades, and beating local rivals. The main talking point from those topics was that Neil Cragg was still able to claim the 2wd title if all went well at round 5. A points hall equal to or higher than 129 would seal it for sure, but a result lower than 128 points from Orlowski would also grant Cragg the accolade for a 26th time!  The 4wd title could also be settled in Michal Orlowski's favour with a TQ and win.
Racers gathered at the track before 7am on the Saturday morning in yet another bright and sunny morning. The weather forecast for the weekend was warm and sunny for 2wd and even warmer for 4wd on the Sunday with temperatures predicted to peak at 28°C. Steve Brown had prepared the track very well – even vacuuming the surface – and he mentioned that the grip is highest in slightly damp conditions and lowest when the dust from the underlying hardcore starts to penetrate through to the racing surface.
The morning started with a driver's briefing and then straight into two x 3 minute practice rounds. The track had a good mixture of features and a reasonably challenging layout however several drivers mentioned that it was hard to get a rhythm going especially through the jumps – the day was not going to be easy for some.
---
---
We've become quite used to sunshine and dry weather during this year's BRCA 1/10th Offroad National Championships. Apart from a sprinkling of rain on one day of one round earlier in the season, the series had been completely dry and this weekend was no exception. 2wd practice was first to run and over the two round of 3 minute sessions it was Steve Brown, Neil Cragg, Paul Crompton and Ben Smith all at the sharp end with sun 27 second laps.
Practice was proceeded by 2wd qualifying and it was clear that 12 lap runs were the order of the day if you wanted to compete at the sharp end. For the rest of the mere mortals a mid to low 11 lap would prove enough pace for a solid high to midfield slot for the finals. Ben Smith was the first driver to set the pace in round 1 – straight in on a convincing 12 lapper, followed by Neil Cragg and local racer Steve Brown. Steve is consistently quick everywhere, so it was interesting to see home track advantage boosting him by a couple of tenths a lap more than normal. Cragg took it up a notch securing round 2 with European Champion Tommy Hall following closely and Ben Smith backing up his TQ with a third. The track was proving tricky to say the least with understeer evident across the field and several of the top drivers changing their driving styles to be able to carry speed at the apex. Cragg backed up his round 2 TQ with another in Round 3 of 2wd qualifying – setting a new fastest time in the process – an in fact, the top four from round 2 all finished in the same positions in round 3 – Cragg, T Hall, Smith & Orlowski. In round 4, Cragg's car and driving style looked considerably different to his normal smooth way. He was unsettling the car on the way into the tighter corners which generated a lot of rotation, then would counter steer at the apex to lock the rear end back in by the time the car exited and then fired it out on the power. This was impressive to watch, and you would assume that it would be slower than his normal style, but you would be wrong – new fastest time 12/318.95 – some seven seconds faster than his closest rival in the round. Three TQ's from four meant that Neil Cragg was not only on pole position for the 2wd A Finals, but it also looked like that nobody had an answer for his pace nor an answer for his title challenge.
Overall 2wd qualifying top ten.
1    Neil Cragg    0 [(2) (0) 0 0]    12/318.94
2    Ben Smith    3 [0 (3) 3 (7)]    12/324.93
3    Tommy Hall    4 [(9) 2 2 (5)]    12/321.03
4    Michal Orlowski    6 [(6) (4) 4 2]    12/325.11
5    Jamie Hall    8 [(5) (9) 5 3]    12/325.36
6    Paul Crompton    8 [4 (46) (17) 4]    12/325.97
7    Steve Brown    9 [3 (7) 6 (6)]    12/327.46
8    Josh Holdsworth    12 [7 5 (15) (28)]    12/326.45
9    Luke Holdsworth    13 [(10) 6 7 (10)]    11/300.96
10    Ben Pugh    16 [(11) 8 8 (15)]    11/301.95
---
---
In 2wd A Final Leg 1, Neil Cragg got off to a commanding start building a gap at the front lap after lap with his adapted style. Ben Smith in second was also going well with Tommy Hall and Michal Orlowski close behind for the first few laps. At the two-minute mark the gap between Cragg in first and the chasing pack lead by Smith seemed to shrink. As Cragg didn't appear to be any slower than normal, we will have to assume that Smith et al were pushing on hard to catch up. Through the jump section under the driver's stand, Hall in 3rd made his move and passed Smith into second place. Orlowski in fourth also sensing his opportunity under-jumped the double after the table-top and slowly cartwheeled across the track lane nearly being collected by a hard charging Jamie Hall. The order at the mid-point – Cragg, T Hall, Smith, Orlowski, J Hall. A lap later in the race's third minute, Cragg out in the lead seemed to have a series of mistakes. First landing off a double into the track marking hose, then clipping the hose on a long sweeper and finally oversteering onto the hose again a corner later resulting in a barrel roll off the circuit. Somehow, he landed back on his wheels and was able to pick up the race still in front, but his advantage was depleted, and Tommy Hall was now there to put him under pressure. This was a very interesting situation as Cragg, and Hall are team-mates. Would Hall challenge Cragg? Would Hall drop back and defend Cragg against Smith and Orlowski? What were the team orders?. It appears that there were no team orders. Hall put Cragg under pressure immediately and was looking for the overtaking opportunity. Coming off the straight on the same lap, Cragg's car appeared to roll in much harder than Hall's allowing the latter to track a much tighter line draw up level on the inside of Cragg. With Cragg now off his usual line he came into contact with the hose at the apex of the chicane and rolled up onto his roof allowing Hall, Smith & Orlowski through. Cragg back to fifth position with only 2 minutes to go. Cragg had recovered to fourth on the proceeding lap and was closing the gap to Orlowski in third when he oversteered through the S-bends before the straight and found himself facing the wrong way. This really allowed the leading pack of three to gap the field and do battle in an insular way. Orlowski had a bit more speed than Smith and you could see that Hall was breaking away at the front. Orlowski applied the pressure and forced Smith into a roll at the bottom of the tabletop – the running order with 30 seconds to go: T Hall, Orlowski, Smith, Crompton. The race order didn't change again before the finish.
---
---
In 2wd A Final Leg 2, the whole field got away cleanly and remained in qualifying order for several laps from the start. Cragg made gains to build a small lead with Smith, T Hall and Orlowski all running very closely – nearly tripping over each other – a second behind. At the mid-point of the race, Smith in 2nd rolled coming onto the straight letting Hall and Orlowski through – Craggs lead having grown to over 2 seconds. With Smith out of the way, Tommy Hall got the hammer down and started to reduce Cragg's lead. Over the subsequent three laps, Hall drew to within half a second of Cragg with Orlowski in tow. Hall's advance seemed to halt there as Orlowski became the man on the move now visibly faster than the lead two. Orlowski's charge was cut short as when the lead cars passed through the transponder loop, time expired and his race was over allowing Cragg and Hall to battle for the lead over one remaining lap. The racing intensified, but Hall never got a viable opportunity to pass. Finishing order – Cragg, Hall, Orlowski.
---
---
At this point we had two leg winners – T Hall and Cragg. Cragg already has the extra point for TQ, so a win or a second place is required to secure the championship – things were looking good!  In 2wd A Final Leg 3 Neil Cragg got off to another good start controlling the pace. Ben Smith broke away with him as Tommy Hall made and error letting Orlowski through to third – trailing the lead two by 3 or 4 seconds. Just after the two-minute mark, Smith's challenge was neutralised when he chassis slapped the landing off the double and endo'd onto his roof immediately followed by Tommy Hall doing the same – quick marshalling got Smith back into second before Orlowski would come through in third, Hall relegated to sixth. At the race midpoint, Neil Cragg had a solid two second lead over Ben Smith with Michal Orlowski in third. Neil led for the following two minutes, but his advantage was being eroded by Smith and Orlowski behind. Smith got nearly close enough to make a move – jumping long over the double-double forcing Cragg off his usual line over the table-top. Cragg was a little slow off the table top and jumped the proceeding double short, rolling off the circuit and allowing Smith & Orlowski through. As the trio made their way down the straight the end of race tone sounded and they finished in the same order – Smith, Orlowski, Cragg. This meant that there was a three-way tie for second place. Cragg comfortably taking it on times.
Overall 2wd Results:
1    3    Tommy Hall    3 [ 1 2 7 – 11/ 303.32 ]    27.57
2    1    Neil Cragg    4 [ 5 1 3 – 12/ 326.04 ]    27.17
3    2    Ben Smith    4 [ 3 9 1 – 11/ 304.13 ]    27.65
4    4    Michal Orlowski    4 [ 2 3 2 – 11/ 304.82 ]    27.71
5    6    Paul Crompton    8 [ 4 7 4 – 11/ 309.86 ]    28.17
6    5    Jamie Hall    10 [ 8 4 6 – 11/ 308.98 ]    28.09
7    10    Ben Pugh    10 [ 6 5 5 – 11/ 311.65 ]    28.33
8    7    Steve Brown    13 [ 7 6 9 – 11/ 315.21 ]    28.66
9    9    Luke Holdsworth    16 [ 9 8 8 – 11/ 318.79 ]    28.98
10    8    Josh Holdsworth    20 [ 10 10 10 – 11/ 319.87 ]    29.08
---
---
Neil Cragg takes the 2022 BRCA 2wd 1/10th  Offroad Series title with one round to spare.
Second place and TQ give Neil a total of 130 points for the event which means he is now uncatchable and is the 2022 BRCA 2wd 1/10th Offroad National Champion – a big congratulations to him – his 26th title!!!. All going well, by the time round 6 comes along on August 26/27, Neil and his wife Chloe will have welcomed a brand-new baby boy into the world, and we'd like to wish them all the best for that – but also fully understand if we don't see him at Robin Hood in three weeks' time. My tip is to sleep when the baby sleeps.
With 2wd settled for the meeting and the season we moved onto 4wd. Once again, a beautiful sunny and dry morning was evident as the drivers emerged from budget hotels, campervans and tents to congregate track-side. It was 22°C at 7am – so a very warm day was predicted. The drivers started their day with two rounds of three-minute practice. Most of the cars looked reasonably well setup from the word go, but some still looked better than others. Michal Orlowski, Neil Cragg, Paul Crompton and Jamie Hall all putting in very fast laps in the low to mid 25 second bracket. We should see drivers at the sharp end securing 13 laps over the 5 minute qualifiers.
---

---
4wd qualifying was dominated by one man who took all four rounds – Michal Orlowski. His car looked planted and fast and the other cars just didn't. By the end of qualifying, it was evident that either a major blunder from him or a boost in performance from the challengers would be required to deny Orlowski the top step on the podium. Neil Cragg was the closest challenger in qualifying – securing second on the A Final grid with a total of four points in qualifying. Jamie Hall was also strong and definitely a contender for any of the podium positions in third with five points. The understeer issues which many suffered from in 2wd were definitely gone in 4wd and the task now was to carry speed and stay on the ground over the bumps.
Overall 4wd top 10 after qualifying:
1    Michal Orlowski    12/ 300.21    0 [0 0 (0) (0)]
2    Neil Cragg    12/ 304.74    4 [2 2 (6) (81)]
3    Jamie Hall    12/ 301.81    5 [3 (5) (3) 2]
4    Paul Crompton    12/ 302.63    6 [(4) 3 (7) 3]
5    Tommy Hall    12/ 306.27    7 [(25) (8) 2 5]
6    Ben Smith    12/ 305.07    8 [(13) 4 (11) 4]
7    Josh Holdsworth    12/ 307.47    10 [(16) (20) 4 6]
8    Charlie Saunders    12/ 309.57    12 [(14) (11) 5 7]
9    Phil Sleigh    12/ 311.85    12 [6 6 (30) (25)]
10    Luke Holdsworth    12/ 311.03    13 [5 (81) 8 (21)]
Over the first four rounds of the 4wd Championship, we have had four different winners – T Hall, Cragg, Crompton and Orlowski. Orlowski has scored well enough when not winning to be in a position where one more win will secure him the 2022 4wd title. Like Neil Cragg yesterday, things were looking good and going well.
---
---
Michal Orlowski dominated qualifying taking all four rounds at TORCH
4wd A Final Leg 1 commenced with Michal Orlowski leading the field away from pole position closely followed by Neil Cragg, Jamie Hall and Paul Crompton. On lap three, Michal Orlowski looked comfortable at the from when Cragg and J Hall both rolled off the circuit in synchronisation allowing Crompton through to second – Orlowski now with a two to three second lead.  For the following three minutes Orlowski led in a cool and composed way, not putting a foot wrong as Crompton and T Hall furiously chased. At the four-minute mark, T Hall made a move on Crompton and made it stick – the running order now Orlowski, T Hall, Crompton & Cragg. T Hall was successfully fending off Cragg before going up on two wheels on having to divert off the line to land the car allowing Cragg through. They ran for another two laps to finish in that order: Orlowski, Crompton, Cragg, T Hall.
---
---
Leg 2 of the 4wd A Final progressed in similar fashion to Leg 1 – Orlowski led from the start and made small gains on Neil Cragg in second over the first few laps – Jamie Hall in third. A minute and a half in, the gap between Orlowski and Cragg started to reduce – a mixture of Orlowski controlling his pace and Cragg pushing on to catch up. The closing gap was announced by the commentator and Orlowski responded growing the gap again to over two second in less than two laps. And he continued to build his advantage till he was six seconds clear by the end of the race. Cragg second, Tommy Hall 3rd, Jamie Hall 4th.
Although Michal Orlowski had won A Final Legs 1 & 2, he still raced in 4wd A final Leg 3. A win in leg three would mean he was unbeaten all day. Orlowski's masterclass continued in Leg 3. His car looked quite reactive around the neutral point whilst other cars looked like they needed to be driven hard into the corner. Neil Cragg and Jamie Hall initially broke away with Orlowski, but it wasn't long till the young Pole gapped the entire field. At the minute mark, Cragg grip rolled on a sweeper after the tabletop – letting Jamie Hall through with Tommy closely following.. With Orlowski checked out the battle between the Hall bros. raged some 6 seconds behind but not for long when with two minutes to go, Tommy tagged a hose and let Jamie away. There were no further position changes by the end of the race.
Overall 4wd positions.
1    1    Michal Orlowski    2 [ 1 1 1 – 12/ 303.06 ]    25.26
2    2    Neil Cragg    5 [ 3 2 9 – 12/ 309.18 ]    25.77
3    4    Paul Crompton    5 [ 2 8 3 – 12/ 310.77 ]    25.90
4    3    Jamie Hall    6 [ 7 4 2 – 12/ 309.05 ]    25.75
5    5    Tommy Hall    7 [ 4 3 4 – 12/ 310.50 ]    25.88
6    6    Ben Smith    10 [ 5 5 7 – 12/ 315.42 ]    26.29
7    10    Luke Holdsworth    11 [ 6 6 5 – 12/ 318.49 ]    26.54
8    7    Josh Holdsworth    14 [ 8 9 6 – 12/ 319.11 ]    26.59
9    8    Charlie Saunders    15 [ 9 7 8 – 12/ 322.17 ]    26.85
10    9    Phil Sleigh    20 [ 10 10 10 – 11/ 300.22 ]    27.29
The victory for Michal Orlowski secures the 4wd championship for him on his first attempt – congratulations!
---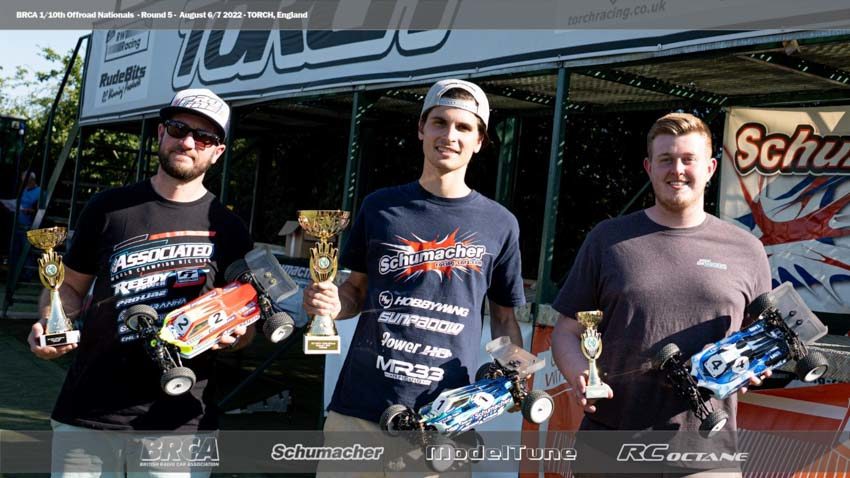 ---
Another excellent event from the BRCA. With only one round left at Robin Hood Raceway on August 26/27 which coincides with the BRCA's 50th Birthday celebrations.
Worthy mentions:
2wd B Final Winner: Yasir Mughal
4wd B Final Winner: Ben Pugh
Great performance: Ross Nicholson – 9th in 2wd Q4
RacewayOne helpers: Mark Musgrove & Mannie Pannisar
Quelle: www.racewayone.com