Am letzten Wochenende ging es zur Worksop Masters Series, da wo zuletzt das ETS stattfand. Gerade in England, eine beliebte Rennserie.Wie das Rennen ausging, lest ihr hier (Englisch).
This past weekend was round two of the Worksop Masters series. Once again the team didn't disappoint and there was a fantastic track to greet us all Sunday morning.
The race format was round by round qualifying, with the best 2 results from 4 rounds of qualifying counting towards the final position.
In 4wd qualifying, it was Neil Cragg who took TQ and would therefore line up on pole. Tommy Hall would be 2nd and Ben Smith would line up in 3rd.
The A Final 4wd result was:
1 Jonathan Skidmore Xray
2 Neil Cragg AE
3 William Skidmore Xray
4 Tommy Hall AE
5 Jamie Hall AE
6 Matthew Thompson Schumacher
7 Edward Callan Schumacher
8 William Goodwin Schumacher
9 William Callan Schumacher
10 Ben Smith Schumacher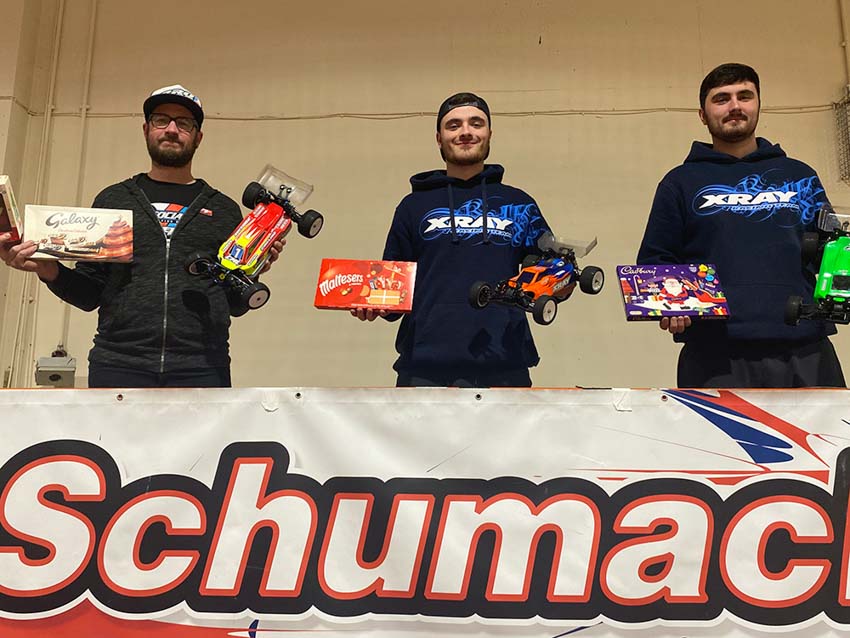 In 2wd qualifying, Jonathan Skidmore would take TQ to line up on pole position, Tommy Hall would be 2nd on the grid and his brother Jamie Hall would line up 3rd.
The A Final 2wd result was:
1 Jonathan Skidmore Xray
2 Jamie Hall AE
3 Matthew Thompson Schumacher
4 Tommy Hall AE
5 Neil Cragg AE
6 William Skidmore Xray
7 Edward Callan Schumacher
8 Zak Smith Schumacher
9 Ben Smith Schumacher
10 Ben Simpson Yokomo
A brilliant event as always and lots of fantastic racing.
The full results and up to date championships can be viewed here: http://www.schumacher-results.com/worksopresults22/index.htm
As always a huge thank you to the Worksop team for all of their hard work.
The third round of this series is on Sunday 15th January 2023, limited spaces are still available in both classes.
Here is a link to the online entry form: https://www.racing-cars.com/schumacher-indoor-off-road-masters-2022
We hope to see you there.
Quelle: Schumacher Racing und  CS-SHOP