Pünktlich zum Start der neuen ETS-Saison 2016/17 gibt es einen tollen Rückblick auf die letzte Saison von Jan Ratheisky, der es als erster Fahrer das Double (Jan gewann Formel und Stock) beim ETS geschafft hat. Danach krönte er seine tolle Saison bei der Europameisterschaft und zwei Titeln. In dem heutigen Report berichtet Jan von seiner letzten ETS-Saison und wie er die Titel quasi vor dem iPad gewann. Doch lest selbst (nur in Englisch).
Englische Version:
Jan Ratheisky's ETS 2015-16 Flashback
Before the new season, the first-ever ETS double-winner Jan Ratheisky bring us back to the ETS 2015-16 season. Read Jan's road to the title in Formula and Stock classes from his own perspective.
Off-season 2015:
Every driver knows that ETS is the best international series in the world, with a competition level that is second to none. After the very successful season in 2014-15 where I took the title in the Formula class, I was motivated to repeat my performance again knowing that it would be even harder than before. Of course like every other successful sportsperson, before the start of the next season, I set my overall goals: Top 3 in the Formula class, and Top 10 in the Stock class.
To reach my goals and also have more time supporting our drivers and be really prepared for every single race, I brought my friend Scotty with me; he had worked by my side as my mechanic, and he was key to reaching my goals.
Everybody who works for a RC Car company knows that the off-season is the time for testing and developing new products. Especially those guys who have the privilege to work with XRAY know that R&D at XRAY never really sleeps… they constantly work to improve their products. So instead of long celebrations with our Chief Designer, Martin Hudy, we put our heads together, looked back on the past season, and came up with ideas to improve our car. After that we had a few months to improve and bring the new X1'16 & T4'16 to market before ETS. With these new weapons in our hands we should have a definite advantage over our competition. So despite having no time to rest, I was very excited and confident about the start of the new season.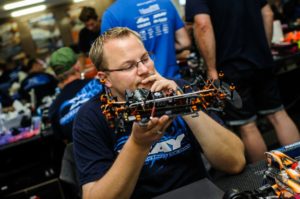 ETS R1, Hrotovice, CZ, 11. – 13.December 2015:
With the new cars in our possession, we drove to the well-known Sport Hotel in Hrotovice for ETS Round 1. With no time to practice before the event, we did not expect very good results but we would try our best. Quite luckily, I heard about a change of TC tires just before the event, so a lot of my competitors' practice time was time wasted. GAME ON!
TC:
We started with the basic set-up from last year and it worked very well. I didn't really need huge changes with those new tires, which made it a bit easier to just focus on driving. I softened the rear diff a bit, and everything was set. With good memories of my first-ever TQ at an ETS event, it would be a big surprise for me if I could repeat it. Under big pressure from my teammate Marek, I was able to hold the #1 spot and win the first race of the season, making it 1-2-3 for Team XRAY. YEA!
F1:
This was my first time with the new Ride tires, and I struggled a lot to find a good working set-up. At all times the car felt very slippy at the rear which ended up as traction rolling on the tape. I started to rebuild the car, installing the alu chassis, softening nearly every option, and using lots and lots of superglue. After changing to the completely new set-up, I finally got a well-handling car which still needed a lot of work for the future. In the end, I TQ'd in F1 and in the final I was able to hold my position ahead of well-driving Olivier Bultynck (who finished 3rd) and Christian Donath (who finished 2nd with his Tamiya) to repeat my best-ever result which meant 2 TQs and 2 WINs in the big game.
[DO DREAMS COME TRUE…?]
ETS R2, Mülheim-Kärlich, DE, 5. – 7. February 2016:
Topping the Result sheets, we were moving to ETS Round 2 in Germany which was the biggest ETS event ever with a lot of entries. Also, in F1 there were over 100 drivers which was super cool! Let´s continue the dream for a possible season podium finish in Stock and F1. 
TC:
My car worked very well and I only changed to harder rear springs and less rear toe-in. After 2 of 4 TQ runs, I was in a tight battle for overall TQ… and in the end I qualified 2nd which made me very happy. With no changes for the final, I pushed the car very hard to battle for the win. Unfortunately, it was a very crashy and uncool final for me, though I was able to finish 2nd behind Toni Streit. Still, despite all of the accidents it was a great result.
F1:
I started with the set-up from ETS Round 1 which had a lot less steering now. Same carpet, same tires… I really didn't understand it. After changing the rear diff, steering angle, tubes and center spring, my car worked great and I set the TQ and won Round 2! The battle for 2nd place was between my rivals Olivier Bultynck & David Ehrbar. Olivier emerged victorious from the fight and took 2nd place. So far, so good.
[WHAT´S GOING ON? Happy to be in the Top 10 just a year ago, and now I am fighting for the win? Crazy!! ]
ETS R3, Wels, AT, 8. – 10. April 2016
For the last carpet race this ETS season, the RC world travelled to Wels, Austria to run at a Toyfair event. With two good results in my pocket, I wanted to earn as many points as possible because I am usually better at carpet races. 
TC:
Once again I started with my last set-up without any changes. I pushed hard to set the TQ once again in a very hard battle with Tony. Tony was also chasing me in the finals, but with some defensive driving (and surely some good luck) I lead that race tone-to-tone to take the win. It felt GREAT to win 3 races in a row… 3 times Top 2. Cool 
F1:
Once again this would be my hardest class of the weekend. I struggled to find the best working set-up, but at the end I was able to claim TQ. In the finals, it was once again my biggest challenger Oli with whom I had some nice racing action. And this time I found even more speed and won the race.
[JUST ONE MORE PODIUM NEEDED… 3 RACES LEFT… LET´S ROCK]
ETS R4, Riccione, IT, 12. -15. May 2016
Round 4 was the first asphalt race of the season. While it still was very early summer, I guess we all were not really that well prepared because of the bad & cold weather, which meant no practice time on asphalt for anyone…
TC:
I was struggling to find traction. I started 5th and tried to push in the final to make up better positions, but in the end I was on a potential 3rd overall placing but I was crashed from behind very badly. This round went to homeboy and first-time winner Mattia Collina. Max Machler (TQ driver) also had a nice drive and he finished 2nd. Nicolai Lindegaard completed the podium. Knowing that no-one from those drivers on the podium could win the title, I was still happy to finish 4th overall with great chances for the overall season win. The math was that only Toni Streit could take the title away from me by winning all remaining races and TQ.
F1:
Another race in the Formula class, another adventure to find a good working set-up. Once I found a really good & fast set-up, the rear tires were gone after only 4-5 minutes. Luckily, we had more sets of race tires for the event. With the good set-up and knowing that by pushing I could use one set of tires for one race, tire strategy started to become important like never before. I TQ'd and won that race which meant that I won the season with 4 Wins and 4 TQs! The fight for the Vice-Champion title was still on as David Ehrbar finished 2nd.
ETS R5, Luxemburg, LU, 23. – 26. June 2016
The penultimate round of the season brought drivers to the very big track in Luxembourg. Unfortunately, I was very sick and could not get out from bed, so I was only able to follow that event on my iPad. What a sad feeling… :'(
TC:
Because Toni also did not attend the event, I won the overall title! I realized this after I started getting lots & lots of congratulations for the double-title win… WOOHOO… I WON THE TITLE!!! from my bed.  The ETS Luxembourg was won by Lars Hoppe ahead of Olivier Bultynck and Christian Donath.
F1:
David and Olivier were the biggest favourites for the win. These guys battled fiercely between themselves, and it was David who took the win. Mike Gosvig completed the podium.
ETS R6, Trencin, SK, 21. -24. July 2016
This was the first race of the year that I tried to enjoy as much as I could, because I already had the titles in my pocket. So I didn´t invest money into practice tires and rather invested it in a good lunch with friends to celebrate. 
TC:
My car worked very well, but with some accidents in qualification I ended up 5th. With a good tire strategy, I ended up 2nd overall behind my mate Tom Krägefski who TQ'd and won the event. Noah Asendorf finished 3rd. Well done!
F1:
The never-ending story… the gamble with ever-changing tires. Luckily, I won this challenge in the end. I set TQ and also won the final under a lot of pressure from (who else) Olivier and David. Great racing!
………………………..
I would like to take this opportunity to thank everyone that trusted in me and supported me in all possible ways. My family, friends, sponsors, and once again a big "Thank You" goes to Scott Falk who works very hard on my cars… it helps me a lot!
To anyone that thinks I will now take some rest… well… you'd be WRONG. Together with the team we took exactly the same steps – put our ideas together, worked and tested a lot, and again brought new products to the market – the T4'17 & X1'17. Again XRAY is FASTER and BETTER which gives great advantages over our competition. We also strengthened our Formula team with few new top drivers. I set my goals again, and I am very excited to race the first ETS, same as most other RC drivers who will attend the ETS season. This is a never-ending cycle, and I am very happy to be a part of it. See you at 2016-17 ETS Round 1 in Hrotovice, Czech Republic.
Jan Ratheisky
---
Quelle: Teamxray und Jan Ratheisky
Weitere Links
#mikanews #Xray #ETS #EUROTOURINGSERIES #janratheisky #x1 #formel #t4