Schumacher Racing hat zwei Versionen des neuen Cougar auf den Markt gebracht. Der Cougar KD ist für Strecken mit wenig Griff geeignet, den wir vor ein paar Tagen vorgestellt hatten. Die zweite Version, der neue Cougar KC wurde vor allem für Teppichstrecken entwickelt. Dieser bietet dem Fahrer vier verschiedene Motor-Layout-Positionen mit mehreren Akkutypen und Montage-Optionen.
Lieferbar ist das Fahrzeug ab Februar 2017.
Features:
4 alternative Motorpositionen

3 Gear-Getriebe für entgegengesetzte Motordrehzahl und so verbessert Agilität und Lenkung bei Strecken mit viel Griff

mehrere Akkuvarianten montierbar (

Saddle, Square und Shorty

Gull Wing Querlenker

neue Karosserie

neue Dämpferteile

neuer Slipper

neue Akkubefestigung

neues Getriebe

25 Kugellager

Big Bore Dämpfer mit Titanium-N

itrid-Kolbenstangen

neue 4 mm Kohlefaserdämpferbrücken
uvm.
Technische Daten:
Länge: 395 mm
Radstand: 285 mm
Breite: 250 mm
Höchstgeschwindigkeit: 40 MPH
Ein Video gibt es von Schumacher-Racing zum neuen Fahrzeug.
Englische Version
Racing has changed. Tracks have changed. To keep up, cars have adapted, but until now have never been ahead of the game. The new Cougar KC is designed primarily for modern carpet and astro surfaces. Offering the driver four different motor layout positions with multiple battery types and fitting options. The KC has the ability to be set up perfectly, on all types of tracks, tight and twisty or open and flowing. All the parts required for all the layouts are included as standard in the kit! The new Cougar KC, on Carpet or Astro it has you covered!
Due February 2017.
New Features:
4 alternative motor positions for huge versatility on different track types and conditions.
3 Gear transmission for opposite motor rotation, improves agility and steering on high traction surfaces.
Multiple battery fitting options. Saddle, square and shorty.
Super sleek, ?Gull Wing? wishbones with new anti roll bar option.
Front outer hinge pin design, grub screw fixing for improved pin retention.
Adjustable rear shock location in front or behind the wishbones, in the kit.
sleek, ?Shark Fin? bodyshell.
Lightweight ball mounted, two piece shock cap with bleed screw and vented option.
Lightweight, twin pad slipper clutch with new ultra fine adjustment spring.
Larger 5x11x5mm layshaft and pulley bearings, increases durabilty and precision.
2 sets of lightweight posts to suit standard and modern low profile batteries.
Easy to use battery thumb screws.
Alloy horizontally split transmission housings for easy diff access and maintenance.
Rear transmission mounted pivot strap. Increased chassis clearance.
Small, low rotating mass gear differential. With 3 position height adjustment, to adjust for driveshaft plunge and mixed track conditions. Optional ball diff available.
2.5mm aluminium chassis, with sensor lead wiring channels.
Carbon fibre side pods for advanced chassis stiffness tuning.
Versatile chassis allows conversion between the high grip Cougar KC to low grip Cougar KD spec. 5 cars in 1!
Front camber captive ball joints.
Class leading suspension geometry with durable components and a range of optional alloy parts, offering adjustments to set up your COUGAR KC for all track conditions.
Front 5 deg yokes with adjustable roll centre heights.

Features:
25 super precision ball bearings.
Big bore shocks with big bore ?CORE? springs, titanium nitride shafts, threaded collars and twin o-ring sealing.
Shock seal pack housing with 'O' ring sealing to prevent loosening.
Compact steering system for improved in-line weight placement, with adjustable and dynamic ackerman.
Front shock tower cover to protect your car and the track from damage.
Strong steel universal driveshafts.
Strong, rigid 4mm carbon fibre shock brackets.
Large ?CLAW? high downforce rear wing.
Adjustable rear roll centres, inboard toe-in and anti-squat.
Lightweight, narrower side gears for increased efficiency.
Pro ball studs with 2mm hex.
Quick release idle shaft.
Strong front steering hub, with fine ?Kwik Klip? adjustment.
12mm Hex Wheels with clean look and industry standard offset.
Technical Data:
Power Source: ELECTRIC
Model Type: 2WD, OFF ROAD, COMPETITION
Length: 395mm
Wheelbase: 285mm
Width: 250mm
Top Speed: 40 MPH+
UVP: 379,00 €
Artikelnummer: K170
Bezugsquelle: Fachhandel, CS-Shop ,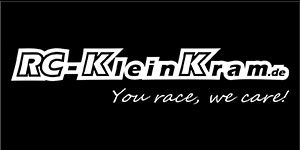 und 
.
Quelle: CS-Shop
Seine Konkurrenten im 2WD Bereich sind:
Weitere Links