Revolution Design Racing Products hat zwei Aluminium Spoilerhalter für die Team Associated B6 und B6D Buggies entwickelt. Die Spoilerhalter werden aus hochwertigem 7075-T6-Aluminium gefertigt, um die Steifigkeit und Langlebigkeit zu verbessern. Die blau bzw. schwarz eloxierten Aluminiumteile haben eine silbere Fase. Diese fügen sich gut in das Gesamtbild der Produktlinie von RDRP ein. Eine verbindende Kohlefaserplatte wurde in einem Winkel bearbeitet, so dass der hintere Spoilerwinkel eingestellt werden kann, um den aerodynamischen Abtrieb weiter fein abzustimmen. Zusätzlich wird der Spoiler darauf gut abgestützt.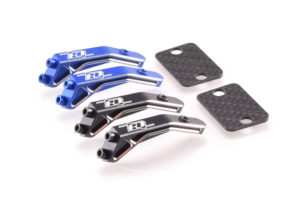 Englische Version
B6 Aluminium Wing Mount Set
Revolution Design Racing Products have introduced the Aluminium Wing Mount Set for the Team Associated B6 and B6D buggies. The wing mounts are machined from high-quality 7075-T6 aluminium for improved rigidity and durability while the overall design, anodised surface and silver edge details make for an ultra-cool look. A connecting carbon fibre plate was machined at an angle, allowing to adjust the rear wing angle in order to further fine-tune aerodynamic downforce. On top of this the large surface carbon plate lets the wing rest on a more sturdy base than common wing mounts, prolonging the wing's life while also optimising overall downforce. The wing mounts are available in black or blue anodising
RDRP0286 BLK-B6 Aluminium Wing Mount Set (black)
RDRP0286 BLU-B6 Aluminium Wing Mount Set (blue)
http://revolution-rc.com/our-products/associated-option-parts/rdrp0286-b6-aluminium-wing-mount-set.html
#RDRP #RUDDOG #TeamAssociated #B6 #B6D #RC10 #WeAreAE
Handel: 
 ,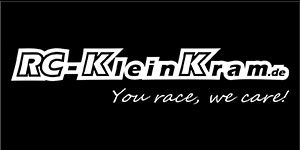 ,
 , 
  ,
 , Ruddog und Fachhandel.
Weitere Links