Gleich nach dem ETS-Round 5 in der Slowakei machte sich Patrick Gassauer auf die Reise nach Genf, um Marco Balmer und Lionel Troyon zu besuchen und nahm an dem 3.Lauf zur Schweizer Meisterschaft teil.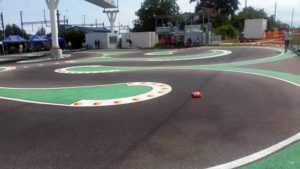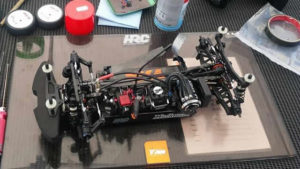 Dieses Rennen stand im Zeichen des Test für den E4RS4, da hier andere Reifen (Sweep-Reifen) und Haftmittel im Gegensatz zum ETS verwendendet werden. Während des ganzen Rennens machte das Team Tests mit Federn und einigen anderen Einstellungen. Im Finale wurde auf die Team Magic TC Pro Federn Serie, P2.7 vorne und L2.8 hinten gewechselt. Platz 4 konnte Patrick erreichen.
Top 10:
1. Michele Manzo
2. Fabian Widmer
3. Philipp Huber
4. Patrick Gassauer – Team Magic E4RS4 pre-serie
5. Oliver Krähemann
6. Walter Pollet-Villard
7. Bastien DeMarco
8. Boris Siladi
9. Raffaele Tolotta
10. Marco Balmer – Team Magic E4RS III Plus
Englische Version
Right after the ETS round 5 in Slovakia, Patrick Gassauer made the trip to Geneva to join Marco Balmer and Lionel Troyon to participate the 3rd round of Swiss Championship.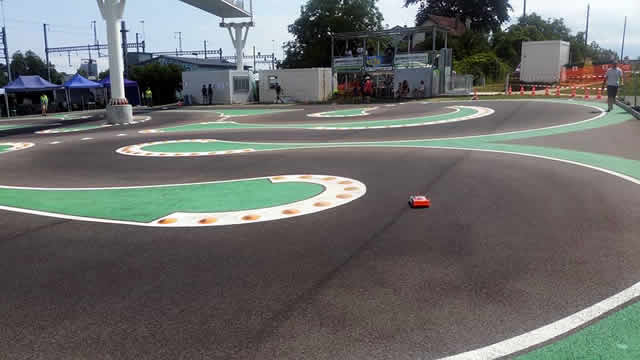 This race was a test in special conditions for the E4RS4, as the Swiss Nationals requires Sweep Tires, and tire additive are banned at the Geneva's track for ecological concerns; two key-elements totally unknown for Patrick.
During qualifications, Patrick made a second place in run 4, and a fourth place in run 2, while his young teammate Marco Balmer made two sixth place in round 1 and 2.
This resulted in place 3 on the grid for Patrick, behind Michele Manzo and Philipp Huber, and place 8 for Marco Balmer. So, the two Team Magic cars in A-finale.
During all the race, we made tests with springs and some other key-elements, both on the pre-serie E4RS4 version of Patrick and on the regular E4RS III Plus of Marco. So, for the finale, we switched to the very performing Team Magic TC Pro springs series, P2.7 front, and L2.8 rear, providing a better balance and overall grip.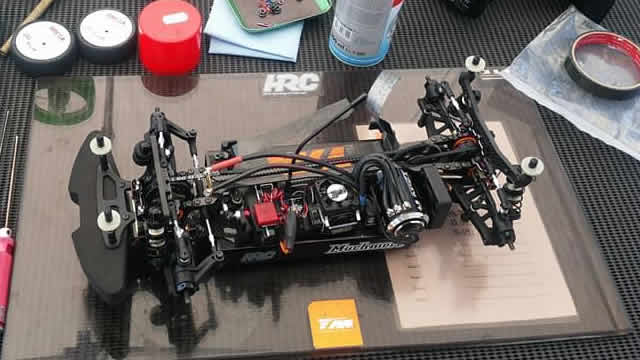 So, Patrick has been able to fight in the 2 first positions at every final run, but simply had bad luck with overlapped drivers. In the first final, a car simply "landed" (yes, I have no other word !) on his E4RS4 while Patrick was chasing Michele Manzo after taking the lead for 2 laps and being passed by Michele some corners before the incident.
In finale 2, Patrick was second or third when an overlapped driver push his car resulting in a body-tuck… where Patrick lost a half lap before being marshaled.
And in finale 3, Patrick took the lead quickly in front of Michele and Philipp, and finaly won the race after a nice fight with Philipp Huber, followed by Walter Pollet-Villard and Michele Manzo.
Race was clearly more difficult for Marco Balmer, with a DNF in Finale 1, and some fights in other rounds. But it's the Marco's first year in Modified, after several years in ProStock, and the transition require time to be competitive. Marco made very nice runs and laps, and will for sure progress quickly. He obtained the best rookie trophy, good job !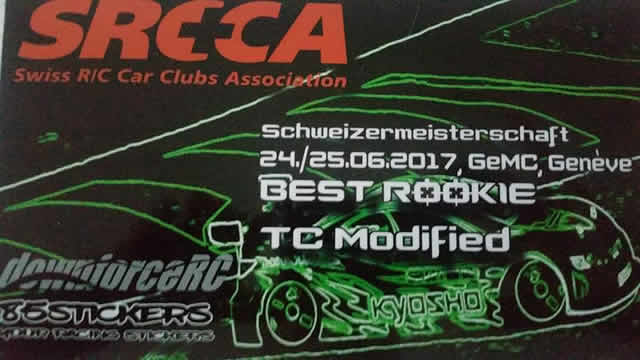 Quelle: HRCDistribution
Weitere Links
#mikanews