Team Integy präsentiert den neuen D110 Gen.2 1/10-Scale Rock Crawler ARTR. Dies ist ein Fahrzeug / Chassis welches bereits vormontiert ist. Es fehlen nur die Karosserie und die Elektronik.
Dieses D110 Gen.2 Chassis ist so konzipiert, dass es mit unseren Gen.2 D110 Karosserie-Sets verwendet werden kann, aber Sie können auch die meisten 340mm Radstand Körper Ihrer Wahl installieren. 
Eigenschaften:
– Niedrige Vorder- und Hinterachsgehäuse
– Alu-Träger
– Gelenkwellen
– klassische Beadlock-Räder
– Aluminium-Getriebegehäuse
– einstellbare Stoßdämpfer
– 4-link Hinterradfederung
– Aluminium-Dämpferbrücken
– Alu-Akkufach
– Aluminium-Servohalterungen
– Legierung 12mm Hex-Radantriebe
– Schnellwechsel-Akkuhalter
– komplett kugelgelagert
– HD universelle Antriebswellen
– große Grip 1.9 Crawlerreifen
Englische Version
Jump right into scale rock crawling with our new D110 Gen.2 1/10-scale Rock Crawler ARTR. This is a full option 1.9-class scale roller chassis that comes pre-assembled and only requires your choice of body and electronics. This D110 Gen.2 chassis is designed to be used with our Gen.2 D110 body sets, but you can also install most 340mm wheelbase body of your choice. Features include:
– Low-Mass Front and rear axle housings
– Alloy front and rear suspension links
– Alloy front and rear bumpers
– Alloy front hub carriers
– Alloy front knuckles
– Alloy front and rear lockouts
– Foam tire inserts
– Classic-style beadlock wheels
– Alloy transmission case
– Alloy transfer case
– Alloy scale shocks with threaded adjusters
– Realistic pumpkin covers
– Panhard rod front suspension
– 4-link rear suspension
– Locked front and rear spools
– Alloy ladder frame rails
– Alloy battery tray
– Alloy shock mount hoops
– Spiral cut spur and 23t pinion gear
– Alloy steering servo mounts
– Alloy 12mm hex wheel drives
– Quick-release battery straps
– Full ball bearings
– HD universal slider shafts
– HD universal drive axles
– Alloy side body mounts
– Alloy ESC platform
– Molded receiver box
– High grip 1.9 crawler tires
– Hex head hardware
To complete this chassis you will need:
– 2-channel radio system
– Steering servo
– Electronic Speed Controller
– Motor
– Battery
– Body
Specifications:
Overall length: 525mm
Overall width: 195mm
Wheelbase: 340mm
NOTE: Instructions for installation are not included; if you do not know how to install the part, please ask your local dealer for assistance. All products require some prep out of the package – some components are assembled for packaging purposes only, so we strongly recommend that you check all metal-to-metal fasteners for tightness, check fitment and adjust if needed, and use liquid threadlock where applicable. Failure to do so is not a warranty-related incident.
Extra hardware, shims, or spacers may be required for some installations. Some parts may require permanent modification to the vehicle for fitment, and may eliminate certain OEM features. Items that are different from the OEM part (such as our snow & sand conversions, piggyback shocks, EXT suspension, or extended wheel hubs) may require modification to the vehicle for proper clearance. Some Integy-branded items may be only compatible with the vehicle's OEM parts but not with another Integy-branded item due to design limitations. For multiple-fitment items, some parts may not be used based on application.
Item# C27377BLACK
Handel: 
 ,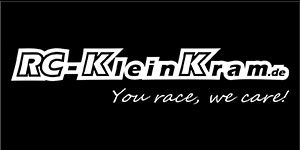 , 
 , 
  , 
 , 
, und Fachhandel.
Quelle: Team Integy
Weitere Links
#mikanews