Modelix Racing erweitert sein Programm an 1/8 Elektronik-Komponenten. Nun kommt ein programmierbarer Fahrregler (u.a. über PC-Interface / Programmierbox einstellbar) mit zahlreichen Einstellmöglichkeiten. Verwendet können 2 – 6 S Lipo Akkus. Der Regler verfügt über die wichtigsten Features, die für den Wettbewerbseinsatz nötig sind. Die Programmierbox ist unter der Nr. 4409 zu bekommen. Mehr nach den Bildern zum Regler in der englischen Version.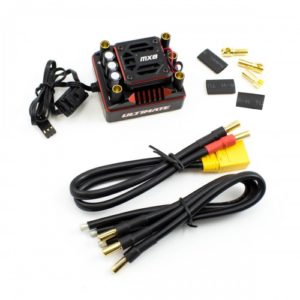 Englische Version
This is the ULTIMATE MX8 RACE BUSHLESS ESC (220A/2-6S). After an extensive test period by Racers and our team of engineers, Modelix Racing is proud to present you their new Ultimate Racing line of competition and racing motors and electronic speed controllers.
Introducing the new 1/8 EP ESC line, which is fine-tuned for maximum performance and reliability with super smooth sensor control is the Ultimate choice for any racer and professional hobbyist. The optional program box and external low-resistance quick change plug system warrant maximum simplicity to adjust power and drive feeling for any track condition.
Features:
Racing experience enhanced throttle response for excellent acceleration, linearity and drivability.
Multiple protection features: Low voltage cut-off, over-heat and throttle signal-loss protection
Auto sensor-mode detection with sensor less mode protection
Compatible with sensor or sensor-less brushless Racing motors from 2 Pole to 6 Pole
Using advanced PC interface to set up or update the firmware
Quick setting change option by LED program box
Specifications:
Cont. Current: 220A
Burst Current: 1080A
Resistance:0.0002ohm
Application: 1:8 on / off-road cars / trucks
Motor type: 4/6 Pole
Battery cell use: 2-6S Lipo/5-18S NiMH
BEC Output: 6.0-7.2V adjustable/ 3A
Dimensions: 55x48x37mm
Weight: 159g.
Sensor and sensorless high frequency forward/brake control with optional reverse.
Multiple easy-tune forward and brake drive adjustments
High power BL servo adaptive BEC
Meet all IFMAR/EFRA specs
UR4401.- ULTIMATE MX8 RACE BUSHLESS ESC (220A/2-6S).
https://modelixracing.com/…/509423-variador-ultimate-mx8-bu…
UR4409.- ULTIMATE ESC PROGRAM BOX.
https://modelixracing.com/…/509823-tarjeta-programadora-var…
Handel: 
 , 
 , 
 , 
  , 
 , 
, und Fachhandel.
Quelle: Modelixracing und  JSB-Modellsport