In Singapur wurde am vergangenen Wochenende die zweite Runde der Eröffnungssaison der Xray Racing Series für Südostasien bestritten. Auf der einzigartigen Rennstrecke von Urban PlaySpace trafen sich die Fahrer aus Deutschland, Korea, Brunei und den USA in den 3 Klassen Modified Touring, Stock 13.5T Blinky Touring und Formula. Die Veranstaltung bot ein schönes Erlebnis, wurde am Ende des ersten Tages noch mit einer BBQ-Party am Straßenrand und einem großzügigen Gewinnspiel mit dem X1 Car Kit Giveaway und zahlreichen anderen XRAY- und HUDY-Goodies aufgepeppt!
---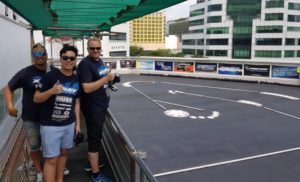 ---
Mit am Start war Jan Ratheisky aus Deutschland. Wie ihr euch schon denken könnt, ohne Pokal trat er nicht die Heimreise an.
---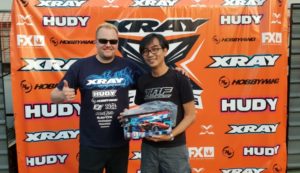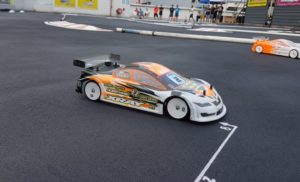 Mehr und die Ergebnisse findet ihr in der englischen Version.
Englische Version
Race report from XRS Singapore
Singapore staged the 2nd round of the inaugural season of the Xray Racing Series for South-east Asia this past weekend. Hosted by Urban PlaySpace on its unique roof-top circuit, the event saw racers from Germany, Korea, Brunei and the USA join the many locals in the 3 classes of Modified Touring, Stock 13.5T Blinky Touring and Formula. The event featured the exciting bump-up format of racing, and was further spiced up with a trackside BBQ party at the end of Day 1 and a generous lucky draw headlined by the X1 car kit giveaway and numerous other XRAY and HUDY goodies!
In the Modified Touring Car class, Team Xray driver Dominic Quek set the pace on his home track during qualifying. Despite an issue in Q1 while leading, Dominic was able to bounce back to grab the remaining 3 rounds of qualifying to seal TQ. Germany's Jan Ratheisky qualified 2nd despite minimal track time due to his delayed arrival into Singapore. Another young local, Eugene Goh, qualified 3rd, to the delight of the local crowd!
---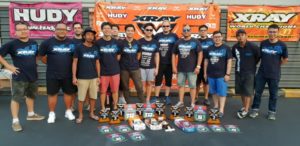 ---
In the finals, the attention was on the fight between Dominic and Jan. Dominic would suffer an unfortunate racing incident in A1, leaving the door open for Jan to take the win, with PY Tang in 2nd. Despite dropping down the field after the incident, Dominic battled back with an inspired drive to steal 3rd position from Eugene Goh in an exciting finish at the line. In A2, Dominic weathered the early pressure from Jan to eventually pull away to win and bring the battle for the overall title to A3. In A3, Dominic had a good start and was able to pull away from Jan to eventually seal a relatively comfortable win! Jan finished 2nd while Eugene Goh was 3rd.
1/10 Modified Resutls:
Dominic Quek – XRAY T4
Jan Ratheisky – XRAY T4
PY Tang
Eugene Goh
Lex Tyler – XRAY T4
Esmail Apandi – XRAY T4
Kim Byung Hwan – XRAY T4
Hasron Robana – XRAY T4
---
---
In the Formula class, which was run on an all-finals Reedy format, Jan Ratheisky was the clear favourite throughout all of practice. Jan was able to carry that form into the finals, where he swept all 6 rounds of finals to take the overall win, earning the right to bring home the outstanding XRS trophy. Singapore's Allister Lim took home 2nd, while Thai-born local racer, Tapana V, was 3rd!
1/10 Formula Results:
Jan Ratheisky – XRAY X1
Allister Lim – XRAY X1
Tapana V – XRAY X1
Charles Lim – XRAY X1
Patrick Ong – XRAY X1
Thomas Teo
TB Lee
Benny Fong
---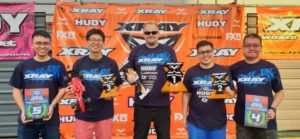 ---
In the Stock 13.5T Blinky Touring Class, which featured the XRS Handout Motor, Dominic made it a double TQ as he took all 4 rounds of qualifying. Jan had to once again settle for 2nd on the A-Main grid, while Daryl Thong grabbed 3rd.
In A1 of the Stock class, an early racing incident between Jan and Dominic saw Jan seize the early advantage with the win while Dominic took a strategic DNF to save tyres. Daryl Thong finished 2nd after a close battle with Sean Lee. In A2, Dominic managed to reinstate his title challenge as he pulled away early on to win ahead of Jan, who had to fend off the challenge from Daryl. In A3, Dominic converted his pole position start to take a tone-to-tone victory and his 2nd overall win of the day! Behind him, Daryl and Jan were engaged in a no-holds barred battle where several racing incidents resulted in Daryl taking 2nd to secure his overall podium finish!
1/10 Stock Results:
Dominic Quek – XRAY T4
Jan Ratheisky – XRAY T4
Daryl Thong – XRAY T4
Sean Lee
Kamen Koh
Hasron Robana – XRAY T4
Allister Lim – XRAY T4
Tapana V – XRAY T4
---
---
It was a memorable event for everyone, with exciting action on the track, matched by the friendly atmosphere in the pits. We would like to thank all participants for making the first XRS event in Singapore a huge success!
Quelle: teamxray
Weitere Links
#mikanews