Diese Hyper Karosserie stellte Bittydesign Co. für M-Chassis 1/10 Fahrzeuge vor. 
---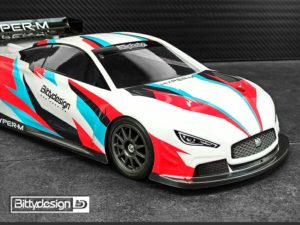 ---
Die HYPER-Karosserie ist für 190-mm-Tourenwagen mit dem Radstand von 210 -225mm.
---
---
Englische Version 
HYPER body for 190mm touring class we are now pleased to present the little sister for the 1/10 M-chassis division, we completely redesigned the project in order to meet the specifications necessary to fit the body at the perfection on the MINI cars with 210-225mm wheelbase.
Designed with the intention to offer an high performance product with a look that replicate the shapes of a true sport car, it comes out a pretty nice touring body that sports very realistic proportions made with our renowned premium quality; the attention to details has been obsessive, we wanted to create the best TC body on the market for the M-Chassis category.
Sold clear, the HYPER-M is made with high quality polycarbonate, protective film, wing's hardware included, windows mask and a very high quality and pre-cut decal sheet.
https://www.bittydesign.net/en/hyper-m-body
Quelle: Bittydesign