In England ging es zuletzt weiter in der BRCA 1/10 Offroad Meisterschaft. Man war diesmal zu Gast auf dem Robinhood Raceway.
Hier der Report in Englisch: With the sad demise of the Kidderminster track, Robinhood Raceway got the opportunity to host a second round of the BRCA 1/10th Offroad National Series on the weekend of July 8/9. James Halliwell and his band of merry men are one of the most tight-knit groups in the country and the display of effort and teamwork over the weekend was exemplary. The forecast was not good for weekend, especially Saturday, but the team were ready to at dawn both days to drain the track after torrential rain fell both nights.
After a couple of hours of hard graft the track drained and puddles receded to reveal a mostly dry line apart from some of the dips where water was trapped. The drivers embarked on the usual 2 x 3 minute practice sessions with all drivers on Silver compound tyres and most using their wet setup cars. There was one noticeable absentee at Round 5 and that was Lee Martin who was out of the country and could not attend. Straight out of the traps it was current 2wd Euro Champ Tommy Hall setting the pace – his car appearing to have a significant forward drive over the competition. Ben Smith and Matt Thompson also showing their pace early on. For round 2 of practice the track was drying significantly and Neil Cragg was able to go fastest in round and top the table in overall practice times. Ben Smith again very fast going second and Tommy Hall rounding out the top three.
As 2wd Qualifying started there was a noticeable change in the conditions. Dark clouds were rolling in and thunder could be heard in the distance. The weather radar showing a strong possibility of rain in the mid-section of the round.
Heat 1 and 2 ran in generally dry conditions but during heat 3 the heavens opened, and the rain was torrential. It kept raining all the way to heat 8 – the meeting losing no time to the change in conditions. The rain was followed by sunshine which started to dry the track midway through heat 8. By the time heat 10 of 12 was running the track was at that point where the silver compound tyres were working perfectly. Ben Jemison made the most of the faster conditions and set provisional TQ in heat 10. As heat 11 started, the rain recommenced, and the track started to slow – Ben Smith doing an amazing job to only loose four seconds to Jemison going second overall. The persistent rain giving heat 12 no chance of competing up the front. Round 2 of qualifying was wet or everyone and it was Ben Pugh who took TQ – his car looked locked into the track in a way that none of the other did. Neil Cragg got his qualifying going with a second in round only 1.2 seconds behind Pugh. Tommy Hall going third. Round 3 of 2wd Qualifying was again a mix of drying track followed by rain for the higher heats. The weather looked promising till the end of heat 9 and then rain threatened again. Matthew Peter in Heat 10 just got through, setting the current Round 3 TQ time, before there was torrential rain again. Heat 11 & 12 had a pace reduction of about 15 seconds or half a lap. This was music to Peters' ears as he secured his first 2wd TQ in Round. Round 4 was a similar story – Matthew Peters running in Heat 10 set the pace. Ben Jemison and Harley Eldridge in Heat 11 had 4 minutes of dry conditions and were on to compete with Peters before more heavy rain fell – killing off their challenge and discounting Heat 12 performances only. With two top times in Round, Matthew Peters has taken his first National Pole Position for the A Finals.
Looking at the qualifying points you can see some wild swings in points scored due to the conditions. Charlie Saunders, Edward Callan and Josh Holdsworth all with only really one "normal" for them score. Neil Cragg and Ben Smith also suffering – but at least they made it to the A Final.
There were many racers who were delighted for Matthew Peters to be starting from the front row and it was hoped by many that he would settle in quickly and do his best to keep the field behind him. The track does not present to many overtaking opportunities – perhaps on and off the straight, and perhaps through the jumps under the rostrum. Other than that a challenger will be hoping that a leader runs wide off line in the chicanes.
By the time Leg 1 of the 2wd A Final commenced the rain had stopped and the track was drying rapidly. The started buzzer sounded, and Matthew Peters led the field away. Ben Jemison was lucky when he wheelied off the line but managed to catch and ground it quickly – following Peters into the first turn. As the first lap progressed it was obvious that Peters leading car had a rear suspension setup focused on achieving maximum side bite in the wet and as the track was drying rapidly this was no longer needed. The car seemed to roll right to the limits of the suspension travel on each corner making it slow at the apex. At the start of the second lap the breakaway group of Peters, Jemison and Pugh all entered the first corner in close proximity. Pugh ricocheted off the pipe on the entry to the sweeper at the end of the straight but hung onto it and only drifted wide loosing little time. Jemison then caught the pipe and put his car up on two wheels – managing to catch it, but in turn leaving the door wide-wide open for a recovering Pugh to come through and take second place. Things then settle down for a couple of laps. Peters out in the lead by over a second, Pugh leading the chasing train of cars with Jemison in third and Tommy Hall in fourth. Neil Cragg was up to fifth after starting nineth! With almost two minutes down, Jemison rode the hose out of the bomb hole and became beached requiring marshalling and dropping him to tenth – challenge over. Over the following lap, Ben Pugh drew right up to the back of Peters. You could see how Pugh's car was so easy to drive in comparison to Peters' – Pugh just needing a shot of killer instinct in the arm to setup a potential pass. At the midpoint of the race, Peters seemed to slow up slightly and the queue of cars started to form behind him. Pugh was waiting for an error from Peters. Hall in third, aware of his main rival Cragg behind, was cautious also. With a minute and half to go, Hall saw his opportunity and made a clean pass on Pugh. The pace of the final lead pack dropped to point where cars were starting to trip over one another. Hall hit the back of Peters a couple of times, Cragg hit Pugh and Luke Holdsworth was also part of the pack. In the chicane before the straight with a minute to go, Peter's clipped a concrete marker and ricocheted out into mid track off the line. Not enough of an opportunity to pass, but Hall was along side him. Pugh then ran wide letting Cragg through and nearly letting Holdsworth though – the racing was frantic! Moments later, Hall rolled at the end of the straight letting Cragg into second and into pursuit of Peters. Hall landing on his wheels and keeping the momentum up slotted back into third. Cragg was now right behind Peters and looking for a way through – Cragg appearing to be driving at only 90%. Tommy Hall right there too. Cragg made a couple of attempts to get by, but backed out as he couldn't afford an accident and let Tommy away with second place or even the win. With only 10 seconds to go, Tommy got excellent drive onto the straight and went around the outside of Neil Cragg at the end of the straight and into second place – a fantastic move. Hall and Cragg returned the Peters' back bumper and on the second last corner, Tommy Hall caught the side of Peters' car and rolled him over. Cragg then collected Hall, who may have been waiting for Peters to get going again. All three needed Marshalling. Peters was away first to claim the Leg 1 win, Hall second and Cragg third.
The conditions were again dry for Leg 2 of the 2wd A Final. The race started with all drivers being cautious apart from one – Neil Cragg starting in ninth making up places from the start tone. A train of cars made their way around the track and half a lap in, whilst climbing out of the bomb-hole, Matthew Peters clipped a hose which slowed him slightly and he was rear-ended by an over-exuberant Ben Jemison. Peters managed to scramble out of the collision, but Jemison got trapped on the hose at the apex, dropping to last place. Peters' car looked better on track – perhaps a setup change was made – but he looked a little afraid of the car and was not pushing on as much as he did in leg 1. Ben Pugh had inherited second place with one lap down and Ben Smith was up to third. Peters led the race, closely chased by the pack behind until the start of the third lap when he rolled of the track at the end of the straight. The battle for the lead was not between Pugh, Smith and Cragg. Smith started to break away as Pugh fended off the challenge from Cragg. A mistake from Pugh a lap later in front of race control let Cragg though needing to make up a three second deficit to Smith. Cragg initially took a bit chunk out of Smith's lead, but then the latter responded and started setting hot lap after hot lap – only fractionally faster than Cragg, but still faster. With a minute and half to go, there was no sign of any change. Ben Jemison had recovered to fourth but was a considerable distance behind the leaders and Smith started to lap back markers. Ben Smith had slowly accumulated at 3.5 second lead by the time he crossed the line to take Leg 2 of the 2wd A Final. Neil Cragg finishing second just ahead of Ben Pugh.

The drivers went into Leg 3 of the 2wd A Final with a great deal of uncertainty. Peters, Smith, Cragg, Hall and Pugh all could mathematically win it with a Leg 3 victory. To add the mathematic, there was a 75% of rain in time for Leg 3, however with large areas of blue sky over the track – we're putting this down to a Met Office miscalculation. Leg 3 of the 2wd A Final got off to a fast start with several of the drivers in the lower grid positions going into the first corner three abreast. Somehow they came out of it unscathed and queued up nicely for the first hairpin. Peters out in front with Jemison in second. Pugh clipping a hose half a lap in and letting Tommy Hall up to third. Jemison got a bad landing into the hollow in front of the rostrum and slowed whilst getting himself back onto the racing line whilst jumping out – Tommy Hall seeing this unfold gave it some welly and jumped straight over Jemison at the apex into second – exciting stuff. Hall then quickly drew up onto the back of Peters at the start of the second lap. He was looking left – looking right several times for a gap to get by, but Peters kept the door closed. Under the rostrum, Hall carried a fast wide line at the hairpin and drew alongside Peters on the apex and on the exit powered past into the hollow. Hall now leading. A lap later, Hall had stamped his authority on the race and was opening up a large divide on Peters. In two laps, Hall had a nearly 4 second advantage! Peters was doing his best to fend of attacks from Jemision, Smith and Luke Holdsworth. At the hairpin in front of race control Jemison managed to get up the inside of Peters and through. Peters went of line in response and subsequently Smith got through also. With two minutes to go, things started to settle down a bit. Hall with a 4 second lead over Jemison and Smith in third pushing hard to catch Jemison after a roll out of the jump under the rostrum. Smith caught Jemison with a minute to go and started looking for a way through. Jemison held his ground well and took second behind Tommy Hall with Smith in third. The Leg 3 win gives Tommy Hall the overall 2wd win, Ben Smith in 2nd and Neil Cragg in third.
It was a fantastic result for Tommy Hall and he really displayed top notch pace and race craft in Leg 3. Its been a year since Tommy won the EFRA 2wd European Championship and he looks very match fit to successfully defend his title in Utrecht, Netherland next week. Ben Smith is another driver who showed he can be there when it counts also and of course we cannot rule out Neil Cragg for yet another title.
Congratulations to Matt Thomson, William Venables and James Chappell on making the A final and a special congratulations to Matthew Peters on his first Pole Position.
The 2wd championship decider will be in Torch on August 5th.
The 4wd section of the meeting started early on Sunday morning. More rain had fallen overnight; however the track was in good condition and ready for action. Neil Cragg was intending the right the wrongs of Saturday and hit the ground running going fastest in round 1 of practice. After finishing second in 2wd, Ben Smith was also on a mission going top of the pile in practice round 2 – and was fastest overall. The Hall brothers, Holdsworth brothers all there or there abouts as well.
In qualifying, Neil Cragg built on his practice pace to take Round 1, just ahead of Ben Smith and Tommy Hall. Jamie Hall leading the chasing pack several seconds further back. In round 2, Ben Smith went one place better to take TQ, Hall second, Cragg third – qualifying was close! In round 3, Tommy Hall put in a staggering run – the fastest of the day so far – to take his first TQ. It was now a three-way tie for Pole Position with only one round left. Tommy Hall had a mistake on lap one of his Q4 run and that made it hard to judge if he'd done enough to take it. Ben Smith was a close second. In the final heat, Neil Cragg was on a similar predicted time to Hall, but had two costly mistakes ruining his run.
The track layout for 4wd was one of the best we've seen from Robinhood Raceway over the last few meetings. It was quite technical in places especially through the bomb-hole and up over the proceeding jump section. If you were too cautious through the later stages of it you ran the risk of getting a bad bounce. Whilst fully launching it usually resulted in a good landing in the base of the hollow. One of those rare cases where sending it is less of a risk.
4wd A Final Leg 1 started in smooth fashion with everyone getting though the first few corners without incident. Tommy Hall out in front seemed to have a lot of forward drive and punch. He was able to point and squirt with great affect between the corners. The other cars just looked a little duller and needed a bit more driving. Three quarters of the way through lap one, Neil Cragg had an accident through the hollow which dropped him to tenth and promoted Josh Holdsworth to third. One the second lap, Hall extended his lead by 0.6s which shows the mission he was on. A win today would settle the series in Tommy's favour. Smith, in 2nd place, responded by matching Hall's laptimes – but he would need faster times to be able to close the now 2 second gap. At the midpoint of the race, Hall still had a 2 second advantage over a hard-charging Smith. Unluckily for Smith, a back marker had an accident on an adjacent part of the circuit and barrel rolled across the pipe and into the path of Smith. A freak accident which Smith quickly recovered from, but it put paid his chances of challenging Hall. Final Order, Tommy Hall, Ben Smith, Jamie Hall.
The weather remained dry for Leg 2 of the 4wd A final. The race started well for everybody till Smith bounced off a pipe in front of race control. He put the car up on two wheels and had to veer offline to land it back on all fours. The wide-open door was plenty wide enough for Neil Cragg to come through – Smith rejoining in third. With another couple of laps under their belt, Tommy Hall was making a break. His pace was completely unanswered by the chasing pack lead by Cragg, Smith and Josh Holdsworth. Cragg had a spin in the bomb-hole, which let Smith reclaim second place. Smith then opened the taps and started to match Tommy Hall for pace. Cragg, Josh Holdsworth and Jamie Hall left behind to battle for third. It appears the difference between Hall and Smith's pace is when it comes in – Smith has to build his pace, Hall can switch it on full strength from the green flag. With two and half minutes down, Cragg had another mistake followed by an unrelated mistake from Ben Smith. This promoted Jamie Hall to second. With a 5.5 second lead and the pressure off, Tommy Hall started to set hot lap after hot lap – a display of total mastery. The only significant battle on track was between Jamie Hall and Neil Cragg for second. Cragg closed in on Jamie lap after lap but didn't get close enough to set up a pass. Finishing order; 1st Tommy Hall, 2nd Jamie Hall, 3rd Neil Cragg.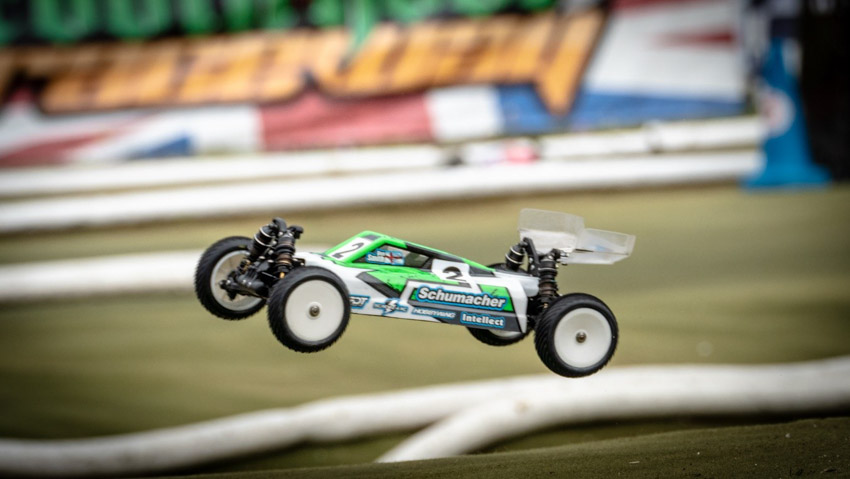 Tommy Hall had nothing left to prove. He had won the 4wd meeting and the 2023 National title. However he decided to participate in Leg of the 4wd A Final anyway. At the start of the race, Tommy Hall ran wide out of the corner at race control and Ben Smith nipped up his inside into the lead. Hall then made a further error in the chicane before the straight and barrel rolled up the track and leaving him isolated on a hose. In solidarity, Jamie Hall crashed coming onto the straight and also needed marshalling so the order at the end of lap 1 was Smith, Cragg, Josh Holdsworth. With two minutes down, Smith and Cragg broke away from the field – both setting nearly identical laps, but separated by over two seconds. Over the proceeding 90 seconds, Cragg worked hard to gradually reduce Smith's lead and at one point was nearly on his back bumper. However contact with a track marker in the bomb-hole meant a spin and this let Smith off the hook – increasing his lead to 3 seconds. Smith powered on to the line to take the Leg 3 win, Cragg second, Edward Callan third.


It has been an excellent but difficult weekend at Robinhood Raceway. Excellent as the standard of the facility and the racing is so high – difficult as the weather played such a significant role. Tommy Hall has taken the 4wd series and is a very worthy winner. The battle for the 2wd title between Tommy Hall and Neil Cragg will be settled at Torch on the weekend of August 5th & 6th.
However, before that we have the small matter of the Euros in Utrecht, Holland. Cragg, Smith, Hall Brothers, and Lee Martin all have the pace to leave with silverware but the continental Europeans will be wanting their own and it will be a tough week. What we can say is that the BRCA is a pacey series and the drivers at the front can battle at World level – so a strong British entry into the Euros A finals is a near certainty.
Thank you to James Halliwell & the RHR crew for hosting the meeting and to Martin Owen, John Cockill and Mark Musgrove for making it all work and work with consistence.
See you next month in Southampton.
Quelle: www.racewayone.com