Hier könnt ihr einen Bericht vom 1.Lauf zum CIC2017 lesen. Am Ende finden sich noch ein paar Bilder der Drei-Tages-Veranstaltung. CIC bedeutet soviel wie eine Meisterschaft italienischen Hersteller. Zumindestens konnten wieder die besten Fahrer aus Italien dabei sein, die auch international sehr stark unterwegs sind. Der nächste Lauf wird auf der letztjährigen WM-Strecke vom 16. bis 18. Juni 2017 in Gubbio stattfinden. Hier der Bericht in der englischen Originalversion.
Englische Version
Dario Balestri took his first win with Infinity at yesterday's CIC 2017 Round 1 held on the awesome "Miniautodromo Jody Scheckter" facility in Fiorano, Italy, ahead of his team-mate Alberto Picco and Alessio Mazzeo. The final saw an early domination by Andrea Pirani who started out from pole after TQing 3 of the 4 qualifying rounds, although a problem at the tire stop moved the ARC driver back in the order, with Balestri ready to capitalise after having waited patiently the right moment to attack. From the moment Dario took the lead it was clear that nobody could match his pace, and the 31 years old driver started managing the race to take home a well deserved win. Clearly happy with how his package worked and relieved to have finally gained an important win after a streak of bad luck, Balestri came off the drivers stand only to be cheered and applauded by the many supporters he has on every track.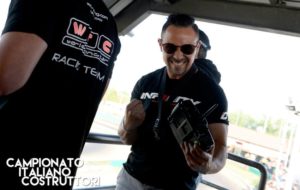 Happy to get a second place, Picco was still somehow disappointed for the early contact with Martini that put him in the grass and broke one of his rear tires, forcing Alberto into an extra stop that cost him all the victory changes. "It's a shame, the pace was there to fight for the win" said Alberto at the end of the 45 minutes long final where he completed an Infinity 1-2
The race was a crescendo for Alessio Mazzeo. Fast since the beginning of the race, the newly signed Xray driver decided not to race in the 200mm class – in which he won the 1st round of the EFRA GP Series a few weeks ago – and focus on 1/8th instead. qualifying 6th in the A-Main, He managed to work his way up to the podium positions, and with 10 minutes to go he was one of the contenders in the best fight seen on track all day together with the German Toni Gruber. After bumping-up from the B-Main and therefore starting from 12th, Toni managed to perform an outstanding comeback but couldn't find a way past Alessio, this giving a full Italian podium.
In the 1/10 200mm class the race saw very few action, with the TQ Manuel Strano starting out from pole with his Capricorn and never looking back. Behind him Loppini, the only driver able to match Strano's pace at least in terms of fast laps, rolled his Xray in the chicane opposite the drivers stand with the incident causing his engine to stop and dropping him back to 8th. From that moment on Manuel could take a breath and manage his pace through the 45 minutes to take the win ahead of Ielasi's brand new WRC NTX and Annunziata's Xray.
Starting out from 6th after deciding only on thursday to race 2 classes, Daniele Ielasi was impressed and very happy about his performance. "I have only built the kit and put it on the track" he said, adding "the car has behaved well since the beginning and that convinced me to race both classes. I think it's an outstanding starting point, and to race 45 minutes without troubles with a brand new car doesn't happen everyday".
PHOTO GALLERIES OF THE EVENT:
Friday – https://www.facebook.com/pg/campionatoitalianocostruttori/photos/?tab=album&album_id=1334655709949795
Saturday – https://www.facebook.com/pg/campionatoitalianocostruttori/photos/?tab=album&album_id=1335513376530695
Sunday – https://www.facebook.com/pg/campionatoitalianocostruttori/photos/?tab=album&album_id=1336676089747757
Quelle: www.campionatoitalianocostruttori.it
Interview mit dem Deutschen Meister 2016 VG8 Klasse 2 – Marco Kruse