Ein neuen Motor gibt es von REDS mit der 521 Sport Limited Edition.
Dieser Buggy Motor kommt als Combo mit 2143 Resorohr und M Krümmer. Der 521 Sport verfügt über technische Änderungen.
---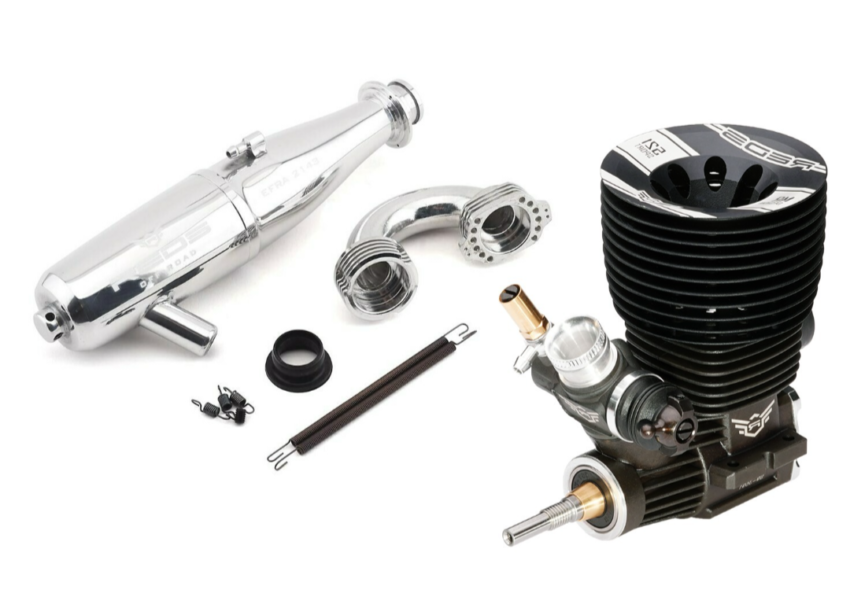 ---
521 Sport garantiert hervorragende Leistung zu einem erstaunlichen Preis
Englische Version
The REDS 521 Sport .21 Off-Road Competition Buggy Engine Combo with 2143 tuned pipe and M manifold, offers a balance of innovation, quality and performance. The 521 Sport features technical changes in the 5 port sleeve, combined with updated materials to offer users high reliability, tuning stability and fuel mileage. The 521 Sport guarantees excellent performance at an amazing price.
Features:
– ALUMINUM CARBURETOR: 521 Sport engine includes the same aluminum carburetor as 721 engines to guarantee reliability and tuning stability. The insulator bushing has been improved with aerospace grade ultra high strength polymer. Furthermore, the GEN2 carburetor features a double grub screw joint link to allow positioning and fitting with the any servo linkage system.
– STATE OF THE ART DIE CASTING: The unique high stiffness crankcase design is produced with a high quality pressure die casting process and special aluminum alloy developed by REDS Racing engineers to guarantee higher stiffness and strength.
– 5 PORT TECHNOLOGY: The piston and sleeve features updated materials. Thanks to updated 5 port technology, this engine provides really good fuel mileage and a smooth power band.
– CERAMIC MAIN Bearing
– HANDMADE, TUNED AND ASSEMBLED: Every single engine is hand inspected and compression checked inside REDS Racing headquarters by Mario Rossi to achieve the highest quality standards.
Specifications:
Category: 1/8 Buggy and Truggy
Displacement: 3.5cc
Bore: 16.2mm
Stroke: 16.9mm
Intake ports: 5
Exhaust ports: 1
Front Bearing: 7x19x6mm double rubber seal
Rear Bearing: 14×25.4x6mm ceramic
Carburetor Venturi: 7.0mm (6.0, 6.5, 7.5, 8.0 optional)
Carburetor: VCX2-A Aluminum Short needle
Weight: 345g
Fuel consumption: > 9:00 min
Engine temperature: 110-130�C
Recommended Glow plug: REDS TS3
Recommended pipe: REDS 2143 + M or XONE Torque
Recommended fuel: 25-30% nitro, 8-10% oil
Break-in fuel: 12% oil
COBU0017C  REDS Combo 521 SPORT Ceramic with 2143+M Exhaust Street Price €309.90
Quelle: MW RC Cars