Die neue Version des RX8 von Team Xray für das Jahr 2016 ist nun online. Ihr bekommt jetzt einen Einblick vom RX8`2016 und Bilder von dem neuem Fahrzeug.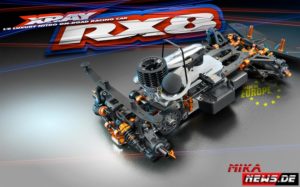 2016 NEU
viele Aluminiumteile neu
Komplett neues Chassis
Komplett neue Aluminiumgetriebehalter vorne und hinten
neue Aluminium-2-Gang-Halterung
Komplett neue Aluminium vorne und hinten oberen Schellen
Neue Kohlefaser Radioplatte & Multi-Flex ™
Neue Aluminiumhalter für die Radioplatte
Neue Resorohr-Aufhängung
Neuer Kraftstofftank & Montagesystem
Neue Aluminium-Motorhalter
Neue Aluminium-Lenkservohalterung
Neue Kohlefaserdämpferbrücken für vorne und hinten
Neuer Front-Stabilisator
Neue Motorritzel
uvm.
CHASSIS
Neues CNC-gefrästes 5 mm aus Swiss 7075 T6 Aluminiumchassis, was komplett überarbeitet wurde. Das neue schmalere Chassis erhöht den Flex, bietet mehr Traktion und eine mehr Lenkung. An der Unterseite sind alle Schrauben versenkt, die Kanten abgeschrägt, spezielle Chassisöffnungen, zentrierte Motorposition und spezielle Aussparungen für einen verbesserten Flex. Zusätzlich sind Bohrungen für zusätzliche Gewichte für optimale Balance.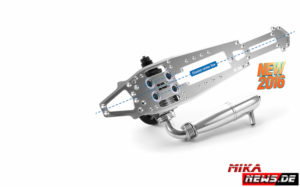 Die 2,5 mm dicke CNC-gefräste Radioplatte ist neu konstruiert mit neuen Haltern, neuem Kraftstofftank und neuer Lenkservo- Aufhängung für eine schnelle und einfache Demontage für die Wartung und Reinigung.
Einstellmöglichkeiten
Voll einstellbare vordere und hintere Aufhängungsgeometrie:
Nachlauf, Sturz, Spur, Fahrzeughöhe, Radstand, Spurbreite, Roll-Center, Achshöhr usw.
Vorne & hinten einstellbares Roll-Center
Einstellbare Riemenspannung über Flanscheinsätze
Einstellbare Hudy Spring Steel ™ turnbuckles (u.a. Lenkung, Servo)
Einstellbare Ackermann-Positionen
Einstellbare Aluminium-Dämpfer
Einstellbarer Frontstabi
Einstellbarer hintere Stabilisator
Einbau von Zusatzgewichten für eine bessere Balance möglich
Mehr Infos hier: Teamxray
Englische Version hier:
2016 NEW
All-new aluminum backbone
All-new chassis
All-new aluminum front & rear bulkheads
All-new aluminum 2-speed bulkheads
All-new aluminum front & rear upper clamps
All-new aluminum front upper arm holders
All-new front middle shaft holder
All-new graphite radio plate & Multi-Flex™
All-new aluminum radio plate mounts
All-new muffler mounting
All-new fuel tank & mounting system
All-new aluminum engine mounts
All-new aluminum front & rear lower suspension mounts
All-new graphite rear upper suspension mounts
All-new front lower suspension pivot pins
All-new rear upper & lower suspension pivot pins
All-new front lower arm
All-new aluminum extension for steering block
All-new aluminum steering servo mounts
All-new graphite & steel extensions for shocks (lower suspension arms)
All-new graphite front & rear shock towers
All-new shock ball joints for improved up- and down-travel
All-new rear solid axle shaft & pulley
All-new front anti-roll bar wire
All-new front aluminum body posts
All-new graphite belt tensioner holder
All-new pinions
GENERAL
Developed, designed, and styled by Martin Hudy, manufactured exclusively by XRAY in Europe in the world's most sophisticated RC manufacturing facility
Pure racing design, premium luxury quality, highest performance
Premium, exclusive, and high-tech materials used throughout
All-new aluminum backbone
Unique, super-strong composite materials with XRAY's self-developed secret compound mixtures for suspension and drivetrain parts
Super-low CG 1/8 on-road car platform
Easy-access to drivetrain parts for super-quick rebuilds and set-up changes
CHASSIS
All-new aluminum main frame & backbone
High-precision CNC-machined aluminum bulkheads, suspension holders, and chassis
Lightest & strongest support framework with maximum flex characteristics for increased traction
CNC-machined 5mm Swiss 7075 T6 aluminum chassis
Super-narrow chassis increases chassis flex, generates more traction and steering
Smooth chassis underside with countersunk fasteners, chamfered edges to prevent contact during cornering
Special chassis openings machined at front & rear of chassis for graphite stiffeners and additional weights
Strategic chassis cut outs for optimized flex characteristics, centric engine mount holes for improved flex
Chassis features pre-drilled holes for additional weights for optimum car balancing. Centerline holes are pre-drilled for easy balancing with the HUDY Chassis Balancing Tool #107880.
All-new CNC-machined Swiss 7075 T6 aluminum bulkheads provide improved stiffness & flex characteristics for better steering characteristics, give easy access to all parts. Integrated front & rear belt tension adjustment. Incorporated muffler mount in left front bulkhead eliminates negative flex influence.
All-new CNC-machined Switt 7075 T6 aluminum rear 2-speed shaft bulkheads, separate from rear bulkheads to give proper flex and maximum traction.
New alum front & rear upper clamps, re-designed to fit new aluminum bulkheads. Front clamps hold the front shock tower, front upper arm mount; rear clamps hold rear shock tower, graphite upper arm holders.
New alum front upper arm holders designed to work with the new aluminum bulkheads, and provide optimal flex adjustment. Easy position adjustment for increased caster angle and improved cornering speed.
New alum middle shaft holder work re-designed to work with new aluminum bulkheads, acts as belt tensioner for the front & side belts.
CNC-machined 2.5mm graphite radio plate re-designed to work with new aluminum bulkheads, new fuel tank, new steering servo mounting system. Quick & easy removal for servicing and cleaning.
Radio plate flex is adjusted independently from chassis flex, using either fixed or flex bushing.
New radio plate alum mounts were re-designed to fit into the new aluminum frame. Lightweight mounts give improved flex characteristics and durability.
Low-profile narrower 125cc fuel tank gives for improved fuel movement, ensuring more stable & consistent engine operation at lower fuel levels. Hypertonic tank lid and internal stone-type filter is positioned in the center of the car and sits as low as possible.
Re-designed fuel tank mounting atop the radio plate on alum posts with rubber grommets for easier insertion & removal from the car, allows better cleaning and maintenance
Low-CG battery pack holder located beneath the fuel tank. Optional graphite with integrated Multi-Flex Technology™ functionality. Optional brass battery holder adds weight to the bottom of the car.
Unique compact lightweight radio case with clean design and internal layout for receiver and optional on-off switch
Suspension
Advanced suspension geometry precision engineered and finely tuned for high-competition racing
Lightweight, durable, and reinforced suspension parts molded from XRAY's self-developed composite mixture for suspension parts. Each suspension part is molded from a high-tech composite that is specially formulated for the particular part.
All-new CNC-machined Swiss 7075 T6 front & rear suspension holders, fully independent from the bulkheads, mounted directly to the chassis to increase traction and make the car easier to drive.
All-new rear upper arm holders, machined from 3.5mm graphite material for optimized flex characteristics.
New suspension extensions for optimized shock mounting position. Front graphite extensions, rear alum extensions.
Highly-polished, high-tensile steel suspension pivot pins give smooth suspension action, now feature machined groove for better affixing by setscrew
I.S.S. (Integrated Suspension Settings™) for fully integrated adjustment possibilities.
Full suspension adjustment via square eccentric bushings in front upper and rear upper/lower bulkheads.
Tiny, tough steering blocks made from special composite mixture have 0° kingpin (+1° and -1° kingpin steering blocks optionally available). Accommodates graphite aerodynamic disks.
Re-designed alum steering block extensions for new Ackermann geometry and improved steering characteristics.
Small, robust rear uprights feature two easily-adjustable upper roll center positions for traction adjustment. Uprights feature two body mounting adjustment positions to use different body types. Accommodates graphite aerodynamic disks.
Concentric & eccentric bushings in front steering blocks & rear uprights allow easy adjustment of roll center, caster, wheelbase, and axle height
Easily-adjustable wheelbase & weight balance and caster adjustment via positioning clips
Newly-designed front arms accommodate new front wire anti-roll bar system
Choice of front anti-roll bar systems: wire or blade-type (both included)
Rear wire anti-roll bar supported by ball-bearings
Optional front & rear anti-roll bar wires available for fine tuning
Premium Hudy Spring Steel™ adjustable turnbuckles with stiff core
Precision-ground steel pivot balls included for robustness and enhanced lifespan; optional lightweight aluminum and titanium pivot balls available
Strong M10 composite nuts for minimal weight and smooth pivot ball movement
Front steering block & rear uprights feature concentric and eccentric bushings which allow roll center adjustment as well as positive caster adjustment in front. Rear upright eccentric bushings allow independent wheelbase & axle height adjustment.
Engine & Clutch
Newly re-designed engine mounts have improved mounting & better flex characteristics.
Quick-set aluminum engine mount system with fixed engine position for super-easy engine installation and gear mesh adjustment
Easily-adjustable 3-shoe XCA (XRAY Centrifugal-axial) clutch with 4-bearing clutchbell for superior durability, smooth & fast acceleration, increased clutch shoe lifespan
Clutchbell, clutch nut, flywheel nut, thrustbearing collar manufactured from special HUDY Spring Steel™ for maximum lifespan and durability
Hardcoated flywheel, clutch dis, spring cup manufactured from premium Swiss 7075 T6 aluminum
Clutchbell / pinion gear construction allows super-precise assembly
All-new Swiss 7075 T6 machined pinion gears, specially designed for 1/8 on-road, for greatly improved strength and durability. Pinion gear teeth are individually machined on a high-precision gear production machine; special hardcoating ensures maximum life
Carbide axial thrust-bearing and high-tensile spring
Brakes:
Strong, highly-efficient brake system
Laser-cut, precision flat-ground ventilated steel brake disk with extra-deep machined grooves for light weight and exceptional heat dissipation, maximum braking efficiency and super-smooth braking action; strategically-placed ventilation holes ensure minimal brake pad wear and super-true, wobble-free rotation
High-grip brake pads are specially bonded to laser-cut steel backing plates
Brake disk and brake backing pads are heat-treated for maximum performance and lifespan
Special return springs ensure proper gap between brake pads
CNC-machined 7075 T6 aluminum brake cam is ball-bearing supported for super smoothness and precise brake control
Drivetrain
Smooth and efficient 1/8 on-road drivetrain
Ultra-smooth, highly-efficient belt/pulley drivetrain with super-low rotating mass
Re-designed front middle shaft holder offers easy front belt & pulley access and easier maintenance
Exclusive use of HUDY Spring Steel™ in drivetrain parts gives highest performance and unmatched lifespan
High-performance HUDY Spring Steel™ front CVD drive shafts; rear dogbone-style HUDY Spring Steel™ drive shafts
Super-lightweight wheel axles & axle outdrives are CNC-machined from HUDY Spring Steel™
PUR®-reinforced high-efficiency, low-friction, fine-pitch drive belts
Pulleys molded from super-low friction composite material for extra-long lifespan, pulley covers feature self-cleaning holes
Complete set of high-speed, blue-sealed ball-bearings, degreased, lightly oiled with Aero Shell Fluid 12™ for maximum drivetrain efficiency
New graphite side-belt tensioner re-designed to work with new alum frame. Easy belt adjustment , easy removal.
2-Speed Transmission:
Superior, robust 2-speed transmission with small & light gears, excellent bottom-end power & acceleration
Small & lightweight gear carrier, alu drive flange with 1-way bearing
Small & lightweight gears from well-proven NT1 for fast acceleration and low rotating mass
Precision-manufactured, super-smooth lightweight hollow middle layshaft made from tough HUDY Shaft Steel, specially heat treated for extra strength and long life
High-quality 1-way bearing hand-ground for maximum running precision and strength
2-speed spur gear adapter CNC-machined from Swiss 7075 T6 for precision fitment of 1-way bearing, allowing super-precise and wobble-free spur gear installation
World's most precise spur gears molded from special composite mixture ensures wobble-free running and eliminates run-out
2-speed gearbox shoes molded from special composite mixture
Axles:
All-new rear solid axle & pulley re-designed to work with new aluminum bulkheads
Front super-lightweight one-way axle made from Swiss 7075 T6 alum for super-low rotating mass and low CG
Rear axle made from HUDY Spring Steel™ with composite lightweight axle pulley
One-way outdrives manufactured from HUDY Spring Steel™ and specially ground for maximum precision
SHOCKS:
Re-designed shocks achieve maximum traction and steering, optimized up & down travel
Shock pistons with 2- and 3-hole designs and 1.0/1.1/1.2mm holes, made from special Delrin™ material to ensure extreme roundness and extra-smooth damping
CNC-machined shock bodies made from Swiss 7075 T6 aluminum, externally fine-threaded for precise ride height adjustment
Low-profile internal membranes for super-smooth, precise damping
Specially-hardened, polished shock shafts for maximum strength and ultra-smooth operation
XRAY self-developed and manufactured racing springs are hand-selected and tested for maximum precision, equal length, and equal damping characteristics
New re-designed compact front & rear CNC-machined premium 3.0mm graphite shock towers
Steering:
All-new CNC-machined Swiss 7075 T6 alum steering servo mounts, re-designed to work with new radio plate
New servo saver shaft & server saver pivot shaft, re-designed to work with new improved higher roll center radio plate.
Centralized servo saver is ball-raced for super-precise, smooth operation
Adjustable spring preload tension
Easily-changed Ackermann positions
Shocks:
New longer shock ball joints to work with new shock geometry, optimized up- & down-travel
Redesigned longer shock bodies accommodate longer shock shafts and new shock pistons
Shock pistons with 2- and 3-hole designs and 1.0/1.1/1.2mm holes, made from special Delrin™ material to ensure extreme roundness and extra-smooth damping
CNC-machined shock bodies made from Swiss 7075 T6 aluminum, externally fine-threaded for precise ride height adjustment
Low-profile internal membranes for super-smooth, precise damping
Specially-hardened shock shafts for maximum strength
XRAY self-developed and manufactured racing springs are hand-selected and tested for maximum precision, equal length, and equal damping characteristics
Re-designed compact front & rear CNC-machined graphite shock towers (2.5mm front, 3.0mm rear) with new shock mounting positions
XRAY Premium Silicone Oils are included. Manufactured in Europe by a specialized premium silicone oil manufacturer, each batch of premium oil is laboratory tested and calibrated to ensure the highest possible consistency and quality batch-to-batch. Based on the industry-standard cSt rating.
Body & Wheels:
New CNC-machined high-strength graphite aerodynamic disks improve both low & high-speed steering, improve rear traction, and improve stability in high-speed corners.
New front body posts, CNC-machined from Swiss 7075 T6 alum, additionally lightened for minimal weight.
Special composited rear body mount features 3 positions for rear upright downforce adjustment
Tough composite rear body mount holder allows mounting of all popular racing bodies and meets all EFRA rules.
Assembly & Support
Premium 3D full-color Instruction Manual is included
Comprehensive Set-up Book is available online as a free download
Exclusive Virtual Online Set-up Sheet database with thousands of set-up sheets for race tracks around the world
Premium, unmatched XRAY online support
Adjustment Possibilities
Fully-adjustable front and rear suspension geometry: caster, camber, toe, ride height, droop, wheelbase, track-width, roll centers, axle height, wheel offset
Adjustable front & rear roll centers
Adjustable belt tension via bulkhead inserts, side belt tensioner, front middle shaft holder position
Adjustable HUDY Spring Steel™ turnbuckles (steering, servo, rear upper links)
Adjustable Ackermann positions
Front & rear upper and lower shock mounting locations
Adjustable alu racing shocks
Adjustable front anti-roll bars, blade or wire type
Adjustable wire-type rear anti-roll bar
Adjustable weight balance
Quelle: Teamxray