Der neue Spyder SDX4 4WD Buggy von Serpent wurde designed von Michael Salven und Gerd Strenge aus Deutschland. Mit dem Fahrzeug seid ihr gut gerüstet für die Rennstrecken auf Dreck, Lehm, Gras, Astro oder Teppich. Jörn Neumann stellte diese bereits mit dem Fahrzeug unter Beweis und nun kommt der Spyder SDX4 in den Handel. Ab dem 27.12.2016 gehen die Baukästen zu den Händler raus und dann könnt ihr das Fahrzeug erwerben.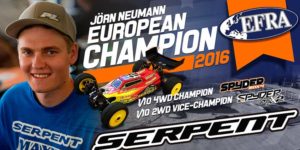 Der brandneue Serpent Elektro 1/10 4WD Buggy wurde so konstruiert, dass dieser Wartungsfreunlich, einfach zu Reinigen und einzustellen ist. Dies ermöglicht euch, mehrere Konfigurationen von Motor, Regler, Servo und Akku im Fahrzeug einzubauen. Je nach Strecke und Griffverhältnissen bringt jedes Layout ihre Vorteile mit sich.
Alternativ kann der SDX4 auch als 2WD Auto gefahren werden.
Features:
Kegeldifferenzial vorn und hinten
einstellbarer Slipper in der Mitte
7075 T6 Aluminium – Mitteldiff- / -slipper-Halterung
einstellbarer Motorhalter aus Aluminium
7075 T6 Aluminium-Getriebehalter vorne und hinten
7075 T6 Aluminium 2 mm Chassis
7075 T6 Aluminium-C-Hubs vorne
7075 T6 Radträger hinten aus Aluminium, gleich L und R
Geschlossene Querlenker mit optionalen Carbon-Einsätzen
Big-Bore 1/10 Dämpfer mit hartbeschichteten Gehäusen, welche als Emulsions- oder Membranvariante verwendet werden können
Antriebswelle aus Federstahl
Dämpferbrücken aus Kohlefaser
Chassis-Versteifung aus Kohlefaser
Lenkungsplatte und -Halterung aus Kohlefaser
niedrige und schlanke Karosserie
großer haltbarer hinterer Heckspoiler
Hochwertige Kugellager
Englische Version
High end Race level 1/10 scale 4wd buggy.
Ready for the racetracks in dirt, clay, grass, astro or carpet.
European Champion 2016 with Spyder SDX4,  Joern Neumann
A brand-new Serpent 1/10 scale shaft drive 4wd buggy in a very clean, simple and open design. Designed to perform on all surfaces with 4 versatile layouts in which motor, battery and speedo can be mounted in a variety of locations. Highly accessible for maintenance and set-up, with a minimal number of screws and screw types. After removing some transmission parts the SDX4 can also be raced as 2wd car.
Key features:
Lightweight clamp fitted gear-diffs combined with a central slipper.
Front and rear compact and light gear diffs and central slipper
7075 T6 aluminium central diff/slipper holder and motor mount
7075 T6 aluminium bulkheads front and rear,
7075 T6 aluminium 2mm hard coated chassis
7075 T6 aluminium c-hubs
7075 T6 aluminium uprights, equal L and R
7075 T6 aluminium hardcoated suspension brackets x 4
Closed type suspension arms with optional carbon top-inserts
pivotball type inner hinges instead of hinge pins
bigbore 1/10 shocks with hardcoated housings can be used emulsion or membrane style.
spring steel universal drive and central shafts.
carbon shock towers
carbon chassis stiffener
carbon mid-section top-plate
carbon top steering bracket
carbon steering plate u-bracket
Very low and sleek 4wd body and large durable rear wing
Top quality ball-bearings
European Champion 2016 with Spyder SDX4,  Joern Neumann
Design by Gerd Strenge and Michael Salven , Germany
Main features
Chassis
The hardcoated lightweight 2mm 7075 T6 aluminium chassis has the right flex combined with the composite side-guards / chassis stiffeners and center spline. All holes are countersunk to have a fully flat bottom surface. Holes are centered and symmetrical for even flex.
Chassis stiffener
In the rear the SDX4 features a carbon fiber chassis stiffener which is clamped between the rr fr suspension bracket and the bulkhead and extends to the center. The brace has 5 optional holes to choose the stiffness by placing the small stiffener pole and screw or even adding more poles/screws.
The system influences rear end flex and is set depending on grip levels and driving style.
Battery and stays
The SDX4 car accepts a shorty in standard trim, but you can also mount saddle packs as needed. The battery is kept in place by an easy to use composite battery-cover with a twistnut on one side.
Electronics
The center of the car allows plenty of space to mount the most popular speedo and receivers, as well as the transponder. The car also allows enough space to enable nice routing of your cables. On the side of the slipper the SDx4 offers 2 special cable guiders.
Layouts to choose from
– Default is shorty battery rear right, motor rear left, speedo/RX front left , servo front right
– Motor more to the center ( and swap front and rear central drive shafts)
– Shorty left and motor right
– Motor front left and esc rear left
– Motor front left and saddle packs in rear ( needs optional saddle pack battery brace-set)
Servo mount
The servo is mounted in the car with a stand made from alu and carbon parts, and is mounted on the centerline in the car, to keep even flex.  Various spacers and horns are included to suit the most popular servo brands.  An optional part also allows the servo to be moved under the steering plate and driveshaft. Maximum choice of layouts.
Drivetrain
The SDX4 uses lightweight spring steel universal drive shafts front and rear and central universals too.
Gear-diffs and cases
The 2 compact oil-filled gear differentials front and rear. These super smooth units are light and compact and very durable. The differentials are also very easy to build and are very low maintenance.
Both the outer differential cases ( front and rear) are clamped between the aluminium bulkheads and require no other fasteners at all. Super simple and fast for maintenance.
Differential main gear and bevel gear.
The precision machined straight cut differential main gear and bevel gear are made in hardened spring steel for smooth operation.
Ball joints / track rods
New style and material ball joints for smooth suspensions and steering.  The outer steering ball joints are angled to clear all rims/tyres . The track rods and camber links are made in thin but durable spring steel with L/R threading for easy adjustment.
Shocks
Serpent hard coated shock bodies and composite shock tops for super smooth operation and durability. 3.2mm shafts with new pre-oiled X-ring package and molded pistons. The shocks can be used either emulsion or membrane configuration.  The shock springs have grounded ends, checked and matched for perfect equal operation.  Ride height can be easy set with the threaded collars which have O-rings inside to stay in position.
Shock towers
Very durable 4mm thick carbon fiber front and rear shock towers with 3 positions for shock angle. For roll center adjustment the front bracket features 6 holes to choose camber link positions. 3 inner and 3 outer. The rear one has 8, 4 inner and 4 outer.
Shock stays
Very durable aluminum shock stays combined with a small bushing and lightweight composite flanged nuts.
Slipper clutch
This light slipper-clutch unit, is a spring loaded 3 pad version, allows controlling the power distribution.
Steering
The fully ball raced angled dual axis steering system with integrated servo saver function, offers an almost perfect Ackermann effect.  Ackermann can be set with small plates which mount to the steering arms and the black coated aluminium steering brace has 2 holes to choose from.  The servo saver has a pre-load nut to easily set the desired tension.
The steering system is mounted on a carbon fiber u-bracket which also connects the front left and right sides and acts stiffener.
Steering blocks and c-hubs
The lightweight composite steering blocks are combined with aluminium 7075 T6 c-hubs.  The c-hubs have 2 positions for roll center, and can be further fine-tuned by using more or less shims. The c-hubs are 5 degree, other optional ones are 0 and 3 degree.
Front suspension
Strong composite lower suspension arms with mounting spots for the pivotball activated anti-roll bar.  The arms are a closed type design for aero effect, rigidity and clean looks.  On the upper side optional carbon inserts can be applied in case harder arms are needed for handling.  Composite insert plates are standard. The front arms have 2 shock angle positions.
Rear suspension
Strong composite lower suspension arms with mounting spots for the pivotball activated anti-roll bar.  The arms are a closed type design for aero effect, rigidity and clean looks. On the upper side optional carbon inserts can be applied in case harder arms are needed for handling.  Composite insert plates are standard.
The rear arms have 2 shock mounting positions on each side front and rear. The front and rear shock mounting positons are different and the arms can be used on both sides of the car, so you have 4 shock angle positions to choose form.
The rear arms allow mounting the shocks also in the rear of the car.
Suspension arms pivot balls
Instead of inner pivot pins the SDX4 uses small pivot balls which thread inside the arm.  The suspension brackets are machined to adapt the pivot balls and create a low friction, no binding suspension. By turning the pivot balls in or out you can set the optimal play between the front and rear bracket.
Suspension brackets
Hard coated aluminum suspension brackets fr fr and fr rr. Small but effective composite front bumper to protect the front end. The angled front built in kick up allows for smoother landings.
The rear suspension bracket can be used standard with o-degree or upside down as 3-degree anti-squat.
Bulkheads
The strong front diff case assembly based on 2 durable 7075 T6 bulkheads is a very strong affair to mount the diff-housings, front shock tower and chassis too. It also features the holders for the ball raced anti-rollbarmounts.
Anti-roll bar
Both the front and rear arms and bulkheads allow mounting the ball-raced anti-roll bars.  The wire type anti-roll bars are lasered for easy identification. The wire connects to the arms with the proven friction free super smooth pivotball system.  It's very easy to access and change the anti-roll bars as needed.
Motor mount
The motor is mounted securely to the thick 3mm cnc machined 7075 T6 alu motor plate. The motor is mounted to the slider plate, which is then easily slotted in position.
Center drive holders
The slipper clutch unit is hold in place by the motor mount bracket  and a H shaped lightened 7075 T6 aluminium holder topped by a carbon connector plate that also holds the cable guiders in place.
The slipper can also be replaced by a geardiff in the center.   It's super easy to access the slipper or central geardiff.
Uprights
The lightened 7075 T6 aluminium uprights are same left and right and feature 3 camber link positions.
Wheel hex
The front and rear wheel hex are 12mm industry standard size. The hexes are clamp type and anodized to last. Flanged wheelnuts are included to keep the wheels in place.
Body mounts
The strong composite body mounts are easily located in case used. As alternative Velcro can be added to the side of the chassis stiffeners/side bars.
Body
Top quality clear polycarbonate is used for the Spyder SRX4 buggy body . The nicely shaped body has flat sides and roof for extra downforce and great handling. It leaves enough space for electronics and cooling finds as needed.  The body closely follows the chassis shape, so less debris can enter the car. The body comes with a white precut masking sheet.
Rear wing and wing holder
The strong clear polycarbonate wing is mounted to the nylon rear wing holder.
Rims
Durable Serpent designed wheel are included in white color for front and rear (tires and inserts are not included). Rear wheels are same as SRX2 and SRX4, the front ones have a different offset and are new. Compliant to the latest IFMAR rules.
Manual / setup sheet / decals
The Spyder SDX4 comes with a PDF style full color manual on a Serpent USB stick which shows the assembly process in steps following the packed bags. The manual also encloses the exploded views and a ref-guide to make it easy to find the part numbers you may need of spares and optional parts. A latest version of the manual can always be found on our website as PDF too.
A default set-up sheet is included, but more set-ups can be found on our product page under set-ups.
A Spyder SDX4 decal sheet and a Serpent decal sheet are included.
Packing
The strong kit box includes the coded bags to assemble the car, as well as the body, rear wing and wheels, manual, set-up sheet and decals.  Each kit is carefully packed and a checking decal can be found on the side of the box.
Key optionals
Various shocksprings dirt and astro
Various anti-roll bars
Aluminium C-hubs in 0 and 2 degree
Other suspension brackets
Aluminium upright with +/- 1
Front Lexan wing
Servo mount set to place the servo in the front center
Saddle pack mounting set
Center differential ( is same as front and rear differential )
Variety of Diff spur gears
Hardcoated aluminium shock caps
Full range of gear pinions in hardcoated aluminium
Carbon suspension arm covers fr and rear
Erhältlich bei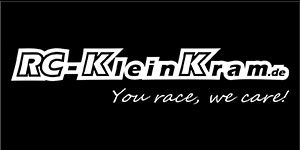 , 
 , RMV und Fachhandel.
Quelle: Serpent
Weitere Links